Silverstone. Mid-morning on Friday, 7th July 2012. It's the British Grand Prix's opening practice session and the day's a bastard: rain, mud, rain, mud. The traffic's backed up to the A5, no one's allowed to park and the track looks a menace. The stands – what I can see of them – are full of brollies, raincoats and boots. I can hardly make out a face, and when I do, I'm not sure whether it's laughing or screaming. What is everyone doing, in the rain and mud? Did they really pay to be here? They could be working, or watching this on TV. It's nearly the middle of the day and I am failing to see the point of motor racing.
Which is selfish, and pathetic, and plain stupid; because I'm here, at the F1 Paddock Club, lucky guest of GH Mumm, official champagne to Formula One. I came by taxi, down small less known, less clogged back roads. I didn't camp. I didn't sit on my haunches to eat breakfast. I was guided across the circuit – a Kafkaesque stretch of turnstile, tarmac and miss-direction – to the Paddock's Astroturfed frontage. I'm dry, on my third glass of Cordon Rouge and just about to tuck into a lunch made for kings. And I'm not even wearing a Polo shirt.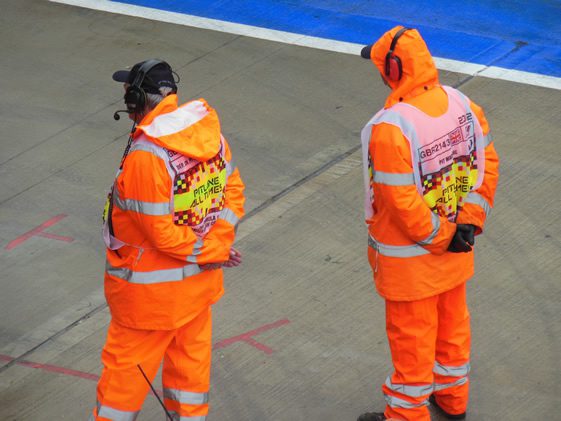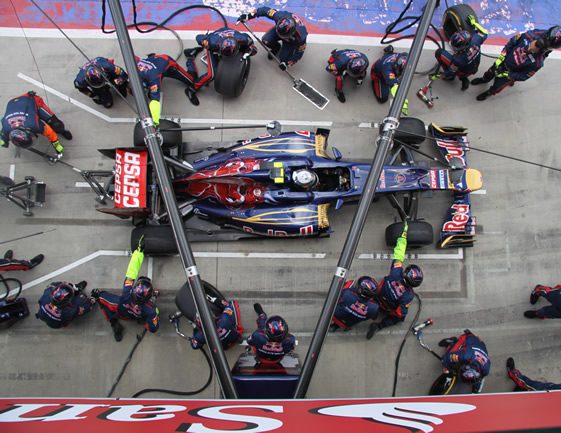 Even so, standing on the Paddock's balcony, I find myself wondering what it's all about – from a spectator's point of view. It feels ridiculously expensive, overblown and nothing like Asif Kapadia's Senna, which – save Fleetwood Mac's The Chain and Murray Walker shouting 'And here comes Ayrton Senna!' – is all I have to go on. Senna (if you haven't seen it) is the beautiful story of a beautiful man who believes that a beautiful god drives his car through him. I watched it especially for today. And now I'm gutted. Today isn't anything like Senna. Where are all the heroes? Where's the god? Where's the sun, the tight suits, the men with women's faces? Is anyone going to faint from winning? I haven't even heard a car, let alone see…
At which point, of course, out of the grey, to my left, comes my first real, living Formula One car. Preceded by a man waving it forward, it emerges from the pits, and stops in front of me, at the lights. I'm transfixed, blown away. Sublimely odd, as long as a transit van, it's nothing like seeing a Formula 1 car on TV. It dwarfs the driver, whose hands, helmet and face is all I can see. It steams in the rain. Its red body reminds me of the animated armour that grows around the bodies of superheroes. It's a piece of living metal, a dragon from the future. I'm speechless. I can't think of anything, not The Chain, not Walker, not even that moment in Senna, when Ayrton finally wins in Brazil, at home, and has to be physically removed from his seat. For a second, it's just this red animal of a car, in the rain, at Silverstone. And then the lights change, the air turns sonic and bang – it's gone, a ball of spray and fire, shrinking into the distance.
With which, I get it. The weather's not important. In fact, the rain's a bonus – so long as nothing's cancelled. The young Senna's landmark drive, in Monaco, in 1984, was all about the rain. It made Senna, and by extension, his car. Dangerous, hard, it makes for extraordinary racing. The stands know this; and now so do I. It's second practice time, and no one's going home, whatever the traffic, the mud, the bastard day.