Gentrification hey? It'll come and get you, wherever you are – waving its big fat chequebook in your faces, pushing 'subtle' brand collaborations on your favourite dive bars… but, hey, is it really all that bad, or is it just the way the cookie crumbles?
20-30 years ago, Manhattan dwellers – faced with ever-increasing rents – started moving out to Brooklyn, occupying its cheap, run down houses and derelict warehouses; those guys were probably in fits of outrage when the hipsters moved into Williamsburg – the same fits of outrage the original Brooklynites were in when they descended on their neck of the woods.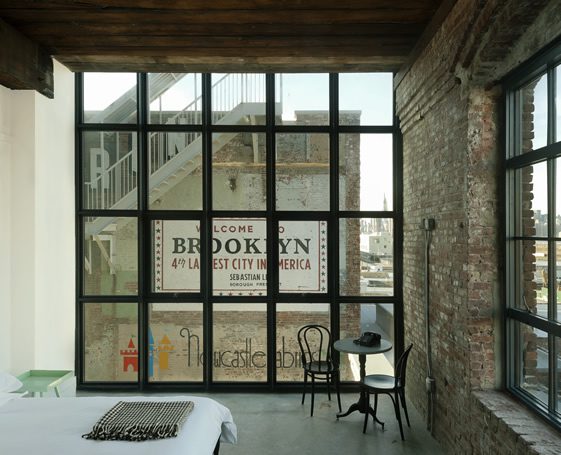 The big-money transformation of Brooklyn continues, and recent years have seen a number of "stylish" hotels cropping up across the East River, much to the disdain of the hipsters. Probably. So, it's all terrible, get out of our town, leave us to fester in our ironic squalor? Well… it's when gentrification offers up a big old dose of amazing that the paradox begins. A former textile factory, built in 1901, the Wythe Hotel is a breathtakingly special renovation. Brimming with industrial character, alongside effortlessly stylish waves of beat-up Americana, there's all manner of top food and drink – courtesy of Brooklyn restaurateur Andrew Tarlow – and many rooms with ridiculous Manhattan skyline views.
Sure, it's a little bit like a Disneyfied version of a classic Scorcese flick… and it might well bring some undesirable businessy-types to your favourite Bedford Avenue bars (but they're not as cool as you think they are anyway, you little hipster you), but the Wythe is majestic, beautiful, and cool, really cool. So, if you get asked: "is Brooklyn still cool", forget the contradictions and just succumb to 'what will be will be'. And tell them yes, yes, it really is bloody cool.