When you think of a stylish, super sexy getaway Ipswich isn't somewhere that springs to mind, unless of course you already know about the Salthouse Harbour Hotel. The hotel is housed in a converted Victorian warehouse, set right on the harbour front it boasts some pretty special views out over the Marina. The first thing you notice is the eclectic mix of furniture and artwork, from Vivienne Westwood rugs and vintage citrus leather sofas, to art by Blek le Rat and huge sculptures – this hotel wouldn't look out of place in the depths of trendy East London.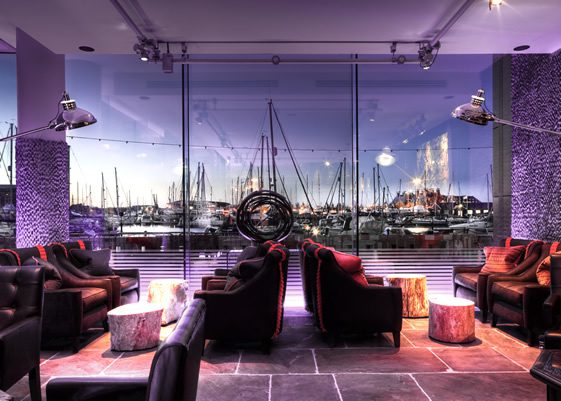 The hotel has 70 individually designed rooms but if you're looking to score some major brownie points with the Misses there really are only two options; either of the Penthouses or one of the Salt Loft Marina rooms. We were lucky enough to bag one of the Salt Loft Marina rooms with a freestanding cooper bath at the side of the bed and complementary massage oil for added spice – ooo eeer! The rooms continue the fashionable theme with modern patterned wallpaper, pieces of art and all the home comforts you need from a hotel room. Fluffy robes, a Bose sound system, Temple spa products, rain shower, the all important under floor heating, cafeteria coffee, luxury teas and Emma Bridgewater mugs (nice touch) – a hotel with style and substance, we like.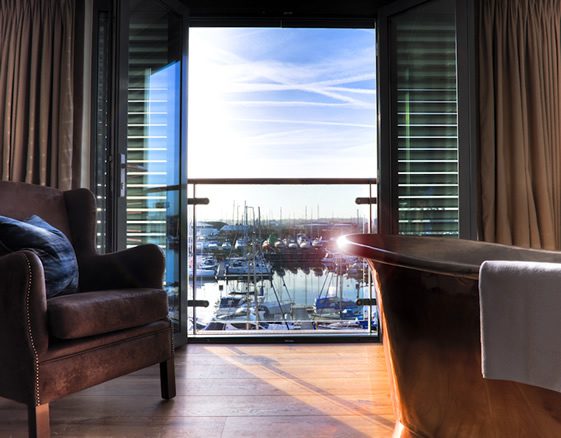 Once you've taken full advantage of the room amenities we suggest you head all the way downstairs to the lobby, grab a space on the comfy chairs with a nice glass of vino from the extensive wine list – no lie it's huge! If you are staying at the hotel it would be rude not to try out the restaurant – which is rumoured to be the best in Ipswich – serving seasonal British dishes made with local produce. The restaurant housed in the original warehouse building features exposed brick work, more art, leather booths and a central bar.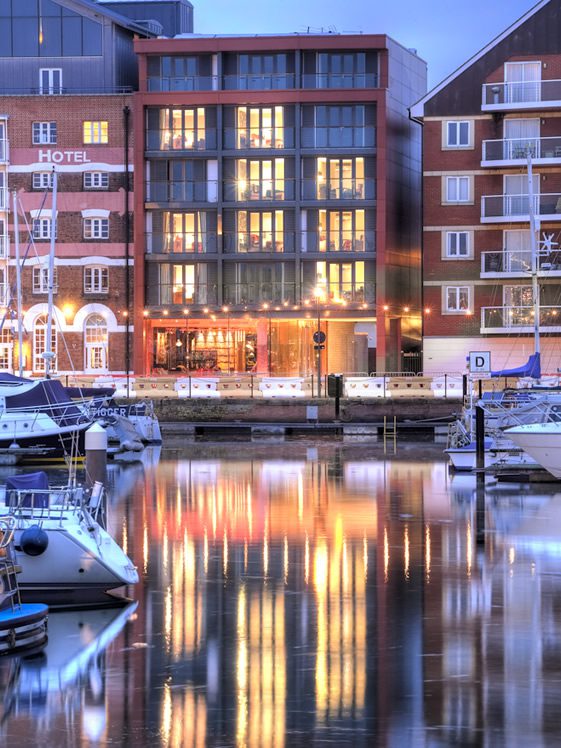 After dinner we retired to our room to find housekeeping had completed their turn down service, leaving a bottle of relaxing pillow spray for our use – we're glutens for these luxurious added extras and the Salthouse is full of them!
Breakfast is served in the restaurant or in bed, the menu offers a good selection of dishes but we'd suggest you go all out on the Suffolk Grill or Bacon Sandwich, quite possibly the biggest we've seen (we're pretty sure it contained at least a whole pig!).
If you're looking for a short break in a chic hotel with fabulous food and attention to detail you can't go wrong with a stay at the Salthouse Harbour. Ipswich? Who'd of thought it…