Occupying a former travel agent on Goodge Street, Fitzrovia, '64 Goodge Street' is the latest restaurant from Woodhead Restaurant Group and sees chef Stuart Andrew and team serve up "French cooking from an outsider's perspective," with a menu inspired by his love for French cuisine, as well as time spent cooking in the kitchens of Paris.
With London staples Quality Chop House, Clipstone, and Portland in their portfolio, Woodhouse Restaurant Group certainly know how to make a restaurant concept work and for 64 Goodge Street, collaborated with London-based design studio Studio Found to bring Parisian-inspired ambience and interiors to their latest venture.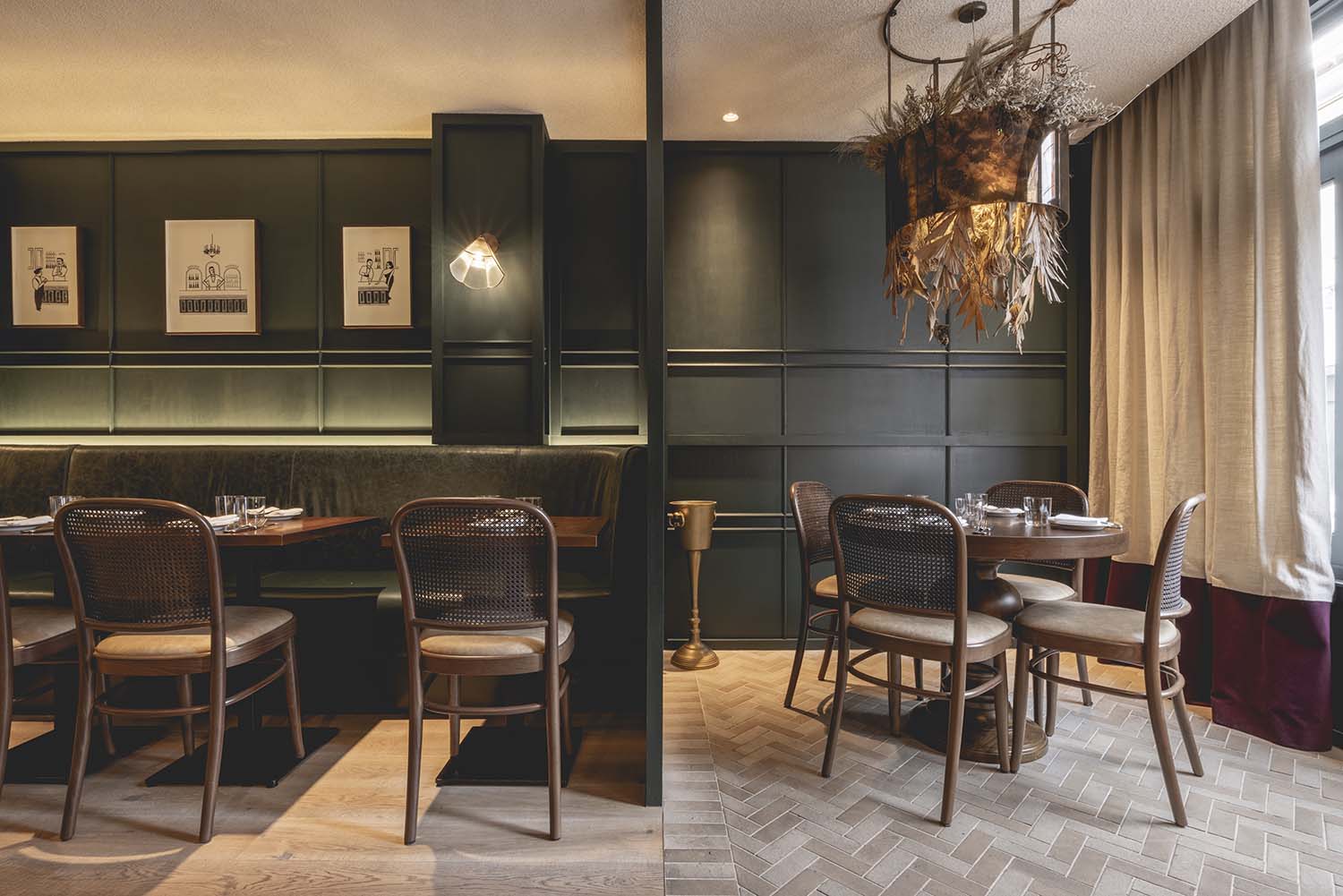 Behind a deep green shop front that reflects British countryside meets French bistro, diners will find a space that spans over 2,000 square feet with seating for 44 covers, alongside an exclusive private dining room in the basement that seats up to ten guests. Consciously guiding guests from the busy London high street through to a warm, intimate yet relaxed dining experience, the lobby features a staircase that leads to the main restaurant or the basement. Here, brick flooring defines the entrance, juxtaposing against the stained light oak flooring found throughout the main dining area.
A brass, walnut and marble bar not only links the main room with the open kitchen, rather it brings a refined elegance to the space and serves to emphasises the quality of the wine and drinks offering; whilst an antique cabinet has been used to form the back bar display. Rustic tables and bistro style chairs have been chosen to help create a relaxed vibe, while bespoke light fittings designed by Studio Found were used to create intimacy.
Dried flower artist 'Design By Nature', created a selection of stunning pieces, including one which emerges from the feature light, a focal point at the front of the restaurant, understated but eye-catching at the same time.
Popular with city workers and French cuisine aficionados, 64 Goodge St is a cosy yet refined restaurant that harks back to the city's past whilst looking forward to its future. Another winner from the good folk at Woodhouse.