Born and raised in Greece with a Dutch nationality, chef Angelo Kremmydas opens his debut restaurant, Gitane, a neighbourhood spot in West Amsterdam open from breakfast to dinner and beyond, focusing on fresh and seasonal products and wines, especially of the natural kind.
Wanting the restaurant to embody his culinary signature 'refined food that reflects a mix of cultures and flavours, served without fuss,' Kremmydas enlisted the skilfulness of interior designers Studio Modijefsky, who translated the young chef's vision into a casual but elegant spatial design that radiates a welcoming atmosphere from the inside out.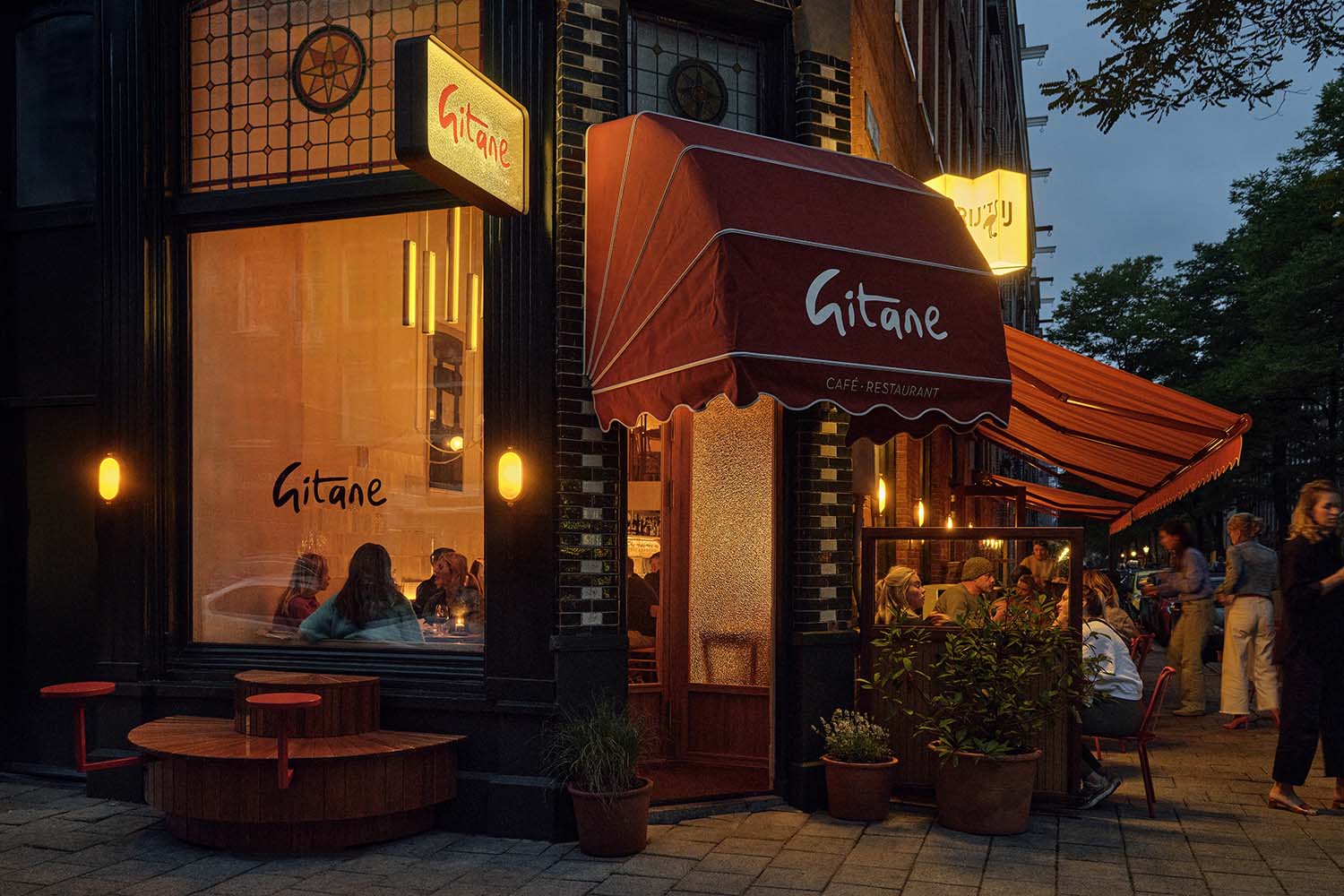 The space at Gitane is divided into three areas: the ground floor, mezzanine and bar. The restaurant is hosted on the ground floor and mezzanine, with the bar two steps below ground level, until after the kitchen closes where the revelry spills out throughout.
Entering through a wooden vestibule with coloured glass, patrons will notice large dark orange neon letters spelling 'BAR,' alongside custom wooden furniture including vintage cafe chairs, custom barstools with a leather finish, as well as flooring made of repurposed wooden planks.
The mezzanine is home to a rattan ceiling with an eye-catching geometric pattern of slats that unties this space to the lower. Large windows help to bring the outside in, whilst the raised position allows for a view over the whole space. The bar, meanwhile, is an intimate zone elevated by a dark brown mirrored ceiling that reflects the light spheres on the ceiling ad the patterns of the sculptural bar beneath, capturing the play between robust, weathered material and fresh tiles an terrazzo.
A terrace runs along the façade of Gitane Amsterdam, its wooden love seats beneath striped orange and red awnings, a lovely spot to enjoy an early evening aperitivo.
A typically inviting affair from team Modijefsky, be a guest at Angelo's table and enjoy the light and inspired interiors that are sure to become a new West Amsterdam staple.
@gitane_amsterdam
@studiomodijefsky
@angelokremmydas