Having uncovered the great trees of London and New York, Blue Crow Media have turned their attention to the French capital for the third map in the series, the Great Trees of Paris Map.
With an introduction written by Amy Kupec Larue and photography by Barnabé Moinard, the two-sided guide map includes 50 trees that take the reader on a journey through Paris's most significant, rare, historic and unique trees spanning all 20 districts of the city. From squares to cemeteries, tree-lined avenues and parks to iconic locations, the map provides insight to the history of the trees of Paris while drawing attention to nature at this critical time in climate emergency.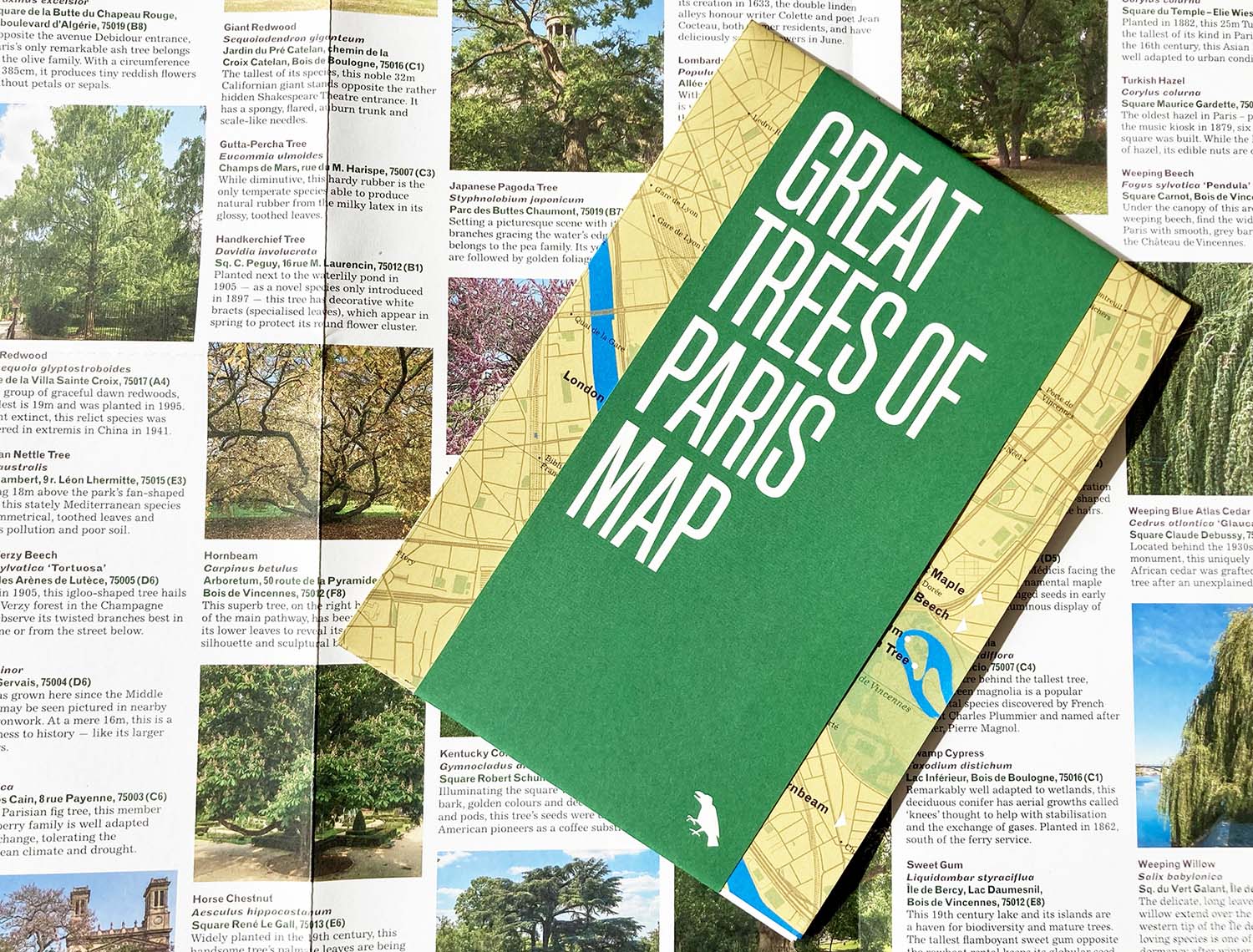 Having shaped the urban plan of Paris, the first tree-lined avenues appeared around the 14th century palace of Charles V (the Louvre), before developing extensively in the 17th century with the opening of the Tuileries Garden. The Black Locust tree is the oldest, overlooking the Notre Dame and standing today with the aid of a crutch. The most refined tree must be the Japanese Pagoda tree overhanging the lake at Buttes Chaumont, the most romantic goes to the circle of four Foxglove trees opposite the Delacroix museum, whilst the smallest — the Trident Maple — can be found rooted in Parc Floral's bonsai pavillion.
As author Amy Kupec Larue writes "all trees have a story to tell. Trees are silent witnesses to centuries of history — events, fashions, celebrations and discoveries. It is our collective responsibility for the 21st century to cherish all this natural patrimony, watching over its oldest members and planting the seeds for future greats."
With this poignant insight into the importance of respecting our natural world, what better way to look to a brighter future than by honouring its past. The Great Trees of Paris Map is available now to purchase at bluecrowmedia.com.
@bluecrowmaps
@gardenguideparis