From Charlie Chaplin to Clark Gable and Marilyn Monroe, Santa Monica's iconic hotel The Georgian has welcomed esteemed starlets throughout its many iterations. Debuting in 1933 atop the Santa Monica waterfront on Ocean Avenue, the opening coincided with the golden age of hospitality, attracting the cream of Hollywood to step through its Art Deco doors.
Today, with the expertise of developers Blanchard and Rusconi, alongside the always keen eye of interior architecture and design firm, Fettle, The Georgian reopens; maintaining the striking features and presence of the original concept, and complementing them with thoughtful modern design and amenities throughout.
Set to open to the public on 3 April, the 84-room property features 56 classic rooms and 28 one-bedroom suites, all with sweeping ocean views. Enjoying a prime position on Ocean Avenue, the hotel's turquoise façade offers a glimpse of the the property's timeless elegance and historic significance; the architecturally radiant design taking pride of place in this famously upmarket location.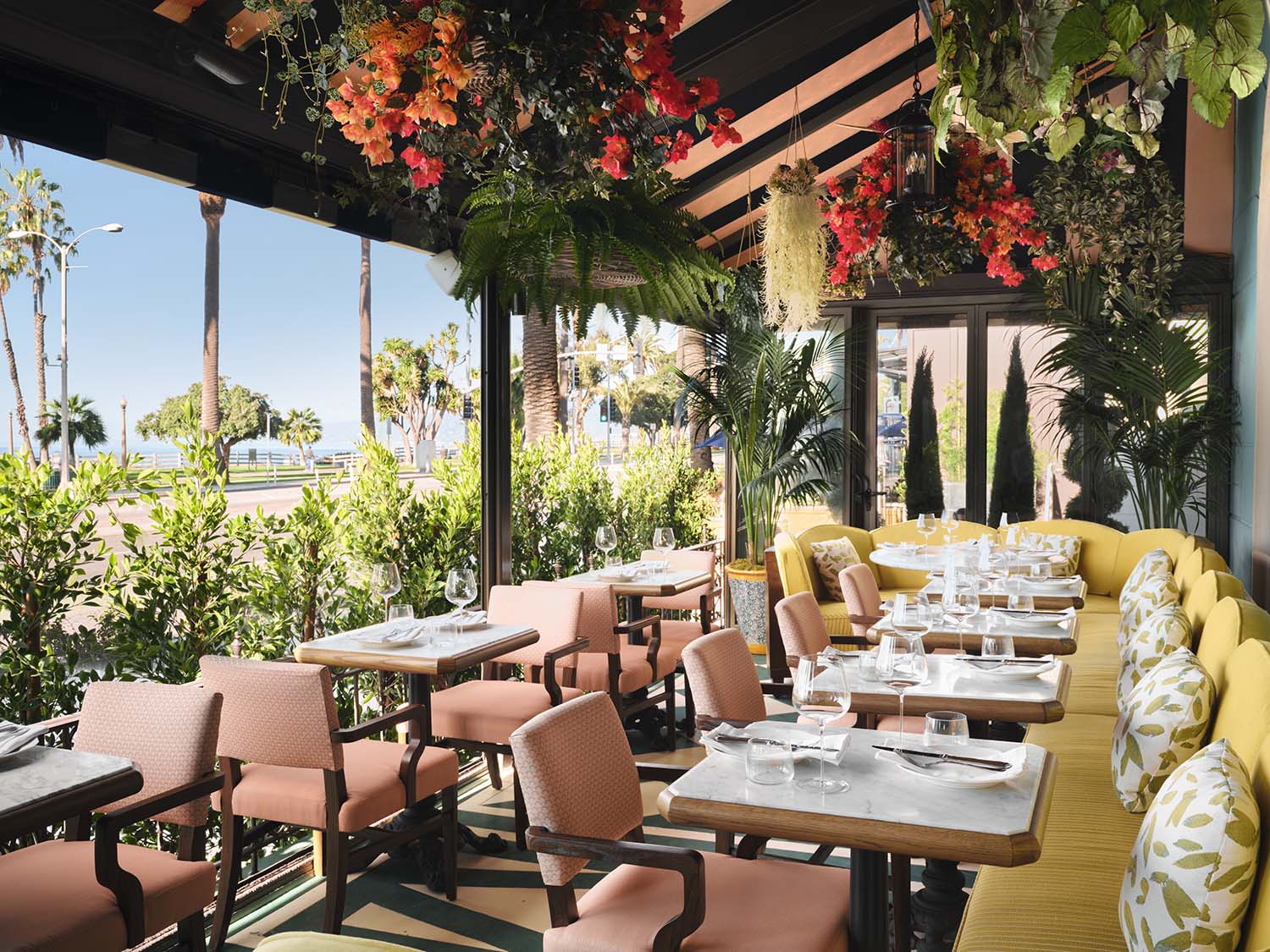 Approaching the entrance, guests will find peach hibiscus and vibrant foliage designed and procured by LA nursery Rolling Greens, whilst whimsical topiaries flank the building's distinctive navy striped awning-covered Sunset Terrace. Crossing the threshold into The Georgian's historic lobby, Havana Deco-inspired flooring sets the scene alongside high ceilings accented with custom Art Deco chandeliers and the prominent horseshoe-shaped Sunset Bar.
Beyond the lobby and Wes Anderson-inspired reception, Gallery 33 has been designed to celebrate the best of art and culture, and showcases the work of local, internationally renowned, and up-and-coming artists through an evolving programme; including works by one Sharon Stone, who presents her first show until the end of this month.
Guest rooms embrace the hotel's Art Deco heritage, each one retaining their original ornate peephole which leads to newly modernised spaces with fully custom golden hued arched headboards and globe shaped crystal light fixtures designed by Fettle, beds draped in sustainable fine Italian linens by Bellino with accent cushions by Italian textile designer Lisa Corti, an antique bar cart, and Marshall speaker.
Suites hark to the Golden Era with Polaroid cameras to chronicle their visit to Santa Monica on film, and Victrola record players to provide the perfect vinyl soundtrack with curated records from California-based Ubiquity Records. Food and beverage, meanwhile, options are plentiful and considered, offering guests a wide range of flavours and styles from casual to fine dining, and cater to those looking for moods from private to sociable.
A veritable icon of golden age glamour and a pinnacle of classic luxury, The Georgian Hotel Santa Monica is back at the top of its game.