Let's face it, a reliable vibrator is to your bedroom, what the little black dress is to your wardrobe — a staple.
Haven't found your go-to little helper, yet? Well, we have you covered.
You wouldn't believe all the novelty shapes we tested with our coochies for this article. We went over the best vibrators available, consulted experts, and plowed through thousands of online reviews.
All this is to curate a list for all of you vagina-owning pleasure-seekers.
Lelo Soraya Wave topped our list as the best vibrator overall, delivering consistent powerful vibrations both inside and out. Our list of the 32 best pleasures toys caters to a variety of tastes, and we made sure that there's something for everyone.
Yes, even you Picky Patricia.
Now let's dive in.
Best Vibrators to Knock Your Socks Off in 2023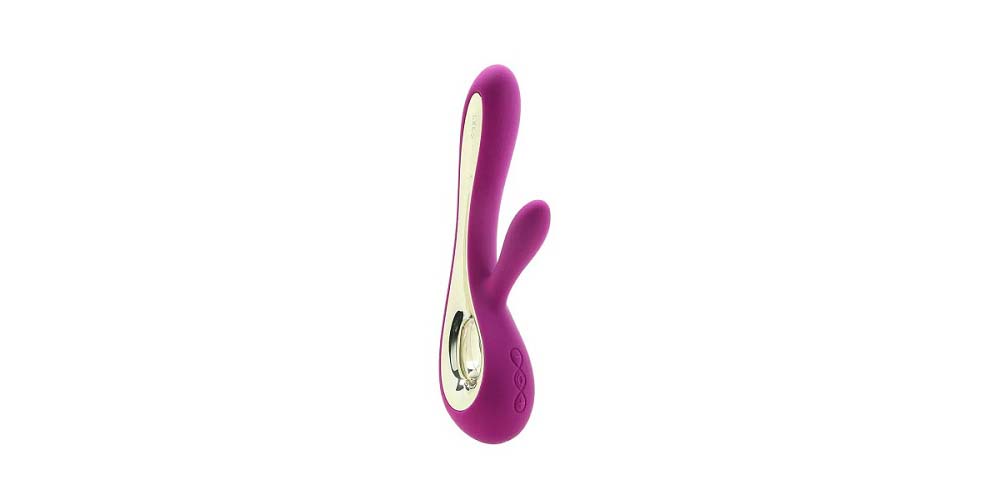 Highlights
– G-spot and clit stimulation
– Quality vibrations that don't numb
– Convenient grip handle
– Comes in 3 colors
– Improved tech does come with reduced battery power (2 hours)
Price
– $194.38 for a limited time
The luxurious rabbit Lelo Soraya Wave tops our list of the best vibrators as it brings life-changing blended orgasms to the table.
It offers consistent G-spot stimulation, and clitoral vibrations, with a flexible external head that adapts to most body shapes.
The intensities range from gentle to intense, and with a satisfying gradual increase of intensity, allowing you to call our savior's name as many times as you want to.
>>>Grab the best deal on Lelo Soraya Wave
2. Unbound Squish – Excellent Novelty Intimate Toy
Highlights
– Super soft and squishy
– Squeeze to swap patterns
– Mild to intense vibrations
– Waterproof
Price
– $99
If you're a clitoral orgasm kind of girl, you will love this soft and squishy pleasure toy. It's perfect for pinpoint stimulation.
Squeeze the sex toy to discover your perfect vibe pattern (you can even save it), and let the solo play begin.
Or you can combine it with your partner's thrusting for that big simultaneous O with your significant other.
>>>Experience delightful softness with the Unbound Squish
3. We-Vibe Jive – Best Vibrator You Can Wear on Your Panties
Highlights
– 3 inches long, 1.5 inches wide
– Can be remotely controlled via the app
– Mid-range vibrations
– Perfect for public foreplay
Price
– $119 for a limited time
The Jive is an excellent wearable panty vibrator, great if you're into naughty outdoor adventures. Plus this weird-looking little sex toy is perfect if you prefer gentle, yet targeted vibrations.
Let your partner join your outdoor play dates with The Jive, by giving them control via the We-Vibe app.
>>>Bling out your panties with the We-Vibe Jive
4. Lovense Nora – Best Vibrator for Size Queens
Highlights
– Clit and G-spot stimulations
– Pairs with other Lovense toys
– Unlimited patterns with app control
– Internal rotation and external vibration
Price
-$119
If you want a G-spot-loving shaft, you'll rave over the Lovense Nora. She's bulbous and curvy in all the right places and packs the power to boot.
Now, we know 5 inches might not sound like much, but combine it with a rotating G-spot head and clitoral vibrations and you have the recipe for mind-blowing orgasms.
>>> Experience long-distance love with the Lovense Nora
5. Lelo Smart Wand 2 – Best Wand Vibrator For Powerful Vibrations
Highlights
– Medium and large size
– Slow and irregular pattern changes
– Powerful intense vibrations
Price
– $149.30
Lelo Smart Wand 2 just had to make it on our list of best vibrators, as it's one of the best wand vibrator designs.
It's cordless and rechargeable, so you're free to use it outside the confines of your electrical socket.
Perfect for the power-hungry vixen, you can use it in any position thanks to the ergonomic handle. Plus, it's waterproof so why not give it a shot in the shower with your partner?
>>>Wield the power with the Lelo Smart Wand 2
Highlights
– Intense vibrations
– Curved-tip for precise stimulation
– 8 patterns and 12 speeds
– 6 inches of insertable length
Price
– $100
When you unbox this 6-inch behemoth, you may be unable to wait for it to charge.
Even without the vibration, it's enough to give you the 'gasm spasms, but when you turn it on, the intense vibrations are where heaven is hiding.
>>>Channel your inner Anastasia Steele with the Fifty Shades Darker Desire Explodes
7. Lovense Lush 3 – Best Remote Control Vibrator
Highlights
– Strong vibrations
– Lovense app allows more control
– Unlimited patterns
– Internal stimulation
– Fairly quiet
Price
– $119
Lovense Lush 3 is your pick if you love your wearable vibrators to pack some strength. It's the go-to choice for adult live cam performers thanks to the robust connectivity options provided by the Lovense app.
It's also one of the best vibrators for some wild times in public places, as it's pretty quiet.
>>>Get the powerful Lush 3 G-spot massager at Lovense
Highlights
– Stimulates the clit without touching it
– Hands-free play
– 'Pressure Wave' technology (gentle suction instead of vibrations)
– Improved and stronger suction
– Collab between two industry giants
– 6 levels of intensity
Price
– $119
The Pro40 is the result of the collab between Lovehoney and Womanizer. Packing 6 levels of intensity it's the perfect way to stimulate your delicate love button without overwhelming the senses.
If this is the first time you hear of the female toy, let us just tell you three words: effortless hands-free orgasms. Plus it works marvels on the nipples, too.
>>>Explore delicate stimulation and suction with the Womanizer X Lovehoney Pro40
Highlights
– Best in the collection
– Rabbit vibrator
– Up to 36 vibration combinations
– Powerful two-motor vibrations
– Wireless and waterproof
Price
– $69.97 for a limited time
While this bad boy (or should we say greedy girl) won't' spank you or tie you up like Mr. Christian Grey, it will give you some profound pleasure and up to 36 vibration combinations.
It's the 50 Shades best seller, and for a good reason — it offers dual stimulation resulting in blended clitoral and G-spot orgasms, that will leave you melting in pleasure.
Plus it's waterproof so the bathtub for some underwater fun.
>>>Check out the best-selling Fifty Shades of Grey Greedy Girl
Highlights
– Small and compact, but packs powerful vibrations
– 4 different heads for a fuller experience
– 7 functions
– Fully waterproof
Price
– $42.99
The Mini Rocket Vibrator Set is the perfect pleasure toy to travel with. This small but mighty female toy packs more than enough power to get your rocks off. So don't let the cute exterior fool you.
The Mini Rocket is perfect for a quick trip to O-town, or just a relaxing temple massage at the end of the day.
>>>Snag a deal on the Lovehoney Mini Rocket Vibrator Set here
11. Lovense Ferri – Versatile Female Panty Vibrator
Highlights
– Magnetic vibrator
– Stays in place
– Quiet and discreet
– Remote controlled via the app
Price
– $119
If you're a fan of discreet play outside of the bedroom, check out the Ferri.
All you need to do is place the Ferri right where you want it, secure it with a magnet, give your partner the reins, and be careful not to get Ferried away.
The Lovense app it comes with is wonderful — it will give you and your partner a chance to spice things up remotely and maybe try some long-distance lovin', too.
>>>Check the best price for Lovense Ferri
12. The Original Rose Toy – The Unique Sex Toy That Took Over Social Media
Highlights
– 10 levels of mind-blowing suction
– Doubles up as a nipple stimulator
– Four colors are available: red, pink, purple, and black
– Waterproof for rub-a-dub adventures
Price
– $49.9
The Rose female toy took TikTok by storm, so we decided to give it a shot, you know, for science.
And does it live up to the hype? Heck, yes.
It builds up the suction intensity gradually, giving and taking just the right amount of pleasure to bring you to your knees in no time.
>>>Keep up with the viral trends and get the Rose Toy
13. Lovehoney Frolic – Top-rated Cheap Vibrator for Beginners
Highlights
– Affordable intimate toy
– 10 knee-trembling modes
– Beginner-friendly size
– Slightly bulbous shaft
– Two colors: pink and purple
Price
– $29.99
At $29.99, Lovehoney Frolic 10-Function is the best-rated cheap vibrator from a big brand name.
Compact and easy to use, it has a smaller insertable length compared to other cheap vibrators, so it's perfect for beginners.
Yet, it knows how to hit the right spot with some knee-trembling vibrations.
>>>Discover pleasurable G-spot climaxes with the Lovehoney Frolic
14. Lovense Hyphy – Best Dual Female Toy
Highlights
– Dual-ended 2-in-1 sex toy
– G-spot massager on one side
– High-frequency clitoral stimulator on the other side
– Powerful vibrations
– Swappable attachments
Price
– Now on sale for $99 (regular price $199)
Lovense Hyphy is a phenomenal dual intimate toy that can tickle you just right. Its pointed end is all about concentrated power, and it can give you some of the strongest clitoral orgasms.
On the other side of the toy, the handle is ergonomically shaped to hit the G-spot just right.
We loved that it comes with silicone attachments for the pointy end, so you get additional sensations when you use them.
>>>For a versatile and powerful sex toy consider the Lovense Hyphy
15. Iroha Midori – Best Warm-Up Female Toy
Highlights
– Gentle clitoral stimulation
– Doubles up as a body massager
– 4 modes: 3 vibration levels and a pulsating mode
– Squishy and soft
– Anti-dust coating
Price
– $99
The squashy soft Iroha Midori is the perfect female toy to caress your body with during foreplay. You can use it by itself for soft clit cuddles or all over your body for a relaxing massage.
It's versatile and can be combined with fingering, intercourse, or another sex toy.
While the Iroha Midori can bring you the big O on itself, it has a learning curve and we recommend it for more advanced users.
>>>Grab the best deal for Iroha Midori
16. Rave by We-Vibe – Best Remote Control G-Spot Massager
Highlights
– Ergonomic shape, effective at targeting the G-spot
– Modern design approach
– 10 powerful vibrations modes
– Remote control via the app
Price
– $119
Rave by We-Vibe is among the best vibrators you can get for G-spot stimulation, as its design makes it easy to hit just the right spot.
The luxury female toy is made from soft medical-grade silicone that only emphasizes the 10 vibration modes.
As a reliable remote-control sex toy, you can use the powerful vibrations for external clitoral stimulation, too.
>>>Explore luxury vibrations with the Rave by We-Vibe
17. Lelo Sila Cruise – Best Pleasure Toy for Oral Sex Sensations
Highlights
– Sonic stimulations
– Stays in place during hands-free play
– Fairly quiet
Price
– $189
If you're a fan of someone going down on you, the Lelo SIla Cruise is an excellent substitute for that sensation.
And trust us, it's better than all of your exes combined, and this one actually knows how to find your love button.
The only "downside" is that you can't combine it with other pleasure toys or use it during sex, due to its odd shape.
>>> Experience oral sex like never before with the Lelo Sila Cruise
18. Lovehoney Rose Stimulator – Excellent Cheap Vibrator for Clitoral Stimulation
Highlights
– Beautiful design
– USB rechargeable
– 6 speeds and 4 patterns
– Cheap vibrator
Price
– $34.99
Lovehoney has got its version of the insanely popular Rose Toy, and we have to say it's a spot-on homage.
And it's pretty affordable, too.
Its gentle vibrations feel kinda like kisses or light nibbling, while the more intense ones feel like pure sucking.
Regardless of the occasion, this cute little sex toy also makes them a perfect stocking stuffer or small gift.
>>>Grab the Lovehoney Rose Toy on Sale Now
19. We-Vibe Touch X – Versatile Pleasure Toy for External Stimulation
Highlights
– Strong and rumbly vibrations
– Spoon tip amplifies vibrations
– Very quiet
– Versatile, but for external use only
– Great for couples
Price
– $99
We-Vibe Touch X is a palm-sized companion for external stimulation. The design of the toy is made to amplify the vibration, however, keep in mind it's for external use only.
The updated version of the model packs powerful vibes thanks to the new internal motors and improved tech.
>>>Check out the powerful pocket rocket We-Vibe Touch X here
20. Lovense Dolce – Strongest Wearable Dual Vibrator
Highlights
– Powerful clitoral and G-spot stimulations
– Bulkier clitoral arm
– Hands-free fun is possible
– Stays in place snugly
Price
– Now on sale for $119 (regular price $229)
When you're shopping for a dual-stimulation vibrator, nothing beats the Dolce when it comes to simultaneous G-spot and clitoral vibrations.
The bulkier clitoral arm will allow for easier positioning to hit the right spot, and the flexible shape makes hands-free play possible.
>>>Find the best deal for the Lovense Dolce
Highlights
– Quick climaxes within a few minutes
– 7 patterns with 10 intensity levels
– Multiple colors available
– Travel-friendly and compact
Price
– $49.99
The Lovehoney Deluxe Mini Wand Massager is the perfect pleasure toy for those days you need something quick to get you by fast.
This little guy packs some power, and it won't take it long to put stars into your eyes.
At $49.99, this cheap vibrator not only packs power, but it's also small enough to carry with you when you travel.
>>>Have a pleasurable trip with the Lovehoney Deluxe Mini Wand Massager
Highlights
– The unassuming design looks like a lipstick
– Great for direct targeting of hotspots
– 11 vibration modes
– 4 colors are available: red, baby pink, hot pink, and black
Price
– $66.80
LELO Mia 2 Lipstick Vibrator, as its name suggests, looks more like a lipstick than a sex toy, and we're big fans of the chic design.
We're also pretty amazed by its performance, you wouldn't expect powerful vibrations from such a small body, but they're real.
You can carry this baby with you wherever you go — it fits perfectly in any bag, and with a travel lock, it's going to stay put until you need it.
>>>Grab the limited discount for Lelo Mia 2 Lipstick Vibrator
23. Vibease – First Remote Controlled Vibrator to Become Popular
Highlights
– Broader stimulation with rumbly vibrations
– You can sync it with erotic audiobooks
– Remote controlled by the app
– Tip allows precise stimulation
Price
– Now on sale for $99.96 (regular price $119)
Vibease was the first remote control vibrator that introduced us to a whole new world of pleasure, both long-distance and in our immediate vicinity.
It's still a fan-favorite as the little gadget has evolved with the times, earning its spot on our list of best vibrators.
With it, you can sync your favorite erotic audiobooks or music for a more immersive self-care experience.
>>>Check the best price for Vibease
24. Iroha Yuki – Best Vibrator Brand For Unusually-shaped Pleasure Toys
Highlights
– Looks like a snowman
– Semi-insertable
– High-quality consistent vibrations
– Dust-proof material
– Unassuming exterior
Price
– $100
The design of this toy may make you laugh as it looks more like a toy snowman than an intimate toy.
But as soon as you're ready to turn that smile into a moan, you'll love the powerful and consistent vibrations it offers.
The insertable part looks a little disappointing, as you would expect something a tad bigger, but the softness of the exterior just makes it feel that good.
>>>Grab your naughty little Iroha Yuki snowman here
25. We-Vibe Chorus – Best Intimate Toy for Couples
Highlights
– Fully-adjustable to hit the right spot
– Remote control via a controller and an app
– Multiple color options are available
Price
– $199
Designed to be used during p-in-v sex, We-Vibe is one of the best vibrators for heterosexual couples, though, of course, you can use it alone.
The little arm is supposed to go inside the vagina, while the bigger one provides sensations to the clitoris.
What's in it for the penis?
Well, thanks to the sizzling sensations of the vibration modes, your penis shaft will be greeted with gentle vibrations with each stroke inside.
If you want to tease a male partner even more, why not check out the best male sex toys?
>>>Find the best price for the We-Vibe Chorus couple's toy
Highlights
– Small and compact
– Perfect starter toy
– Won't dent your budget
– Packs some power
Price
– $24.95
Lovehoney's Tease Finger Vibrator just had to have a place on our list of best vibrators as it's cheap, convenient, and perfect for beginners.
The pleasure toy may not be strong enough if you're in the mood for a solo quickie, but it's the perfect companion to other toys and during penetration.
As a sexy little accessory, it's a perfect size for beginners to figure out what they like.
>>>Start your sexual journey right with the Lovehoney Tease Finger Vibrator
27. We-Vibe Nova 2 – Innovative Take on The Famous Rabbit Pleasure Toy
Highlights
– Simultaneous G-spot and clitoral stimulation
– Constant clitoris contact
– A contemporary approach to rabbit vibrators
– Unbelievably strong and rumbly vibrations
– Remote controlled via the app
Price
– $149.99
We-Vibe Nova 2 is the perfect rabbit powerhouse for those of us a bit more inclined toward power.
If you're an experienced pleasure-seeker, you'll love this rabbit vibrator that packs a punch.
The internal shaft brings powerful, rumbly vibrations, while the rabbit ear is flexible and stays on the clit, even during thrusting.
The best part? You can customize the patterns using the available app, which also works as a remote control.
>>>Find the power inside you with the We-Vibe Nova 2
28. Lelo Enigma – Best Female Toy for Unforgettable Squirting Climaxes
Highlights
– Clitoral stimulation via sonic waves
– Deep and rumbly internal vibrations
– The ergonomic design stays in place
– Powerful, rechargeable, and waterproof
Price
– Now on sale for $156.56 (regular price $195.58)
Lelo Enigma may look like an alien appendage, but it's THE vibrator to go with if you want mind-blowing orgasms.
With targeted G-spot stimulation and an oral-sex-mimicking sonic clit sucker, blended orgasms are just within your reach.
It's also a great choice if you want to see if you can squirt, as many women report squirting with Lelo Enigma.
>>>Broaden the horizons of your intimate pleasure with Lelo Enigma
29. Lovense Osci 2 – Innovative Female Sex Toy For Thumping Sensations
Highlights
– Unique S-shape curve
– Innovative G-spot targeting technology
– The oscillating head produces thumping sensations
– Great for squirting
Price
$119
Osci 2 from Lovense comes in a unique S-shape, and it ain't here to play.
Its innovative G-spot targeting technology is sure to find and hit the right spot, and then it's up to the sonic oscillations to do their magic.
We loved the innovative take on the usual G-spot massagers since the oscillations produce a thumping drum-like beat that will help your pelvis dance into climax
>>>Dance to the rhythm of the Lovense Osci 2
30. We-Vibe Moxie – Best Vibrator for Public Play
Highlights
– Very quiet, perfect for public play
– 10 vibration modes
– Stays put during use
– Secure magnetic clip
– App-enabled
Price
– $129
For users who prefer to take their pleasure out on the town, we recommend the Moxie.
Are you thinking of experimenting with public play? The Moxie is so quiet no one will be the wiser to your outdoor sexcapades.
And with a 4-hour battery life, you'll have plenty of time to explore any outdoor fantasy – alone or with your partner.
>>>Check the best price for We-Vibe Moxie
31. Lelo Ora 3 – Best Foreplay Pleasure Toy for Women
Highlights
– Designed to mimic a tongue
– Pleasure nub that rotates and vibrates
– 25% faster, real-feel oral stimulation
– Luxury materials
Price
– $134.30
Everyone loves good oral sex, but not everyone can give it to you well. And that's okay, no one's perfect – hence the existence of Lelo Ora 3.
So, how does Lelo Ora tally compared to the real deal?
Well, it won't be able to fully substitute the human touch of a pro-muff-diver, but its rotating nub does a better job than most.
This makes it an excellent foreplay toy as well as a beginner-friendly nightstand addition.
>>>Check the best price for Lelo Ora 3
32. We-Vibe Tango – Most Popular Bullet Vibrator
Highlights
– High-quality rumbly vibes
– More power than common bullets
– Remote control
– Easy to carry and store
– Travel lock
Price
– $79
Don't let the small size or the fact that it's made of plastic keep you away from this fabulous toy.
All the hype around We-Vibe Tango is well-deserved, and this little bullet packs some serious heat.
Although it's made from plastic, it's the perfect versatile companion that you can use on its own, or with other sex toys. Plus it's perfect to get the mood going with your loving partner.
>>> Find the best deal on the We-Vibe Tango today
Best Vibrators FAQs
Which Lube Should I Use With Sex Toys?
Which lube you should use with sex toys depends on the kind of sex toys you're playing with. You can use water-based lubes with anything, and they're pretty easy to wash off.
Silicone-based lubes are thicker and longer-lasting, but they don't go with silicon-based toys as they can damage them.
Oil-based lubes are the most affordable, and you can use some natural options, like coconut oil. But don't use them if you are using latex condoms, as oil-based can degrade and break the latex.
What Are the Best Vibrators for Couples?
We-Vibe Chorus is one of the best vibrators for couples, as it is designed to be used during intercourse, and it brings pleasure to both partners. Cock rings, like We-Vibe Verge, are also great couples' toys for the same reason.
Cock rings can also help guys who have ED, which is a plus for some mature couples.
What Are "Body Safe" Sex Toys and Why Does It Matter?
"Body-safe" sex toys are intimate toys made of body-safe materials like silicone, stainless steel, and borosilicate glass. These materials are non-toxic and non-porous.
Non-toxic means that no toxic chemicals will reach inside of you, and non-porous means bacteria won't be able to squeeze in. That way, you'll avoid the risk of toxic materials and catching a bacterial infection.
Why Should I Spend $100 or More on a Vibrator?
You should spend $100 or more on some of the best vibrators mostly for your health, safety, and pleasure.
More expensive vibrators usually come from reliable brands that source body-safe materials, offer modern-day technological features, and create toys with the users' best interests in mind.
Ultimately, if the best hookup sites aren't giving you what you need, a well-made vibrator can hit the spot just right.
How Do I Care For My Vibrators?
To properly take care of your vibrators, it's important to remember that they need to be washed before and after use.
How to wash a sex toy depends on the toy, but warm water and anti-bacterial liquid soap usually do the trick.
What Are the Best Vibrators for People Who Have Issues Coming?
The best vibrators for people who have issues coming are dual-stimulation vibrators that produce blended orgasms. We suggest taking a look at the Lelo Smart Wand 2 or Fifty Shades of Grey Greedy Girl. These two bad boys pack some serious power and have what it takes to help you reach an orgasm.
RELATED: Best Onlyfans Accounts 2023
Final Words on the Best Vibrators
Vibrators and intimate toys for females are the best way to enrich your sexual experiences and change the way you approach to pleasure.
If you can't take my word for it, ask anyone with a cherished sex toy. All you need to do is find the one that works for you.
In our opinion, the Lelo Soraya Wave works for so many women, and we can't recommend it enough. It's powerful and cover's all the important bases without a fault.
However, if you prefer something different, you can't go wrong with any of the choices from our list.
Good luck with your search for a little nightstand buddy.
RELATED: Best Sugar Daddy Sites