"Mine's the white coat with the black seams. No, not that one, to the right…" Luckily for the attendant at this cloakroom at the V&A, the 150 nearly identical coats all belong to Faye Toogood, who lends them out as a sort of access pass to her interactive installation dreamed up for this year's London Design Festival.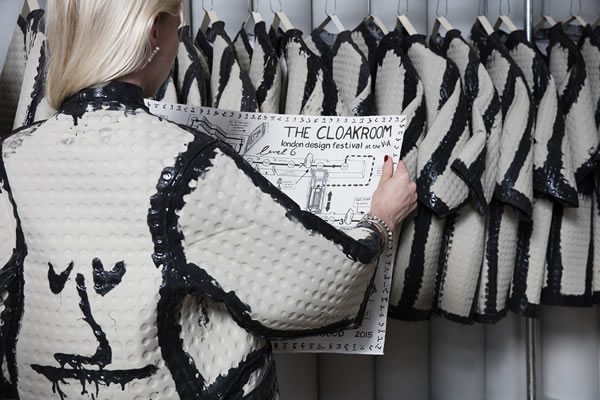 Visitors will find the installation — a sweeping semi-circular rack holding overcoats designed by Toogood in conjunction with textile experts Kvadrat — in the Clore Study Area of the British Galleries.
The Danish firm has manufactured Toogood's design from a clever new compressed foam material. The coats, at first glance completely uniform, have been given their own dash of individual personality by the addition of a face drawn on the back. Each garment has a map sewn into it, leading the wearer to discover 10 coat sculptures hidden around the V&A. These design pieces, each produced by a different British manufacturer, experiment further with unusual materials, and have been fashioned from all sorts including carved marble and studded rubber.
Hunt the coats down at the V&A before they disappear on 27 September.