Other Side interior design studio and Caravan Restaurants join forces on the brand's Canary Wharf venue to create an 'idyllic retreat' in the city's central business district; Other Side founder, Gavin Mayaveram, telling us: "a simple neutral palette of natural and raw materials is warmed up with Palm Springs-inspired finishes and textures. We added lush green tropical plants within the dividing walls and around the periphery of the site to add texture and to create this sanctuary-like feel."
The all-day dining venue has seating for 120 and offers breakfast, lunch, brunch, dinner, along with their renowned coffee and everything in between; workers and residents invited to take time out of their day to enjoy great food and drink served with a healthy side of good vibes.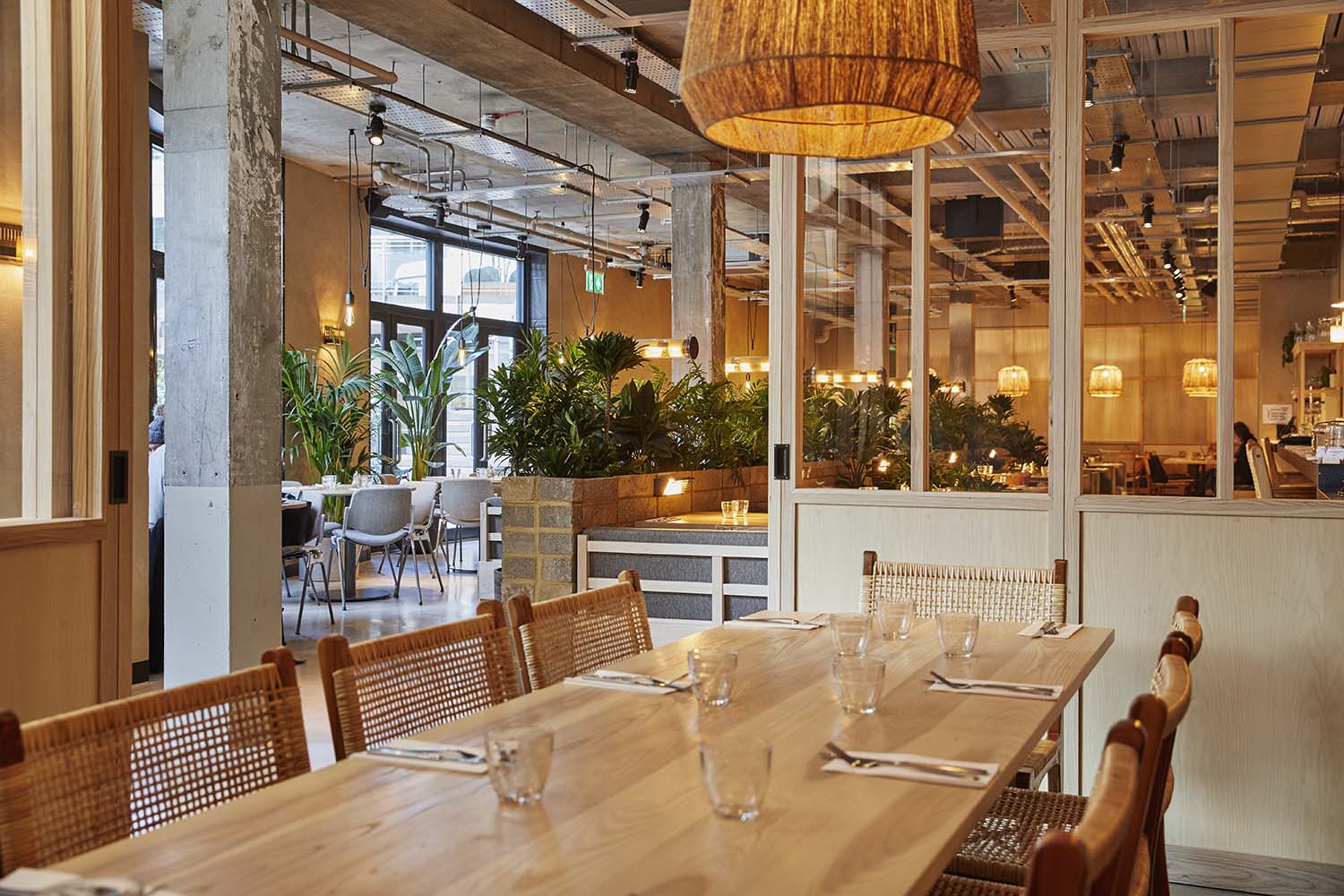 Design elements include hand-crafted bleached ash and woven cane for the furniture and joinery, and rattan chairs and bar stools serve to complement the bespoke cane ceiling in the restaurant's private dining area. In the main dining room, a more industrial aesthetic is conjured through reclaimed upholstered chairs that sit alongside concrete tables with exposed pebbles and stones, whilst a central bank of upholstered booths allows diners to sit within the heart of the restaurant.
The design-led collective introduced soft lighting to create an inviting space, opting for perforated brass wall lights and woven pendants to cast soft shadows onto the surrounding walls and ceilings, with suspended pendant lighting, table lights and exposed lamps lending a sun-kissed feel; particularly impactful as the interior transitions from day to night.
Located in the heart of Canary Wharf alongside Konstantin Grcic's 'Six Public Clocks' installation, Caravan's latest is a tropical treat for the capital's financial centre.
@caravanrestaurants
@studio_otherside