The secluded coves and breathtaking beaches have captivated you. Enthralled by limestone mountains and hillside towns with gorgeous views. The utterly charming La Seu Cathedral and historic Palma have mesmerised. Perhaps you have even been soothed by the serenity of relaxing in a lush Mallorcan villa. Now, as you inch towards the end of your day, you want to dive into a delicious, uniquely Mallorcan meal. Let's discover seven of the best restaurants in Mallorca.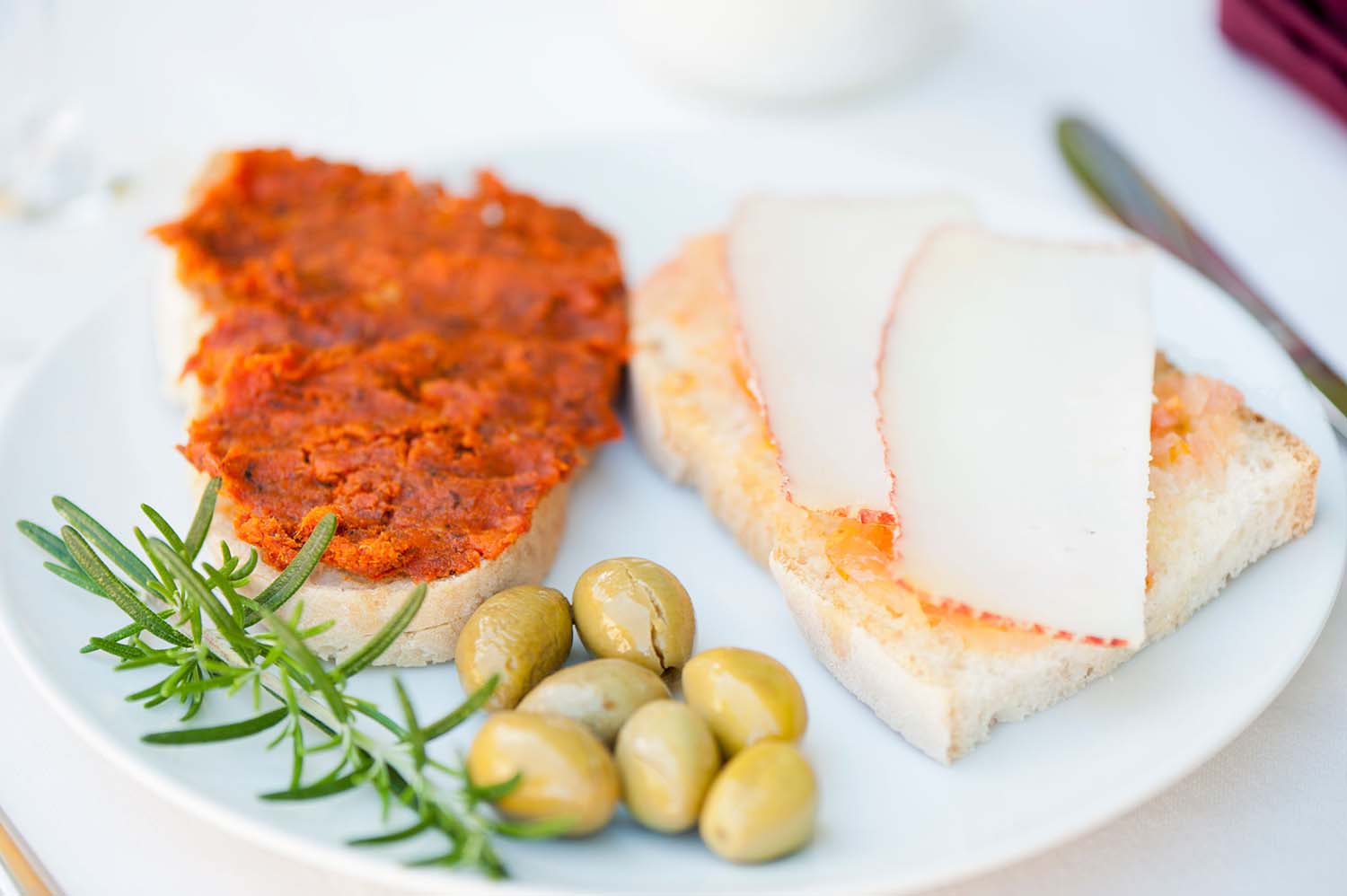 Which Restaurants in Mallorca Offer the Best in Local Cuisine?
The island boasts a rich and happening food scene, particularly in Palma. Here, several Michelin star restaurants meet diverse offerings such as Asian, Mediterranean, Mexican and South American. Nevertheless, the old adage When in Rome… coaxes us towards opting for some traditional, authentic Mallorcan cuisine. Centuries gone by have seen this cuisine honed, and that makes the most of the plentiful island fare.
Throughout history various countries and cultures conquered the region, bringing influences from the Roman Empire, the Moors, North Africa also, more recently, Catalonia and Spain. This rich history combined with the island's mild, Mediterranean climate boasts food production of everything from almonds and olives to seafood and pork. The blend of history, culture and geographic good fortune gives rise to a deliciously unique culinary mosaic.
Restaurante Andreu Genestra and Aromata
Andreu Genestra is a Mallorcan born chef. Genestra is esteemed by locals for his back-to-the-land approach, who, after years of dedication, has been awarded a Michelin star and two suns from the Repsol Guide for his eponymous restaurant in the countryside, near the historic village of Capdepera.
Restaurante Andreu Genestra is located on 12,000 square metres of farmland. Here, he and his team are able to grow their own fruit, vegetables and herbs and use them in the kitchen. They also make their own wines and cheeses. Taste fresh, authentic Mallorcan flavours elevated by modern culinary skills in a cosy, country atmosphere.
Genestra's second restaurant, Aromata (which means spices in Latin), is set in an elegant seventeenth-century stone mansion in Palma's historic San Nostra Cultural Centre. It also offers fresh contemporary Mallorcan cuisine refined by Genestra's team. So, what are you waiting for?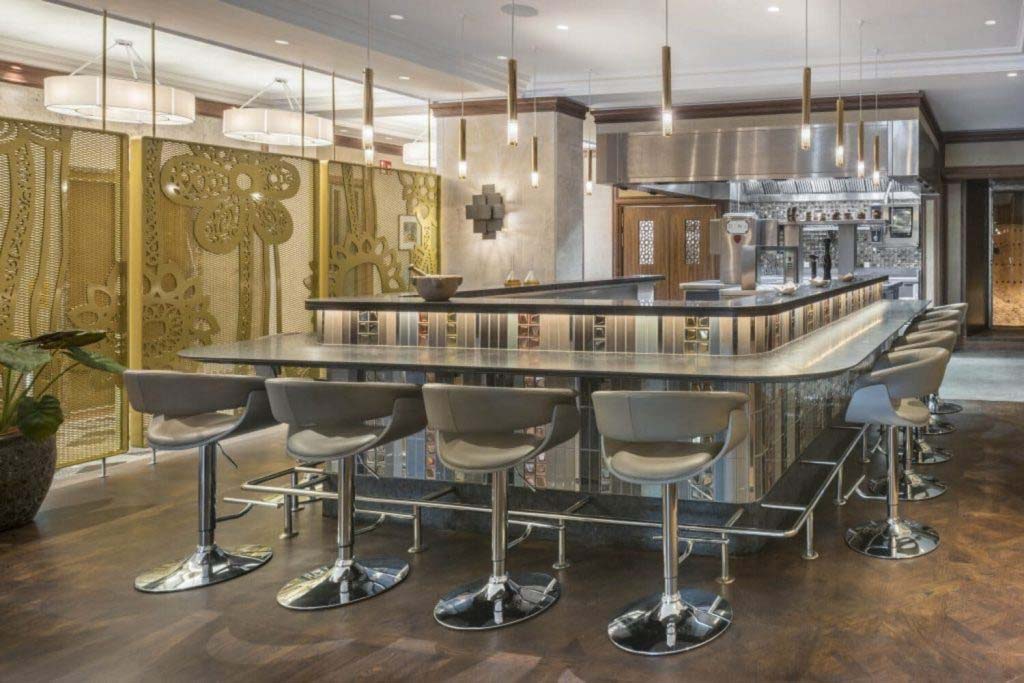 DINS Santi Taura
Start your evening with a cocktail while looking out at the magnificent 360-degree panoramic sunset view from the rooftop of the beautiful Hotel El Llorenç in Palma. Then move downstairs to one of the top restaurants in Mallorca, DINS, a one-star Michelin restaurant led by Santi Taura, a most beloved local chef.
Taura's distinctive and respectful interpretation of recipes from the Balearic Islands' past are sure to please. He has carefully researched the history of several island dishes. Detailing and tracing their cultural roots and influences, the chef shares this rich history with his guests. He aims to offer a unique experience of Balearic cuisine using local, seasonal ingredients and an excellent wine list.
VORO Restaurant
Of the 10 Michelin stars given on the island, VORO was awarded two of them in 2021. The name is Latin, meaning to devour or to eat avidly. This is something chef Alvaro Salazar makes every effort to provoke his diners to do with each extraordinary dish. Two tasting menus present guests with a culinary experience that honours Mallorcan roots but with creative freedom, a sense of humour and a stylish flair. VORO promises to deliver a unique dining experience.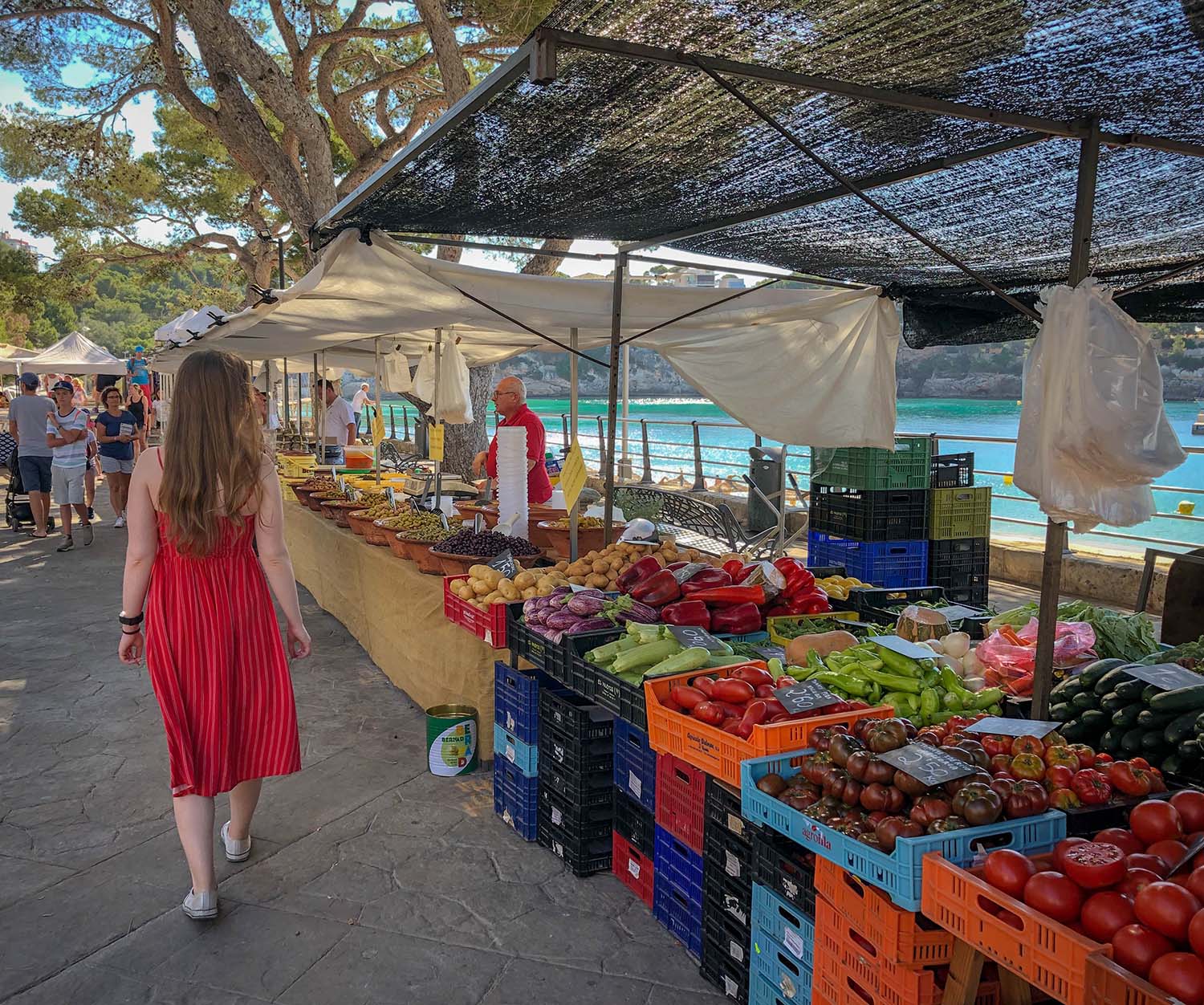 Mallorca's Gastronomic Markets
As well as there being many top, top restaurants in Mallorca, there are several gastronomic markets open every day all year round, many of which can be found in Palma. (Please note they may be affected by local regulations due to the pandemic.) However, there are two standouts.
The first of these is the San Juan Gastronomic Market, located in a pink modernist building from 1900 in the cultural and commercial centre S'Escorxador. Here you can find a gourmet market with food stalls, a cocktail bar, a cafe and more. The Art Deco building is the second standout. It also houses 13 different food stalls offering delectable treats from Mallorca and around the world.
With so much variety in a lively atmosphere, this is a foodie's dream and a fun night out in Palma.
Zaranda
Chef Fernando Perez Arellano's Zaranda received one Michelin star for this restaurant in 2021. It is best known for Arellano's signature style, in which he merges classic gourmet food with his passion for local produce and ingredients. There are two tasting menus that diners can choose from. Each offers original dishes such as Burrata Zaranda or the mysterious and deliciously exquisite Black Egg.
The restaurant also offers a well-stocked wine cellar. Here you can discover an extensive selection of wines from Mallorca and around the world. You will find Zaranda in the beautiful historic centre of Palma.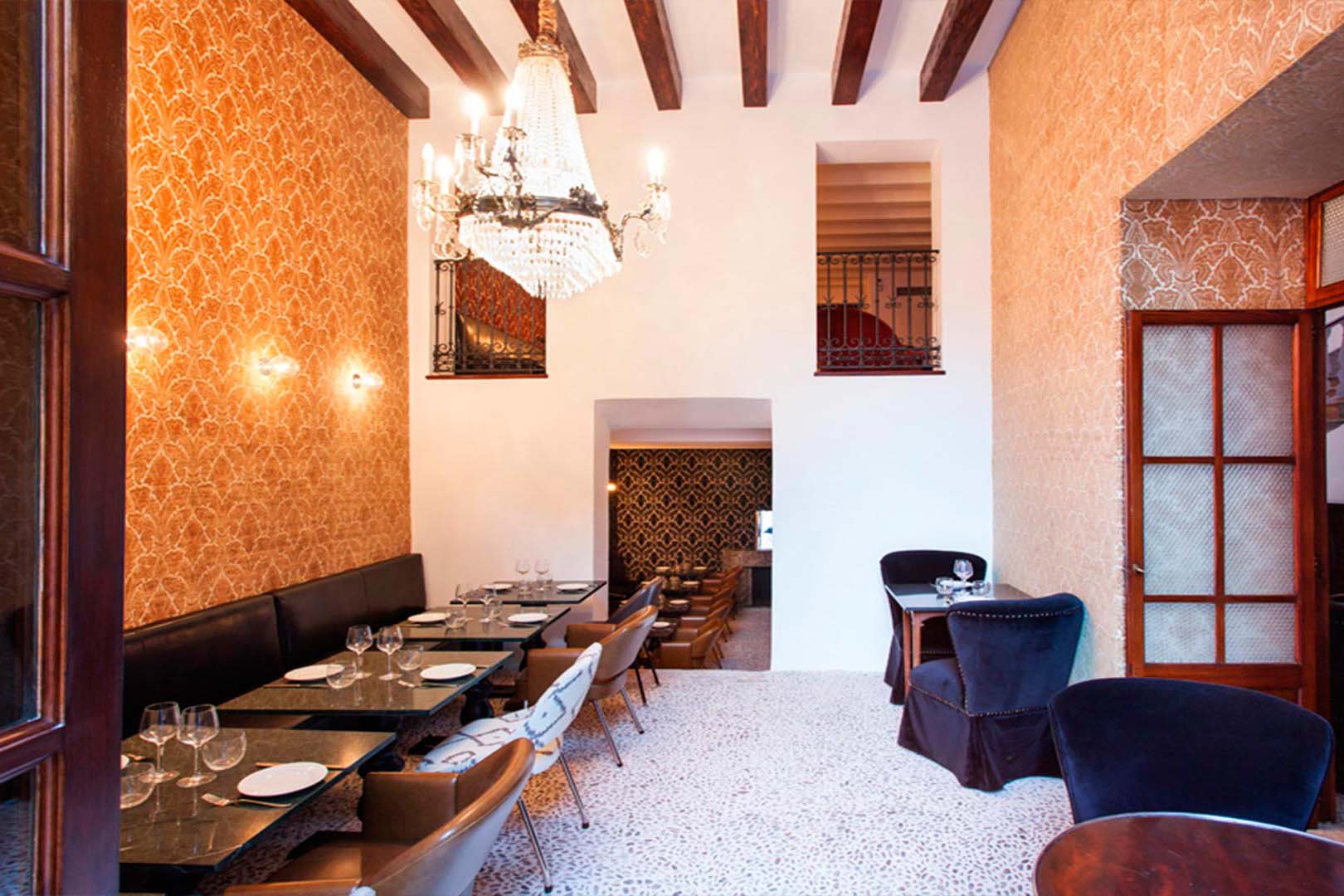 Sadrassana
This is an elegant restaurant experience in every way. Sadrassana occupies a decorated nineteenth-century manor house in the historic centre of Palma and shares the building with the well-respected Horrach Moya Art Gallery. Diners also have the opportunity to take in an exhibition upstairs, enjoy some first-class cocktails in the comfortable bar and then sample the culinary delights on offer.
Their coca flatbreads with various toppings are especially celebrated. Sadrassana has received a Repsol sun, a prestigious award in recognition of its excellence and respect for regional cuisine.
Casa Maruka
When looking for good food in a place you don't know, it is often worthwhile to check out where the locals tend to haunt. In this case, Casa Maruka. In this modest but very charmingly decorated restaurant on a small street in Palma near Placa d'Espanya, chef Alberto Serrano offers excellent, authentic favourites of Mallorcan cooking and seasonal market cuisine. Also, it is all at a reasonable price.
A recommended dessert is the made-to-order apple tart with vanilla ice cream. However, be advised that booking well in advance is essential as the restaurant is small and fills up quickly.
In closing, then. The glittering jewel of the Balearic Islands that is Mallorca presents a rich and lively tapestry of cuisines. You can expect everything from local to international and more. Furthermore, they are constantly developing and changing. So, should you be looking for a culinary adventure on the island and, in particular, local, authentic cuisine, consider these exceptional restaurants. You're booking your flights already, right?