If you're reading this AdultFriendFinder review, you've probably come across the dating site through a rather tantalising advertisement or perhaps a friend who got lucky through it.
You're probably also wondering, is AdultFriendFinder legit? Can you find what you're looking for? Or is it worth paying for?
Well, this AdultFriendFinder app and site review is going to answer all these questions, and more.
We've reviewed the online dating site and the users on it to dig deep and determine whether it's just another 'scammy' website or if it's the real deal.
So, let's get to it!
What is AdultFriendFinder?
AdultFriendFinder is one of the most popular dating sites for finding sexual partners online, and perhaps real-life if things come to that. It's one of the oldest websites of its kind, dating back to 1996.
Simply put, AdultFriendFinder is all things related to hooking up.
Whether you're looking for a sexual partner nearby, want to watch a live cam, or join group chats, you can find all that on this hookup site.
Unlike other popular dating websites or apps like Match.com or Tinder that hide hookups behind a dating facade, AdultFriendFinder keeps it real.
The name itself is a big giveaway for starters, but when you visit the website, you'll see a prominent banner claiming the website to be the "world's largest sex and swinger community."
It's actually part of the FriendFinder Networks, which runs a variety of websites and applications for dating and entertainment.
The AdultFriendFinder app is just a web app, meaning you cannot really find it on PlayStore or the App Store. So even if you're using it on a mobile, you can access it through a browser only.
The website hosts people from all over the world who are on it for the same purpose. But more importantly, it accommodates fetishes and kinks as well, which sets it apart from many of the common dating sites.
It's quite a popular website, as the average number of visits to the website is over 55 million every month.
How Does AdultFriendFinder Work?
The concept of the website is pretty straightforward: it's for people to match and communicate.
However, AdultFriendFinder is a website, so unlike an app, there are a lot of pages and features you can use. For instance, you can also find live streams, but that depends on your membership (more on that in a second), as well as numerous adult chat rooms.
It does require signing up, but luckily, that's free!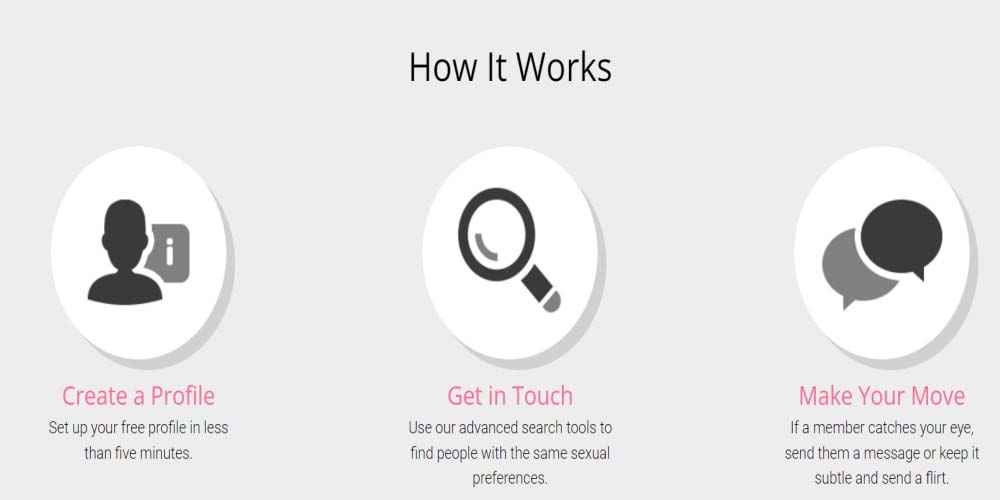 Sign-Up
The sign-up process is pretty simple to follow.
You enter your email, create a username and password, and provide some basic information about yourself – like your sex, age, preferences, etc.
If you find those long forms on OkCupid or Hinge annoying, AdultFriendFinder keeps things brief!
You'll need to confirm your email address, so you do need a real email to sign up. Once you have confirmed, you will be taken to a payment page to sign up for the Gold Membership.
Now, this membership isn't necessary per se; you can use the website without it as well. But the experience may not be as great.
Free Membership vs. Gold Members
AdultFriendFinder does offer a decent slew of free features. You can visit profiles, message other users, send virtual gifts, send and receive emails, and take part in group chats.
However, as we noted and found out from other members who have used it, signing up for the paid version, the Gold Membership, is really the only way to make the best of it.
Gold Membership status gives you more access to the website's features and content, so basically, you have more perks to enjoy than you would as a free member.
However, all hope is not lost if you don't want to spend any money on it, or at least initially. There's also a points system that can give you access to the non-free content.
It uses points like money, and you earn those by using the dating site.
That means you'll have to use it quite a lot to earn enough points to unlock hidden profiles, take part in photo contests and view live member webcams.
But that's not all; you can also use the points to tip people's photos and videos. That's similar to how tipping works on platforms like OnlyFans, where you can give money to the content creators you like.
Also, membership gives you access to all the video content, which otherwise is only available as a blurry resolution like a video from the 90s or something caught on CCTV.
Besides all the features, apparently being a member also increases your chances of talking to people, especially women.
As many user reviews online suggest, using it for free doesn't just limit access but also limits your chances of having some fun online or meeting people outside of the hookup site. That's because paid membership increases some credibility – and people don't see you as a scammer.
Paying members also rank higher than those not paying, which allows your profile to be on top of the search page.
Even though paid memberships give you better access, there are other things as well that are paid but not included in the subscription.
Gold Membership Pricing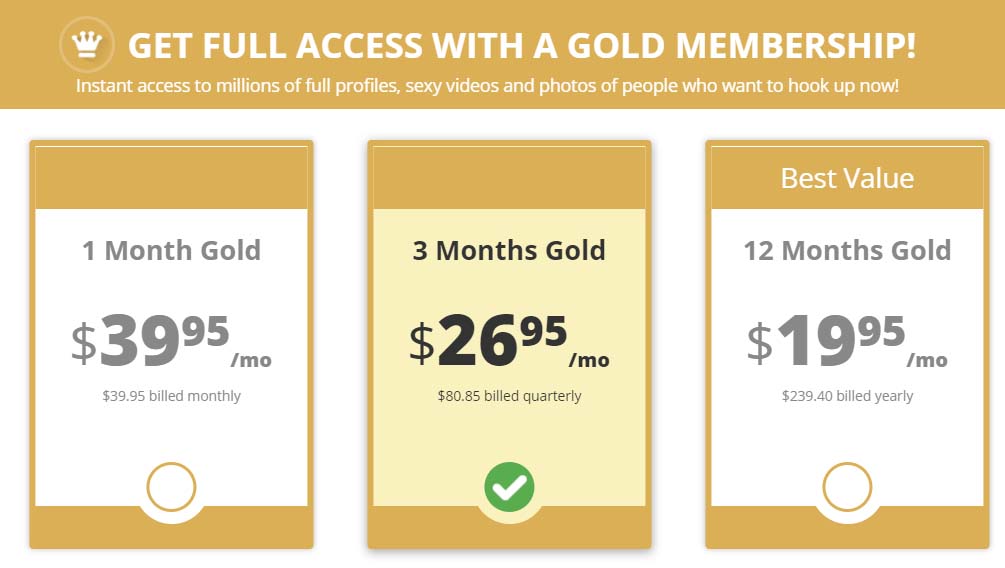 The Gold Membership Pricing depends on how long you sign-up for. There are three subscription options – with the longest period being the cheapest per month.
– $39.95 per month for a monthly subscription
– $26.96 per month for a 3-month subscription
– $19.95 per month for a yearly subscription
It's obviously cheaper to go with a yearly subscription, but that means you'll be charged upfront for the year, however, you can cancel any time you want.
Also, it may make sense for starters to go with a monthly subscription before moving on to quarterly or yearly. This will allow you to ensure whether it's even for you or if you find the experience good enough to keep paying.
How to Match on AdultFriendFinder?
Ok, so finding people on AdultFriendFinder isn't that difficult, especially if you're a member.
As soon as you sign up, you'll see profiles displayed that you can chat with. There's no matching like Tinder; you can contact anyone that is being displayed on your profile.
That said, you'll need to update your preferences and throw in some filters to find people you're looking for. You can set preferences for age, race, sexual orientation, marital status, location, kinks, and even body type.
The website does show whether a user is online or not, so you can chat with them instantly (provided they reply). Similarly, you can also see who is nearby, although that may not be correct all the time, as some users may be using a VPN to change their location.
The online dating site has a dedicated inbox where you receive messages from other users to talk to people. It's sort of like an email inbox, with similar options as traditional email accounts.
The good thing about people on this adult dating site is that they respond quickly, and you don't have to wait too long to get to business. As most users are on it for sexual gratification, most people don't take too long to get comfortable and, dare we say, freaky!
Who Is It For?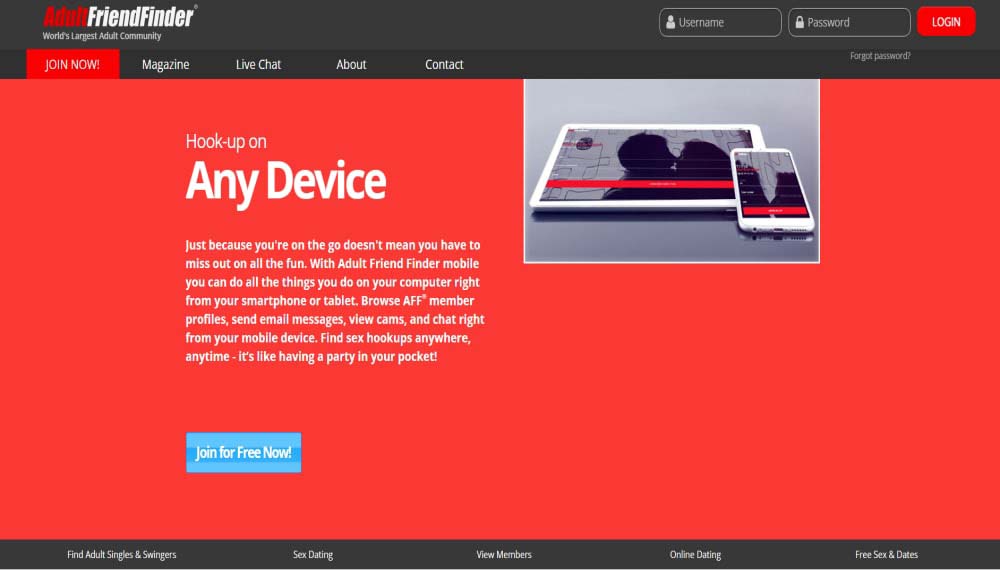 AdultFriendFinder is a good choice for people, especially straight men, who are looking for hookups or just having a good time online with someone.
Since the website keeps things straightforward and tells it as it is, there's no beating about the bush as to what you want out of it.
While you may think that it's probably only for single men and women, you'd also find people who are in relationships or married. While they can easily lie about their status, many don't for a variety of reasons.
That's why the website says that it's also for swingers!
It's also a good option for someone who just wants to blow off some steam or distract themselves after a breakup. Even if you don't plan on meeting someone nearby and hooking up, there are plenty of things to do right from the comfort of your couch or bed.
Unlike real life or a bar, there's a much bigger pool of people, so more chances of finding someone who shares your sexual preferences.
However, if you're looking for something a little less "intense" there are plenty of other best hookup sites to check out!
Who Is It Not For?
AdultFriendFinder uses a lot of racy, kinky photos and videos.
And it's not just the website; the users on it tend to leave very little to the imagination. So if you're someone who takes offence to such content easily, this platform is not for you.
Even though it has "friend" right in its name, AdultFriendFinder is not for finding friends or even relationships. It's pretty raw that way, which may not be your thing if you like to know the person and take your time before engaging in anything sexual.
It's also not for you if you prefer a decent website design because it's a bit busy, which is a perfect segue into the next discussion.
AdultFriendFinder User Interface
The AdultFriendFinder website's interface is still stuck in the 2000s. Also, and this is important, it's NSFW!
It looks a little like an adult website, especially with those in-your-face advertisements and buttons. It's a little all over the place and looks dated, which might turn some people off.
At the same time, the interface is also simple enough as all the options are presented right there at once. Navigation is not too bad either, and you get the hang of it in a while.
Silver lining!
That's probably because of two reasons. First, it's an old website, and they haven't adapted to change so quickly or readily, thinking you don't fix what isn't broken. Secondly, although a bit clumsy, the interface is somewhat easy enough for someone who is not that tech-savvy.
It does look a bit spammy, which may not do so well with a younger generation who are used to better and more sophisticated dating apps. Nevertheless, it still seems to get a lot of users because at the end of the day, sex sells.
That being said, we don't recommend using it in the workplace or a home computer that children can access.
Is There Catfishing on AdultFriendFinder?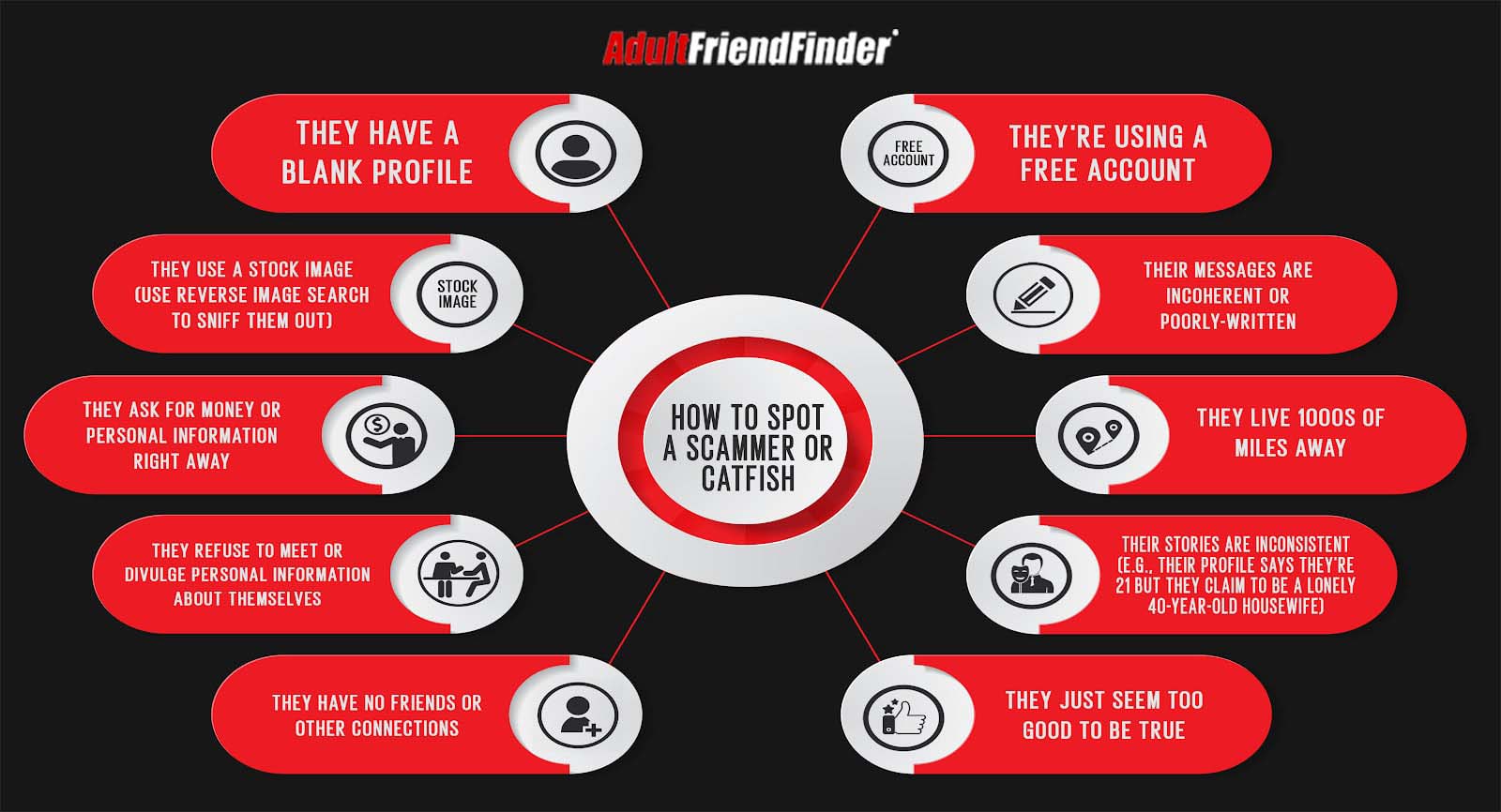 AdultFriendFinder is not immune to bots and fake profiles looking to scam and catfish other users. There are stories on Reddit about this, many of which are classic scams all of us know too well by now.
That's probably one of the reasons why it's not that popular on Reddit anymore.
So, yes, catfishing can happen, and the platform itself doesn't have many protocols in place to avoid that. It's up to you to be careful and see who you chat with. But it's not that difficult to crack that code.
Some users may ask for money, so beware of that.
Because catfishing is rampant, it can also work the other way, i.e., someone may consider your profile to be fake, which can dramatically reduce your chances of meeting someone.
However, that can be avoided with additional pictures of yourself, some more information, and of course, the paid membership as well.
Can You Use AdultFriendFinder to Find a Relationship?
If you've read this AdultFriendFinder review so far, you've probably already guessed that it's not a website for finding love. However, that's not to say that a relationship is completely off the table. Who knows, you may find someone who ends up liking you or wants a relationship.
Unlike other dating apps designed for long-term relationships, AdultFriend Finder doesn't ask a lot of questions for signing up.
However, it does include options to customise your profile and include more information about your physical appearance and, to some extent, personality.
Perhaps, filling in more details may attract someone looking for a relationship. Surprisingly, there are personality tests and something called a Purity Test as well.
Nevertheless, if the look of the website and the people on it are anything to go by, it's not the best place to be if you're exclusively looking for a relationship.
Is AdultFriendFinder LGBTQ-Friendly?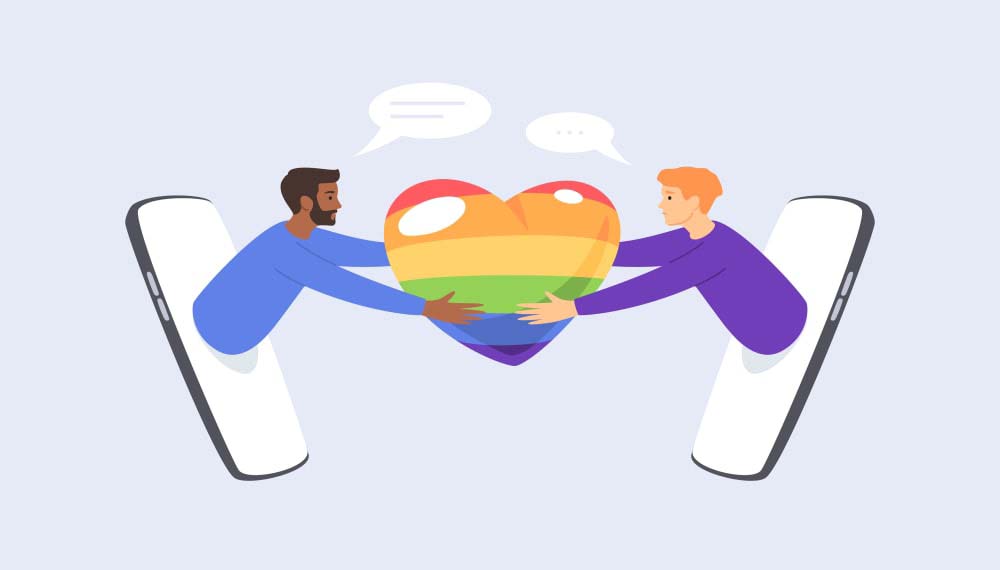 When compared to other hookup sites, AdultFriendFinder welcomes people with all types of sexual orientations and preferences.
So the people you match with are also based on your orientation. In that sense, it does cover LGBTQ individuals but not exclusively.
In fact, it's not geared towards the LGBTQ community. Nevertheless, there are a lot of gay, lesbian, bisexual, and transgender individuals you can match with, talk to, and ultimately meet.
In terms of users, there are probably more cisgender heterosexual males and female members, so the LGBTQ pool is relatively smaller.
Pros & Cons of AdultFriendFinder
It's not all great or all bad, so the decision to use the online dating site would come down to whether the pros trump the cons.
Pros:
After a close AdultFriendFinder analysis, here's what we think the website has going for itself:
– A straightforward platform for casual encounters
– Easy sign-up process
– Judgement-free community
– Lots of entertainment & communication options with paid membership
– Makes it easy to find people with the same interests & kinks
Cons:
Clearly, there's a lot of room for improvement based on the following drawbacks:
– Dated, simple user interface
– Lots of ads
– No restrictions on bots and fake profiles
– Web-based only
– NSFW
Alternatives to AdultFriendFinder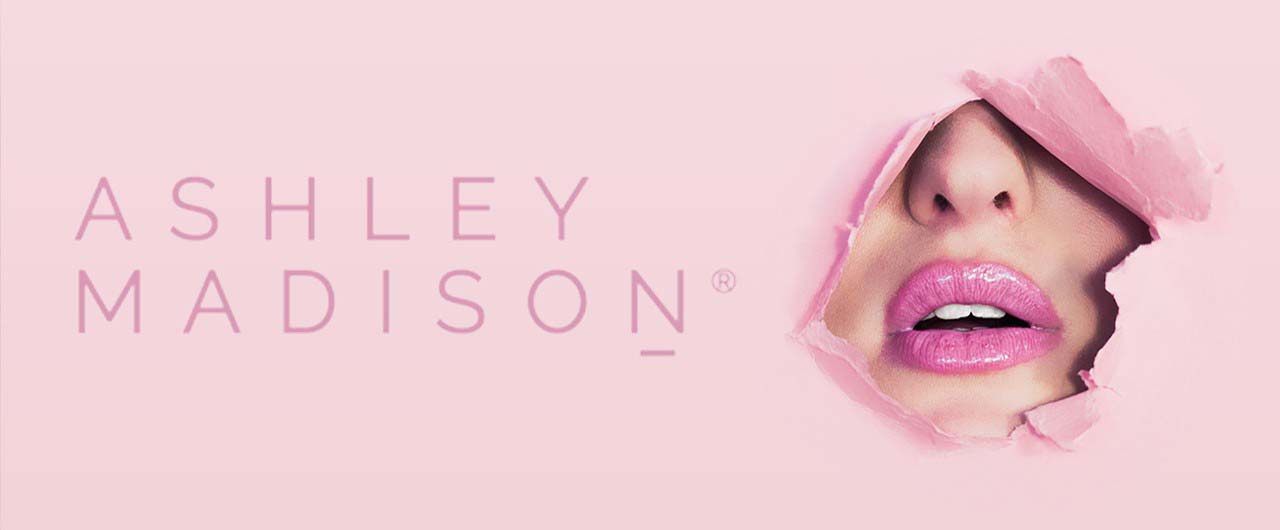 Perhaps AdultFriendFinder is not for you, or perhaps you didn't get what you were looking for out of it.
Fortunately, there are countless dating and hookup websites and apps available.
If you're just looking for hookups, other options include Ashley Madison or Seeking. In apps, Tinder and Bumble are good for both casual hookups and relationships.
But if you don't mind filling out a lot of fields and answering personal questions, you can also go for eHarmony or Hinge. The latter is particularly famous among people looking for serious, long-term relationships if that's something you're into.
Many of these are rather nuanced and perhaps advanced versions of AdultFriendFinder.
In comparison, AdultFriendFinder is quite in your face about what it's about, i.e., hookups. From finding people who share your kinks to watching heart rate-increasing videos – there's a lot to do if you're using it for sexual purposes.
Similarly, if you're gay, you're probably better off with Grindr or Scruff, as those apps are specifically made for gay men. The interface and features are all user-friendly in that regard and considerably better than AdultFriendFinder.
Another plus is that most of these adult sites are mobile apps, so these are more user-friendly for those who prefer using mobile than a laptop when looking for hookups or relationships.
That said, even though AdultFriendFinder isn't as technologically advanced as, say, Tinder or Grindr, it still has a huge user base from all around the world.
Is AdultFriendFinder Legit? Final Verdict
AdultFriendFinder is a viable and perhaps easy way to find a no-strings-attached, friends with benefits situation.
It's a laidback platform where you can find all kinds of people who are there for pretty much the same thing, and even read some racy erotic stories.
Even if you're not particularly looking to meet someone in person, there are plenty of other things to do, including simply using the chat function or watching live streams.
However, its design looks quite old, and it can definitely use a better interface.
Also, if you want to make the best of it, you're going to have to pay for the membership, as without that, it may be hard to find someone. It's also not very sensitive about gender identity and sexual orientations, which is something other platforms like Tinder or Bumble are.
So why not give it a try?
Good luck!