After a challenging year, the summer is here. Edible Blooms is ready to celebrate every occasion, big or small, with its exclusive collection of exciting new gift hampers.
Established in 2005, Edible Blooms soon expanded to several countries around the world, including the UK, Australia and New Zealand. The company specialises in a wide range of gifting products and hampers that you can customise to your personal taste and specific occasion. Edible Blooms has built an astounding reputation by helping customers make special events even more memorable. Rather than run-of-the-mill gifting, the company goes above and beyond to create amazing gifting experiences.
Edible Blooms is well-known for its high-quality gifting options available at various price points. The newest gift hamper collection is no different. With these gifting options, customers don't necessarily have to spend a fortune to make their loved ones feel special. Whether you have a tight budget or it's a 'no expense spared' kind of occasion, Edible Blooms' hampers offer something for everyone.
This collection of new gift hampers includes a versatile range of products for every person, age, or occasion. On the website, you can find collections for all you can imagine. Father's Day, anniversaries, baby gifts, Thank You gifts, congratulation gifts, sympathy gifts, gifts for children, and more. Edible Blooms' hampers are grouped into meaningful categories, so customers can easily and quickly find what they are looking for.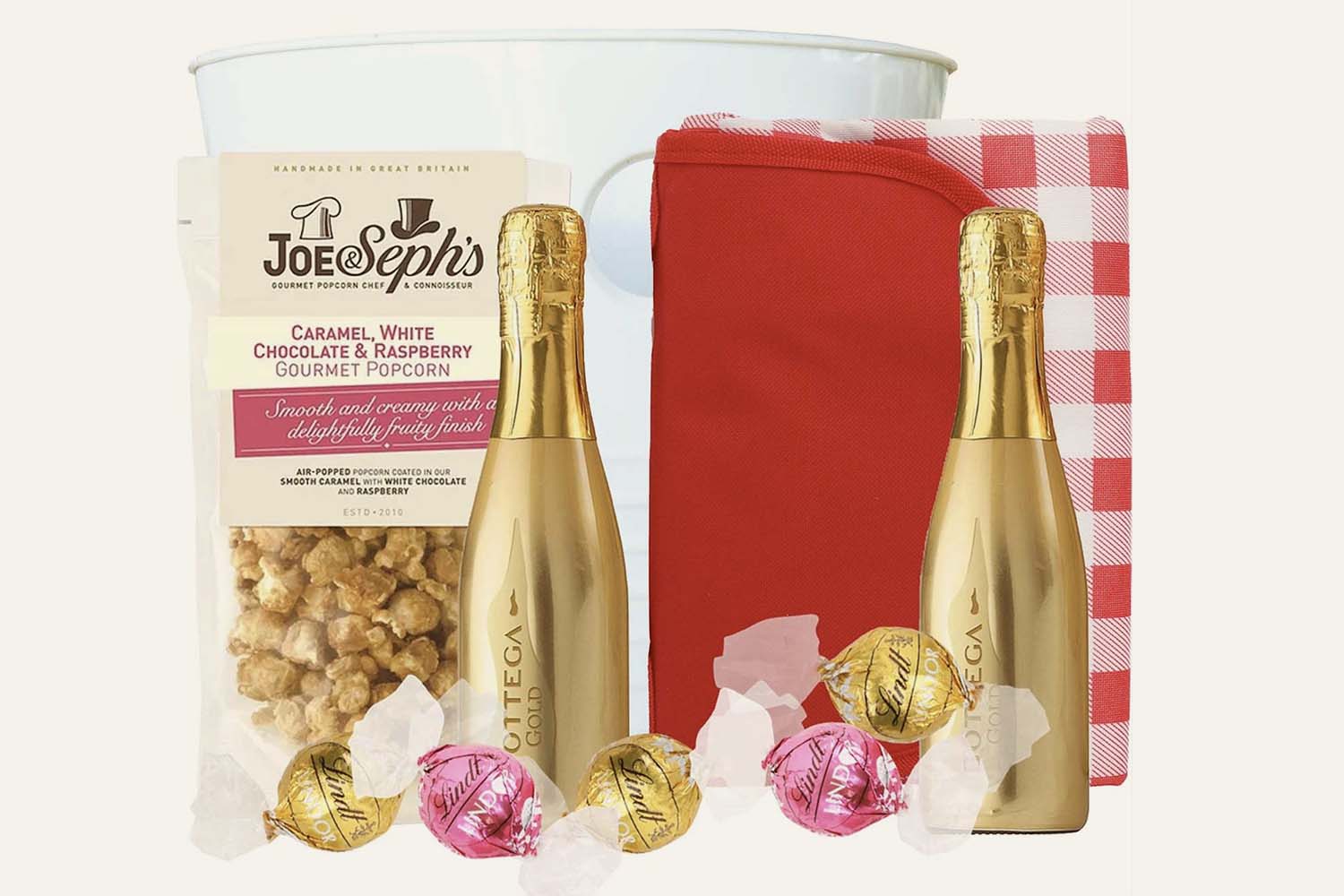 Gift Hampers for Countless Occasions
An Edible Bloom hamper can be used for a variety of occasions. Your first wedding anniversary. A best friend's long-due promotion. Your sister's pregnancy announcement. Life's major milestones deserve to be celebrated in style. And Edible Blooms is pleased to introduce its new gift hampers to make any occasion picture perfect.
An example of a premium gift is the 'Luxury Moet Champagne Picnic Gift Hamper'. This hamper is exclusively put together to take your special announcement to the next level. It includes a 750ml bottle of Moet Champagne so that you can celebrate in style. If you are planning to take the celebration outside, the checkered Picnic Rug will make your outing Instagram-worthy.
And what's a picnic without scrumptious snacks? The hamper comes with a packet of lip-smacking Salted Caramel & Belgian Chocolate Popcorn. It also includes an assortment of ten Lindor Balls and Milk Lindor chocolate to satisfy your sweet tooth. All the goodies are packed in a keepsake bucket that you can reuse later.
To miss your friend's wedding or any other special occasion can be quite disheartening. But don't let that stop you from sending your best wishes. The Edible Blooms' 'Prosecco and Treats Picnic Gift Hamper' is another stand-out pick. No celebration is complete without prosecco, and this hamper includes not one but two bottles.
The sparkling wine is paired with a packet of delicious popcorn from Joe & Steph's and indulgent Lindor balls. And it, of course, comes with a high-quality Picnic Rug. When you are gifting 'Prosecco and Treats Picnic Gift Hamper', you're not just giving your loved ones a hamper, but an unforgettable experience.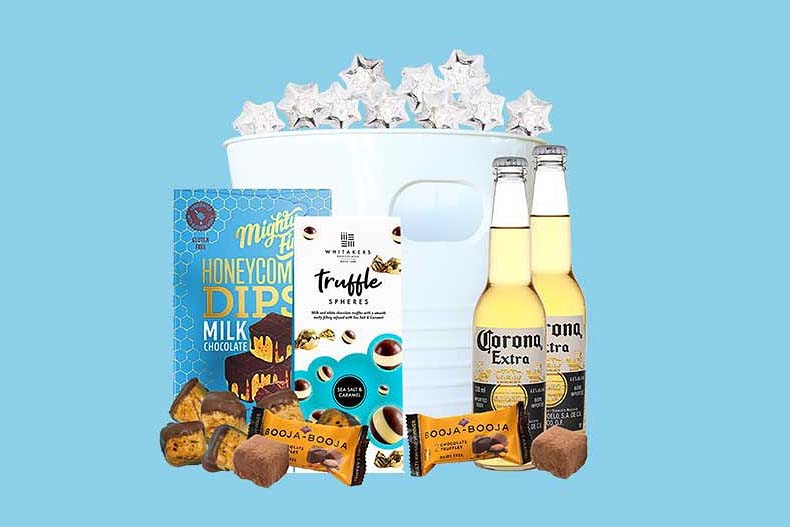 New Gift Hampers for the Men in Your Life
Buying a gift for your dad, brother, or boyfriend can be stressful. Whether you are short on time or money, Edible Blooms is happy to help you delight any special man in your life with thoughtfully curated gift hampers. The freshly launched 'Beer and Treats Picnic Gift Hamper' is the perfect gift to celebrate sublime summer afternoons.
The hamper includes two bottles of refreshing Corona beer, a packet of crisps, and five Lindor Balls, all packed up in a lovely reusable container. Along with all these scrumptious goodies, the hamper also features a charming picnic rug.
Another beloved hamper in the collection is the 'Hells and Heaven Chocolate Bouquet Triple'. It features a divine combination of delectable chocolates and refreshing Camden Hells Lager, all packaged in a white keepsake bucket. 'Scotch on the Rocks' is another exquisite hamper with premium chocolates and a bottle of Chivas Regal Scotch. Exclusively available in Central London, Edible Blooms' 'Donut & Corona Bouquet' comes with gourmet doughnuts, indulgent chocolates, and a bottle of Corona beer.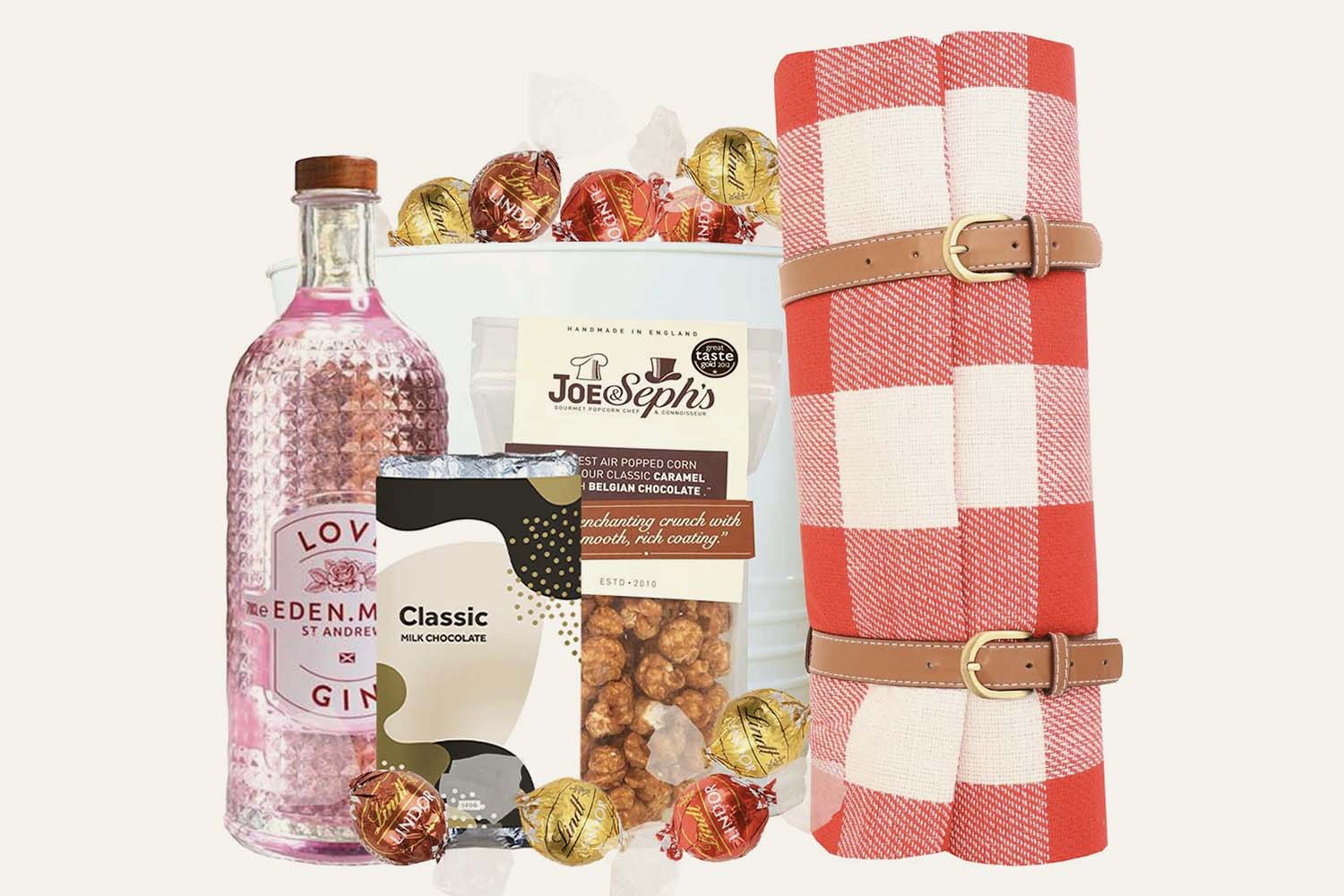 New Gift Hamper Options for Women
Edible Blooms' brand new hamper collection also includes a wide range of gifting options for women. From gifts for wedding anniversaries to Mother's Day, this hamper range will delight and is guaranteed to create smiles.
The newest release is developed to put a smile on your loved one's face. The 'Luxury Gin Picnic Gift Hamper' is the perfect present for Gin lovers. Along with Eden Mill Gin, this gift hamper comes with a checkered picnic blanket, Salted Caramel & Belgian Chocolate Popcorn, a Milk Lindor chocolate block, and Lindor Balls in a keepsake ice bucket.
If you want to write down a heartfelt message, you'll also get a complimentary gift card with this hamper. All you have to do is gather the necessary botanicals, a cocktail shaker, some ice and you're good to go.
Edible Blooms' Prosecco Piccolo Chocolate Arrangement Grand is a gourmet hamper featuring scrumptious chocolates and Bottega Gold Prosecco Piccolos beautifully arranged in a keepsake bucket.
Let's not forget, the 'Dozen Choc-Dipped Strawberries' exclusively delivered to customers in Central London, this box of delights include fresh strawberries dipped in chocolate and packaged in a beautiful box with a complimentary gift card.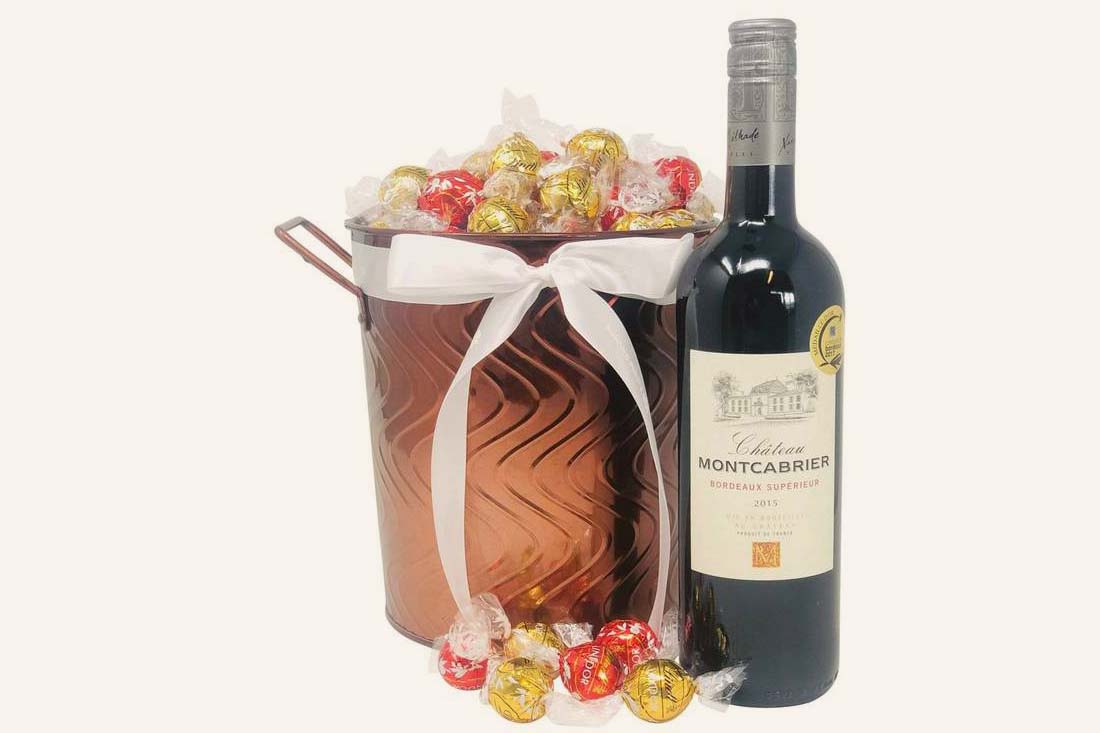 New Gift Hampers for Long-Distance Loved Ones
Even if you are apart from your loved one, quite possible during these unprecedented times, Edible Blooms offers you hampers to express your love from a safe distance. Gift hampers are delivered to the doorstep in London, Auckland, and major Australian capitals. Just because you are apart doesn't mean you can't join in the celebration.
Since most of these hampers contain fragile bottles and delicate snacks, Edible Blooms takes extra precautions when it comes to packaging. The hampers are secured in VIP delivery bags, not only keeping the gifts safe but screaming elegance. Customers can rest assured that the hampers will reach their destination on time and in one piece.
The company also ships internationally. Whether you are surprising your loved one in London or expressing your gratitude to overseas clients, Edible Blooms is the one-stop shop for all your gifting needs.
With a busy lifestyle, it's not uncommon for you to forget your brother's birthday or Mother's Day. Luckily, Edible Blooms is here to save the day. Make that special someone's day with a premium gift hamper. The best part, Edible Blooms delivers same day to greater London, next day across the UK. So you can make it up to them even if you remember last minute.
At times, a thoughtfully put together hamper is almost perfect. However a little customisation can polish it up for that special someone. Edible Blooms offers customers an option to 'Boost Your Bloom'. You can make any gift or hamper from the existing collection even better by adding extra items which include Prosecco, a Plush Bunny, Mismatch Fox, Extra Milk Lindt Balls, Moet & Chandon, Chivas Regal Scotch, Hells Beer, Red Wine and Rose.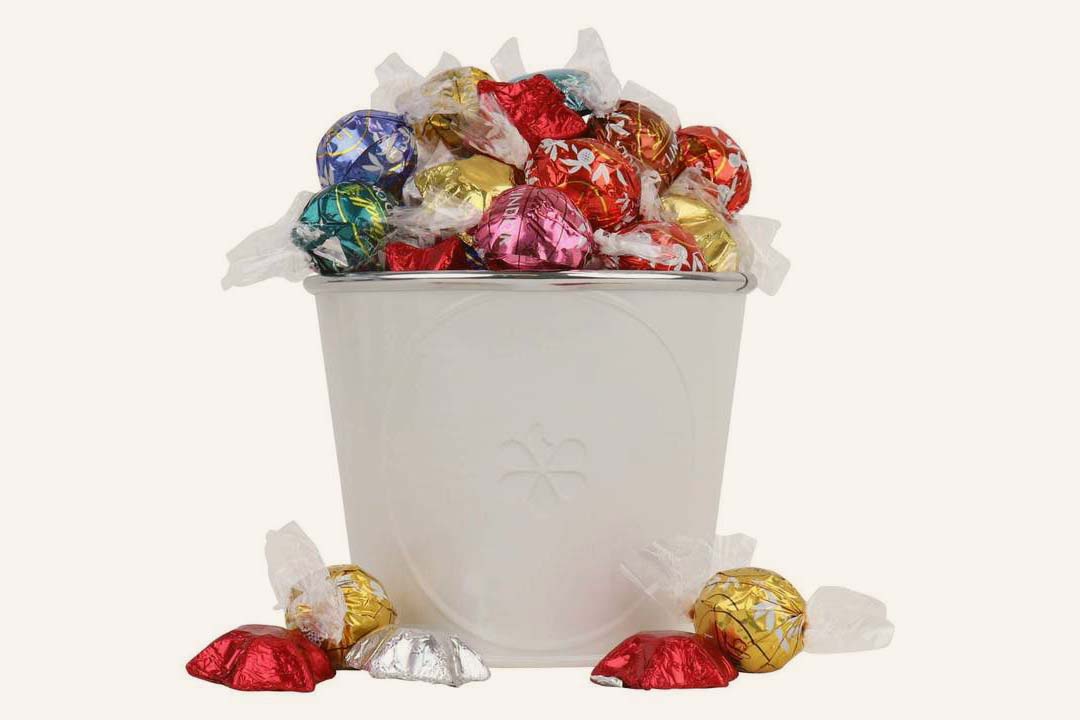 A Focus on Sustainability
Edible Blooms is not only dedicated to designing premium gifts and hampers but is also committed to helping the planet. The company's environmental practices are an active step towards making a cleaner and healthier planet for future generations. Edible Blooms is continuously making changes to make their products greener.
One great example is the Edible Blooms signature tinware, which you can reuse as garden pots or pen containers. Moreover, the company has also made an effort to use environmentally-friendly printing ink and make bouquet sticks from 100% recycled paper.
With this company, you don't have to choose between sustainability and high-quality gift hampers. The gifting collection promises customers the best of both worlds. More recently, the company teamed up with Detmold Packaging in South Australia to exclusively develop bespoke cardboard bases for bouquets instead of floral foam. Edible Blooms commitment to sustainability is further highlighted by its efforts to encourage customers to recycle. The company gives customers £5 off their next order if they send back the Edible Blooms packaging.
Proving that any occasion can be elevated with a thoughtful present, Edible Blooms is pleased to bring joy to your doorsteps. Explore the newest collection here: https://edibleblooms.co.uk/collections/chocolate-hamper/