A former post office in London's Saint John's Wood has been transformed into a Japanese restaurant, designers Child Studio looking to the history of the building and neighbourhood when creating the enigmatic space.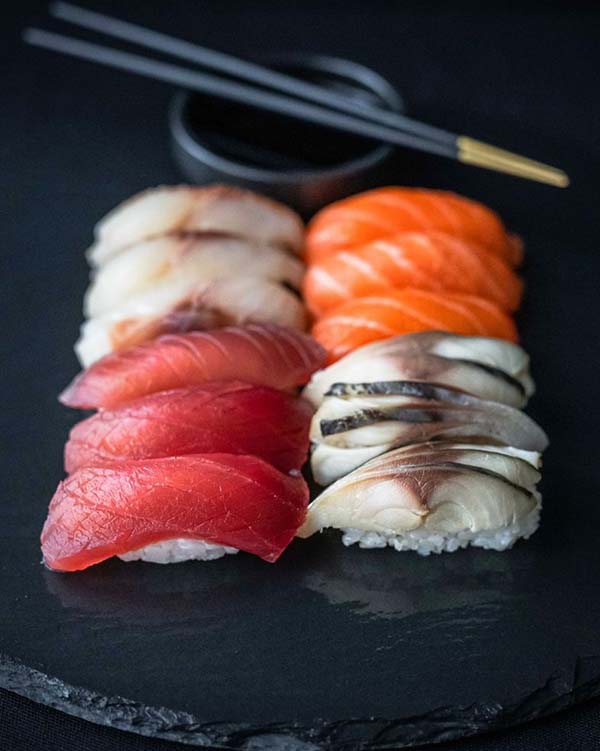 Founded by the guys behind Atari-Ya, the renowned distributor of sushi-grade fish to Michelin-starred restaurants throughout the capital, Maido Sushi put the highest quality ingredients to work in their modern and authentic dishes. Here, the highest level of sushi is handcrafted daily for customers to take away or dine inside. The latter being the wiser option thanks to some stellar touches from Child Studio.
Blending European and Japanese design elements, the aesthetic focal point is a central island counter from which the sushi master prepares and serves plates with a classic essence. Think classic sushi like nigiri with yellowtail or delights such as inside out rolls with spicy tuna and spring onions. It's the real deal. As is the design. Complementing the reflective curved steel panelling of the bar is a sculptural 'Pipistrello' table lamp designed by Gae Aulenti in 1965. This, friends, is a retro wonderland.
The East and West influences continue with a curated selection of antique and contemporary furniture including mid century leather chairs by Mies van der Rohe that are paired with the modern aluminium bar stools by celebrated Japanese designer Naoto Fukasawa. Walls are clad in dark cherry wood panelling with antique brass sconces, whilst shallow alcoves are decorated with large abstract paintings.
Separating the front and back is a large semicircular glass block partition which creates a calming atmosphere. Especially when daylight filters through the textured glass, the inspiration for this feature coming from the façade of Saint John's Wood Library. Located next door, the library building is from the same era as Maido's.
Respecting local heritage and the fabric of the neighbourhood, this modern restaurant proves how great design can elevate a dining experience. Echoing Child Studio's recent work for Cubitts Soho, Maido St John's Wood is a masterclass in viewing a contemporary space through retro lenses. Authentic and considered, this talented design team bag another win.