With restaurants in Notting Hill, Shoreditch, Parsons Green, Queen's Park, and a site in South Kensington coming soon, Romain Bourrillon's free-range rotisseries go from strength to strength, their chickens (sourced from Pays de la Loire and marinated in a secret blend of herbs and spices) attracting a hungry crowd looking for flavoursome fare and healthy homemade dishes.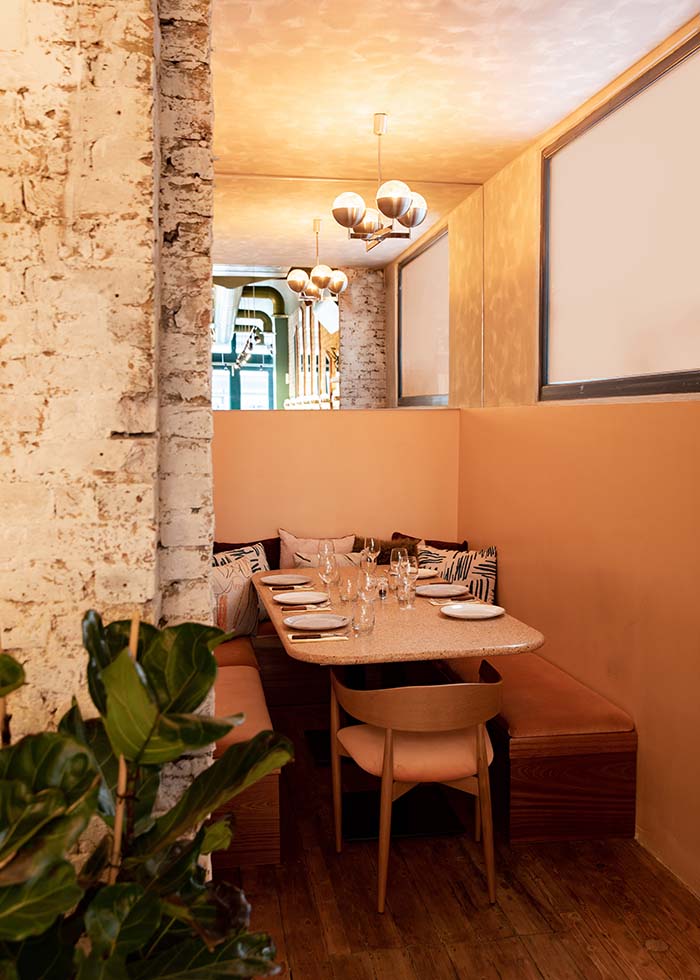 Collaborating with A-nrd studio on their latest site, the 79 Salusbury Road location was conceived at the beginning of the COVID-19 pandemic, and features pastel peaches and greens that conjure up the same joyous feelings you might feel on a warm summer evening when the sun starts making its way down and the sky turns a fiery orangey-pink.
Led by Milanese designer Alessio Nardi and partner Lukas Persakovas, A-nrd studio started by completely gutting the Queen's Park venue before reusing and repairing the existing building fabric the sustainable approach visible in the remaining pine board flooring, exposed plasterwork and original brickwork. Renowned for their spit-roast chooks, the rotisserie kitchen is a focal point located at the far end of the restaurant next to a private dining area.
A light wash finish brightens up the space, juxtaposed with a eucalyptus green ceiling and 'pool-side' striped booth seating. Lush greenery adds a tropical vibe, as do peachy tones, whilst plush velvet seating and terrazzo tables are illuminated by a '70s French chandelier which adds a more refined edge.
Alongside succulent chicken, guests at Cocotte Queen's Park can feast on a brunch menu consisting of eggs cooked every-which-way, healthy salads and charcuterie; all to be washed down with a selection of wines, beers, cocktails and spritzes. A fine looking new destination for Queen's Park, trusty A-nrd have gone and done it again.
@a_nrdstudio
@cocotte_rotisserie