Beginning their careers in London at the age of 16, Jasmine Redstone and Jack Pollard honed their craft at leading hairdressing academies and competitions; Jasmine going on to win Newcomer of the Year at the 2012 at British Hairdressing Awards.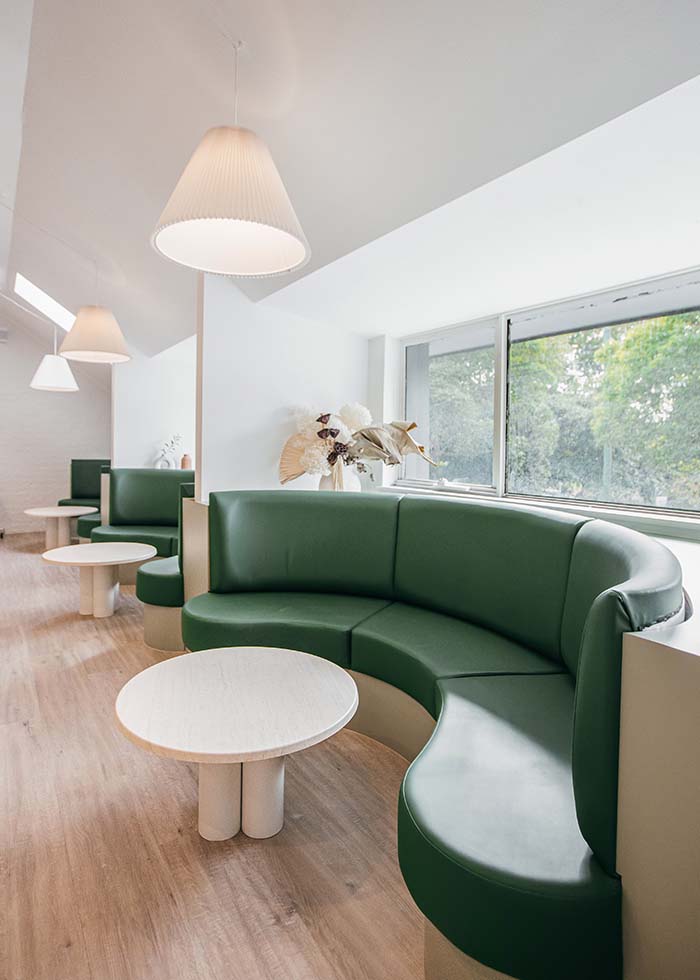 Fast forward almost ten years and the couple embark on the latest chapter in their lives. Having already swapped London for Sydney, they now open Polly and Stone, a hair salon with a worldly approach and some fine design details.
Edgy yet refined, the salon is located in a former music studio in Turramurra on Sydney's North Shore, and nods to the founders' heritage whilst reflecting their travels, styles, and new home down under. Designed with exquisite attention to detail by Studio Highfield, the space offers a high-end salon experience combining beautiful hair with wellness, relaxation and privacy; almost hotel-like with its vivacious hospitality vibe.
A cool, earthy colour palette is offset by the generous use of forest green in the leather booth upholstery and stone benchtops, whilst throughout the salon, sleek curved forms and solid upholstered areas offer comfortable, effortless luxury, enhanced by thoughtful material choices. Clients are treated to the Polly and Stone experience from the moment they arrive and are offered a glass of champagne.
An untraditional salon experience, booth seating with inbuilt USB charging means clients can go about their business during their extended appointments, before enjoying a head massage at the wash chairs which are hidden by soft linen curtains and also offer a time for well earned relaxation before the cutting process commences.
Bringing European flair and a whole bundle of expertise to The Harbour City, the long awaited Polly and Stone Sydney is as beautiful a space as the 'cuts Redstone and Pollard's clients leave with.
@pollyandstone
@studio_highfield