With everything from an art programme that features the works of Alexander Calder, Hans Hartung, Harland Miller and KAWS to a curated coffee programme and some eye-popping views over the Big Apple, the newly opened ModernHaus SoHo offers a luxe cultural escape in the heart of downtown Manhattan.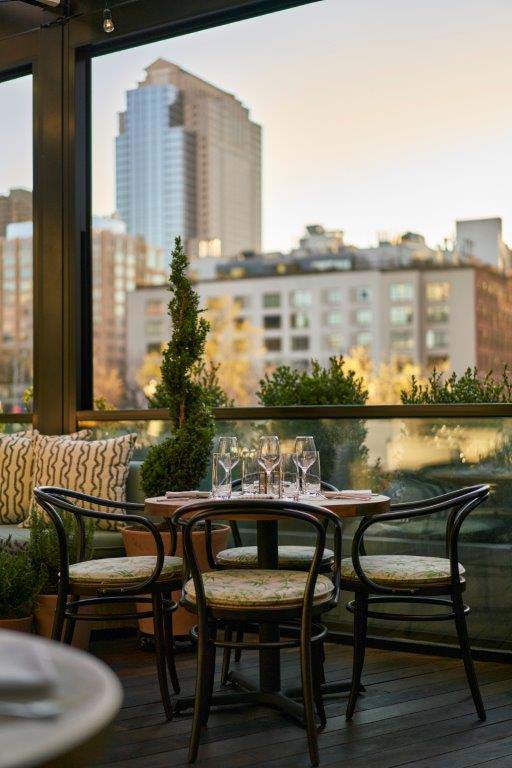 The man responsible for this – from the art and coffee to the minute details such as uniforms and in-room amenities – is Jack J. Sitt, director of Thor Equities Group. Living just a few blocks from the New York hotel, Modernhaus is somewhat of a labour of love for the local; "ModernHaus SoHo is an extension of the neighbourhood's creative and artistic spirit," he explains. "As a resident of SoHo myself, I'm proud to help lead a project that breathes new life into the community after such a long and challenging year. Every element has been created in pursuit of greater connectedness between the guests, the city, and SoHo's heritage. The building's art and design reflects, and is inspired by, its immediate surroundings."
With 114-guestrooms, ModernHaus SoHo channels forward-thinking luxury through thoughtfully designed spaces, intuitive service, and those expertly curated art, culinary, and social programs. Boasting 11,000 square feet of outdoor space (more outdoor space per-room than any other hotel in downtown Manhattan), guests can enjoy style, functionality, and comfort; its chic aesthetics and one-of-a-kind sculptures and paintings the perfect embodiment of 'urban luxury'.
Interiors include a mix of reclaimed wood floors and custom furnishings that complement the art collection, whilst oversized windows let in an abundance of natural light helping rooms to feels brighter and larger. Le Labo Bath amenities, Frette linens, and triple-filtered water add a touch of luxury as do the panoramic views of the city's skyline, that some of the rooms afford.
Formerly The James Hotel, the opening of ModernHaus SoHo marks the return of Jimmy's, one of SoHo's most beloved drinking spots, which is located on the 18th floor with views of the Freedom Tower, Hudson River, and the bridges that span the East River. A place to see, be seen and watch the world go by, its rooftop pool deck is lust worthy for those hot summer evenings in Manhattan. Michelin-starred chef George Mendes whips up seasonal, locally sourced creations at the hotel's signature restaurant, Veranda, set in a greenhouse-like enclosure with a fully retractable roof that allows for al fresco dining.
Should you choose to hang out in art-filled living rooms, sip cocktails on the rooftop, dine on delectable dishes at Veranda, or snuggle under the sheets in the privacy of your own room, ModernHaus SoHo is a new destination as diverse as its famed neighbourhood. Helmed by Sitt and managed by Highgate, this modernism-inspired local is sure to win over travellers and locals alike.