Despite the fact that children have always found objects to play and entertain themselves with, it was after World War I, bolstered by American ingenuity and an ever-growing consumer culture supported by the media empires, that actual 'toys' became the plaything of choice; and a new publication from TASCHEN, compiling vintage toy adverts from this era, serves as a document of these world-changing times.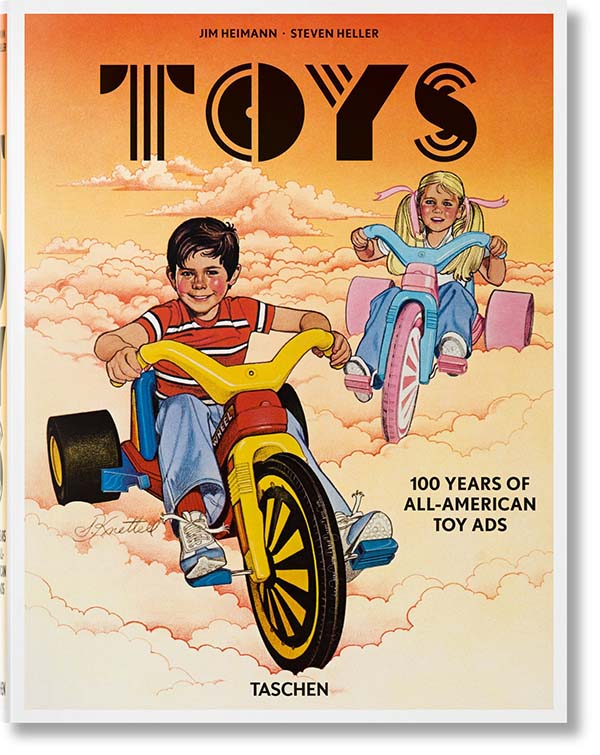 From TV-inspired and movie-inspired dolls to Scalextric, Rubik's Cube to science kits, toys in the United States would go on to enthral children for generations, developed with the unspoken subtext of stimulating developing minds and educational value, whilst making a ruck of money for the creators and manufacturers; the multimillion dollar industry going on to captivate youngsters (as well as bigger kids) the world over.
Ready to embark on a nostalgic trip down memory lane? Toys. 100 Hundred Years of All-American Toy Ads is a stellar 528-page hardback from TASCHEN America's executive editor, Jim Heimann, alongside author Steven Heller. Taking its readers down the aisles of America's toy stores through memorable vintage toy adverts, Heimann and Heller's Toys evokes nostalgia for our favourite childhood playthings, many we forgot we ever owned, and conjures memories of Christmas's past, ripping open the wrapping paper, excitedly navigating boxes to see if the toys we'd seen on the TV in the months running up were going to be ours to love.
Whether they were eventually hugged, hoarded, saved or disposed of, these objects——for a certain period of our lives——held a special place in our hearts. A bolt of nostalgia or a fascinating glimpse into an age before yours, this century of American toy adverts offer an intriguing eye on a critical part of contemporary culture.
Toys. 100 Years of All-American Toy Ads by Jim Heimann and Steven Heller is available now from TASCHEN for £30.