Friends and music industry professionals, Charlie Dorman, Larry Hibbitt and Chris Kiely, have partnered with the best in acoustic and architectural design to transform a light industrial warehouse into state-of-the-art music studios; their new endeavour providing a space for musicians to get to work amid inspired surrounds.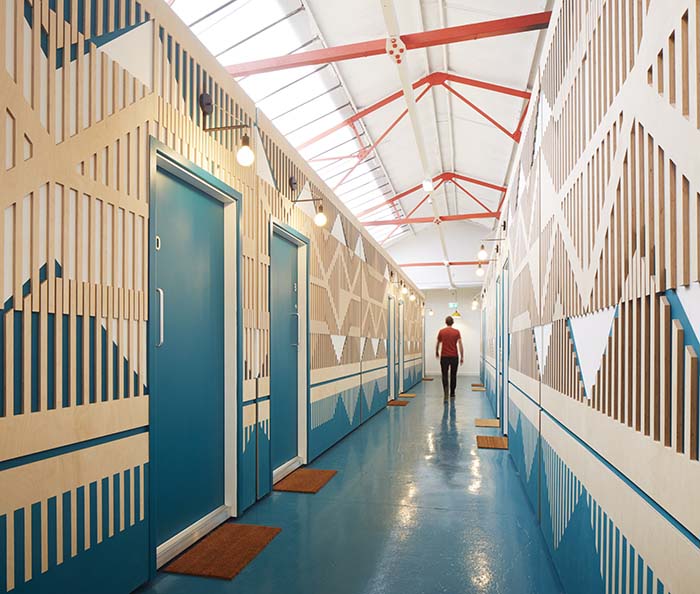 Founded in 2019 as a destination for the music creation industry by Dorman, Hibbitt and Kiely——who were exasperated by how much space London developers were swallowing up——the trio instilled the expertise of architectural designers alma-nac, alongside acoustic consultancy Gillieron Scott Acoustic Design, to develop The Axis on Ormside; enabling city centre creators to thrive and evolve.
Located in South Bermondsey, the enterprise offers both long-term tenancy and flexible day-rate membership, the hub a place where users can settle in and create any time of the day or night. Marketed to 'musicians who have earned a reputation in the industry and need a more professional space to work from and collaborate with others', residents will benefit from being part of a wider community of notable creatives in an area renowned for its creativity and lower rents.
Occupying a two-storey brick warehouse, the complex features ten soundproofed studios arranged along an internal street, an open-plan green room ideal for client-facing meetings, networking and socialising, and a space to accommodate music management personnel joining songwriting sessions. Utilitarian in its design approach, low-cost materials were used in the studios to create a singular environment, the aesthetic inspired by Enzo Mari's Autoprogettazione low-tech approach, whilst the green room features reclaimed and upscaled furniture.
Gillieron Scott Acoustic Design have made sure that internal noise levels will always be suitably low for songwriting, structurally isolating the studios and swathing each in a finish that is designed to control reverberation to industry standards. With all the technical aspects of music creation catered for, an inspired space from which to do it, and a kind of coworking approach to creative collaboration, The Axis on Ormside is a one-stop shop for sonic creators looking to turn their talent up to eleven.