The concept of a coffee house grew simply because folk didn't have a comfortable place to meet and spend time over a brewed cup of tasty, aromatic beans. Indeed, a coffee shop is an ideal option for a variety of scenarios, and it doesn't matter whether you have an important date or are meeting with friends or work colleagues; the experience is one of relaxation and good times.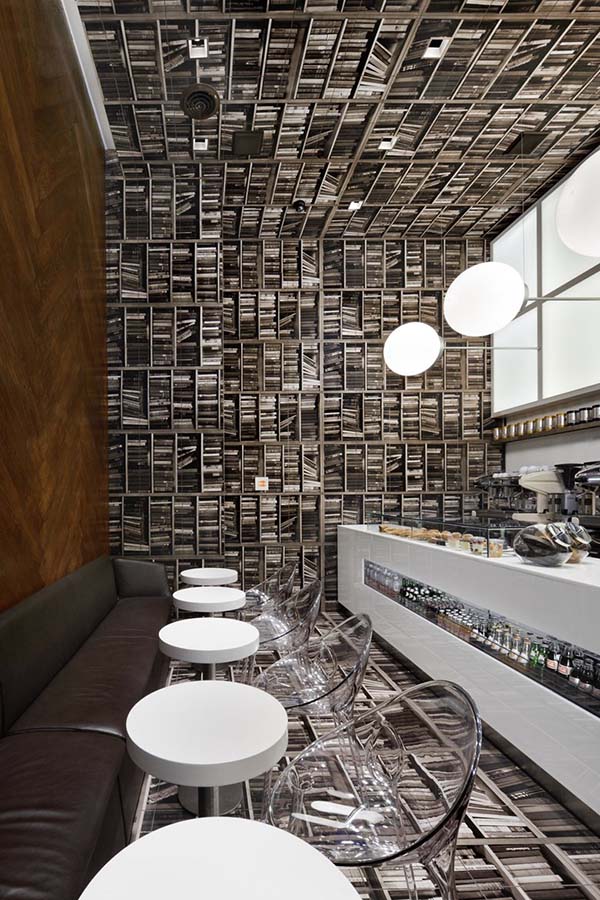 These days, people follow the coffee trend and gladly visit cafés around the world to enjoy a delicious drink amid hip surrounds. Even if you buy one of the best coffee makers under 100€ for your home, the experience of a unique coffee shop is simply not that; it lacks the atmosphere that reigns in beautifully designed public places.
Coffee shop owners hire skilful designers to create unusual interiors and attract more new visitors, and it seems they succeed, because it's always interesting and tempting to pop in a place that stands out from the rest. So, what unique coffee shops around the world are worth your time visiting?
Mocha Café, Chennai: If you open the door of this unusual café, you'll find yourself inside a huge Lego construction, created of numerous colourful blocks. Creators used 3D design to implement this unique interior idea inspired by design techniques popular in the 1960s and '70s. People who can't tolerate bright colours might want to stay away from this visual onslaught of a coffee shop, whilst all others should absolutely seek out this unique spot when travelling in India.
D'espresso Bar, New York: If you come to New York, you may come across this coffee shop next to the Bryant Park Library; its designers deciding to use its location as a source of inspiration when working on the café's unique interior. Did the designers simply turn its walls into stylised life-size bookshelves as if you were inside the library itself? No siree, they decided that simply wasn't enough, and decorated the floor and ceiling as bookshelves; covering one of the walls with parquet strips so it seems as though you're walking upside down. Trippy.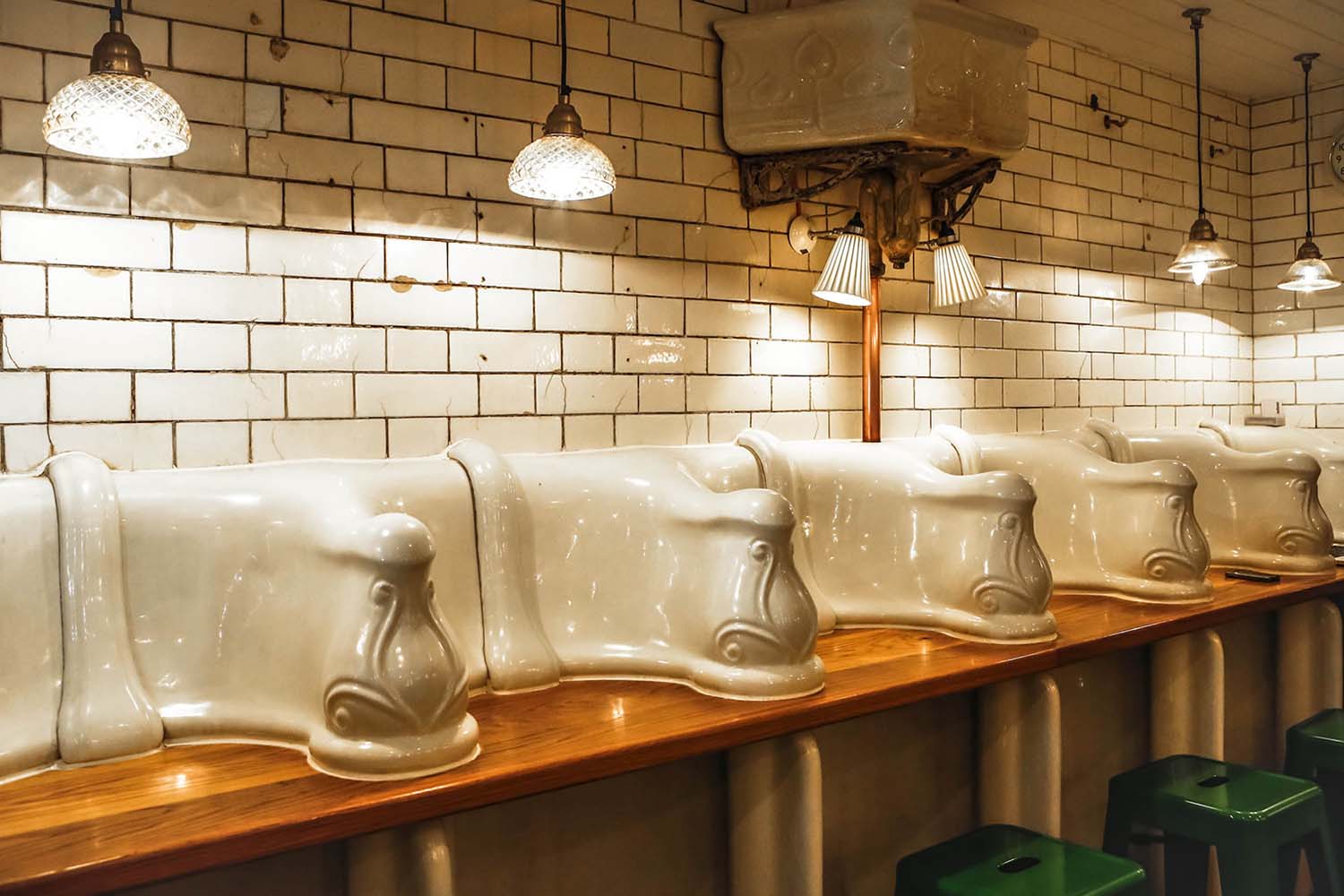 Attendant Café, London: If you don't mind drinking a cup of delicious coffee among old urinals, you should visit this unique coffee shop; the café beginning its story from the day the future owners ran into an ad for an ex-public toilet lease in a pretty attractive area. Thus, Doulton & Co.'s porcelain urinals have become the main feature of this place, and one of the most appealing things for many visitors worldwide.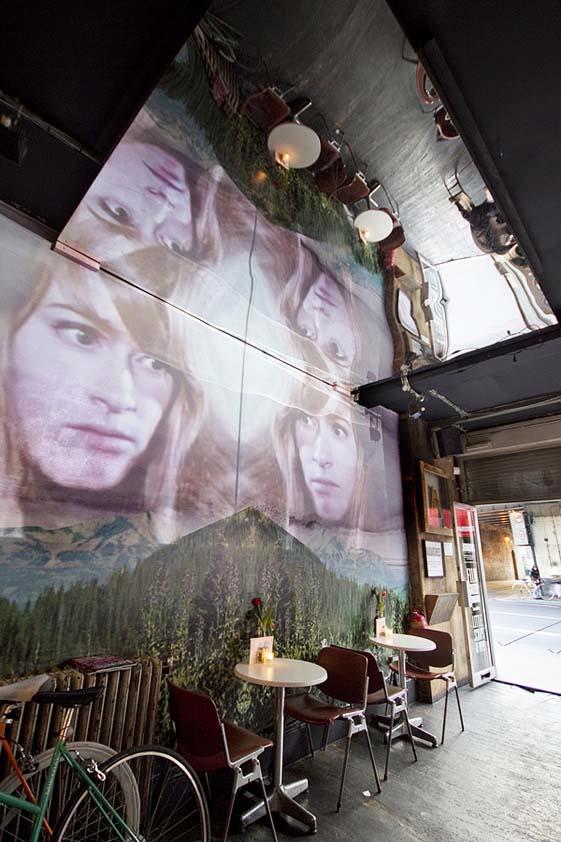 Nowadays, they are used to divide the sitting areas along the wooden bar. Just bear in mind that when it comes to Turkish coffee vs espresso, the latter will win this battle here.
Dream Bags Jaguar Shoes Café, London: If you pop into this café at different times, you'll notice that it looks different each time. Behind the original façade of a 1980s bag and shoe wholesaler, this hipster haunt runs different installations from emerging art and design talent, each exhibition transforming the stylish space into something new and entirely original.
Starbucks Café, Fukuoka: Many people are familiar with the world-renowned coffee shop network, Starbucks, and have of course visited it at least once in a lifetime. In most cases, there's nothing special about their interiors. That is until you come to Japan. Internationally renowned architect, Kengo Kuma, decided to implement his firm-specific technology and add bold wooden elements into its interior; a multi-faceted construction created of many crossed timbers hanging from the café's ceiling and along the walls inside.
Origo Coffee Shop, Bucharest: Interior designers hung almost three hundred teacups from the ceiling of this stylish and untypical coffee house. They found original wooden hammer braces during the old ceiling's dismantling in the 65 square metre room, and set about painting them white to integrate them into the interior design; white cups resemble a wonderful cloud above the bar counter.