Fox Fodder Farm—a floral design studio founded by Taylor Patterson back in 2011—has recently launched a new Brooklyn retail store, workshop and event space, albeit only for a few short weeks; the first stand-alone location for the small business having temporarily closed its doors due to current Coronavirus restrictions. But that doesn't stop us taking a virtual look inside this alluring beauty.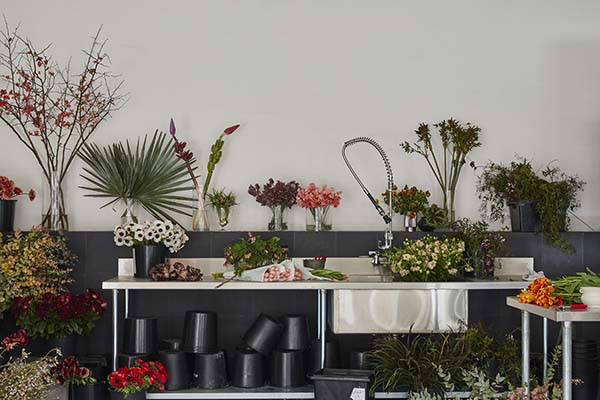 Located adjacent to the new Domino Park public space in South Williamsburg, Patterson's Fox Fodder Farm, a 1,800 square foot retail space, workshop and design studio, is a feast for the eyes; the venue mixing raw materials and a neutral colour palette to allow the jaw-dropping floral arrangements to take the centre stage they so deserve.
Designed by New York-based design and build studio, Brook Landscape, the retail area features an in-ground stone water feature that provides soft background noise throughout the day, and the use of floor-to-ceiling moveable sand-coloured curtains enable Patterson to convert the shop cum studio into an events space; a host of discussion panels, poetry readings, performances and more in the pipeline for when all of this is finally over.
Renowned for their creative and thoughtful seasonal floral arrangements and botanical installations, it's only natural that at Fox Fodder Farm the flowers are the star of the show. Lined against bare concrete walls with neutral wooden shelves that also feature curated products made by selected artists and artisans, these freshly cut florals couldn't look any more at home.
@foxfodderfarm
@brooklandscape