Make sure that you do not turn up with anything less than a 100% charged battery on your smartphone when visiting new Budapest bar and restaurant Buhairest. From its untouched concrete arches and blush pink walls to terracotta tiling and a marble bar, architect and designer Roman Plyus has created one hell of an Instagram-friendly venue in the Hungarian capital's historical city centre.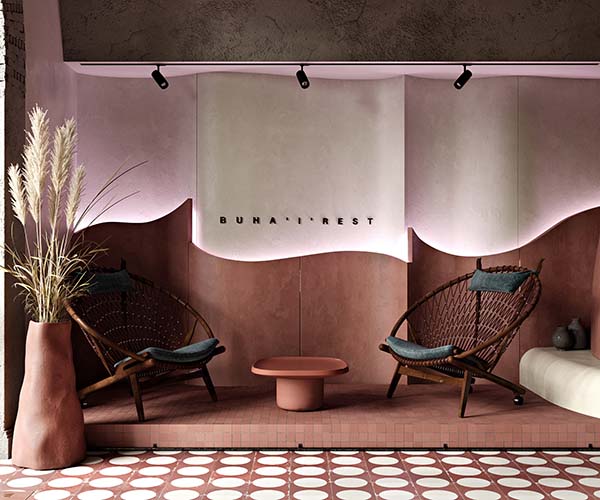 "The client wanted an ultra modern space juxtaposed with a vintage chairs Pierre Jeanneret, which he left from the last project," explains Plyus, "with dramatic feelings, Instagram views and a friendly atmosphere." Dramatic is the word. A devastatingly beautiful bar for a devastatingly beautiful city, Buhairest Budapest retains much of its host city's grandeur and old world glamour, driving it headlong into a world of whimsy and cutting-edge design and art; the latter looked after by art consultant, Angelica Chernenko.
A 'concept bar and a lounge for luxury dining', the 350 square metre space is an inviting one day or night, the speakeasy style venue also divided into a coffee bar for those catching up with friends or over a spot of work in the afternoon; before transforming into one of the city's preferred hangouts come nightfall.
The innovative space offers both communal and more 'intimate' seating, a cosy table for two snugly positioned underneath warm lighting and artwork, although for the contemporary art lovers among us, the real pièce de résistance here at Buhairest is undoubtedly the imposing KAWS sculpture, Small Lie, which is tucked ominously into a mysterious nook to the side of a concrete staircase.
Inspired and original, cutting-edge and unconventional, one might expect to see a lot more of the incredible Buhairest.