Encompassing almost an entire block in the centre of Hobart, In The Hanging Garden features a tiered beer garden with outdoor dining, bars and live music; the space spanning from the city's Odeon Theatre and extending through Liverpool Street, Watchorn and Murray Streets, the ​cultural mixed-use precinct still only at Stage Zero of what is a much broader vision for a more expansive project.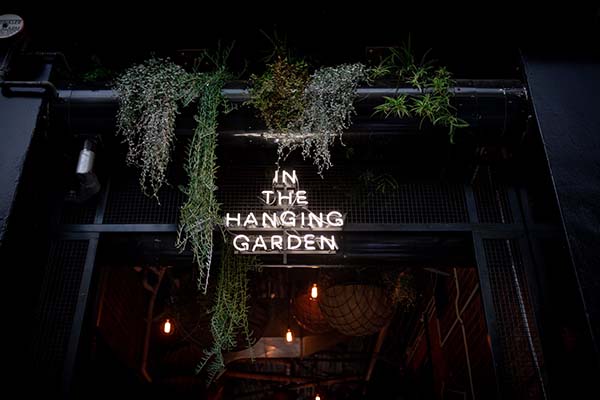 Developed by Riverlee and DarkLab (a subsidiary of MONA, the subterranean art museum founded by gambling system millionaire turned unconventional art collector, David Walsh) together with multi-disciplinary design firm Fender Katsalidis (FK) and Six Degrees (and designed by the latter three), In The Hanging Garden is closely observed as a way of understanding how people enjoy spending their free time.
With this in mind, FK director James Pearce told us that "rather than pre-determining a master plan for the site, our approach​—in collaboration with Riverlee and DarkLab​—is to start small and provide an infrastructure for food and beverage, performance and other cultural uses. From these experiments in activation, what works well will be expanded upon to create a precinct with an authentic story and identity formed from the ground up."
Originally designed for MONA's boundary-pushing Dark Mofo festival, the reopened space is conceived with the notion that culture cannot be built, rather created over time by the people partaking in it themselves. In The Hanging Garden is deliberately temporary in nature; its structures flexible and capable of being relocated elsewhere within the precinct. Food trucks, a bar and kitchen are dotted around the intentionally raw, unfinished space, whilst the newly erected outdoor 'Cathedral Lawn' is covered in faux grass and surrounded by 40 potted trees; providing a sort of urban haven in Tasmania's capital.
Usable all year round thanks to the multi-purpose roof, locals and visitors alike can use this space for relaxing drinks, a bite to eat, live concerts and much more besides. Come rain or shine, Hobart's Hanging Garden is set to be the star of its city's ongoing cultural development.
@inthehanginggarden
@fenderkatsalidis