Some hotels are reflections of their owners. Some of a time, or a place. Other hotels are reflections of a feeling; or of how we want the world to be. Fauchon L'Hotel is the embodiment of the Paris many dream of. The Paris of indulgence, of flirty fun. The city of lights.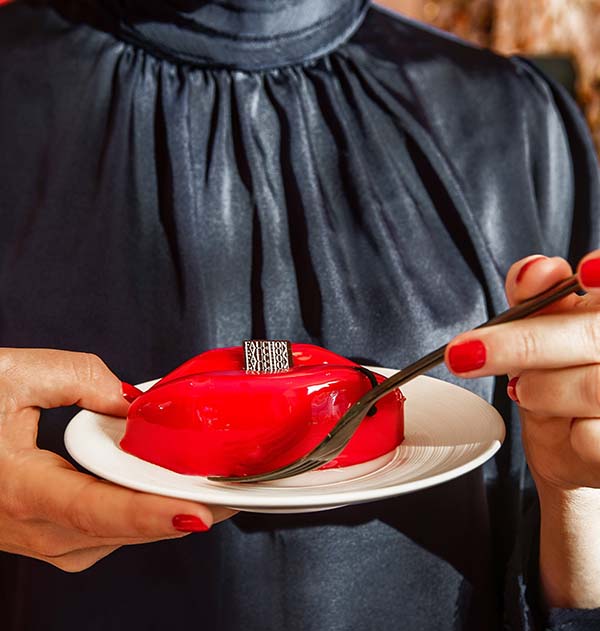 Nothing less could be expected from the first hotel from the owners of Fauchon, the gourmet épicerie founded over 130 years ago; just across from the Place de Madeleine where this singular hotel is located. If Fauchon the pâtissier is the ultimate place to worship on the high altar of French gastronomic tradition, Fauchon L'Hôtel has taken the epicure's temple and transformed it into a hotel with that indulgence at heart; complete with suitably sweet interiors.
We enter through the iconic Hausmann façade, which gives way to a gilded, velvet paradise; all dazzling finishes and plush furnishings. The iconic black, white and pink of the Fauchon brand weave their way into every corner of the hotel, while the sumptuous materials offer a touch of sensuality. The hotel design is based on Fauchon's G.L.A.M concept. Focussing on gourmet experiences, lively location, artist and artisans offering the best French savoir-faire, and Mesdames; imbuing the space with a particularly Parisian sense of playfulness and femininity.
A flirty wink embroidered on the bed sheets, a hot pink Carita spa, a Dyson hairdryer with a bespoke case; Fauchon L'Hôtel is vibrant and vivacious in its design touches. The pièce de résistance is surely the pink armoire in each guest room. Specially designed by Sacha Lakic for House Roche-Bobois to house a complementary take on the minibar, the armoire is filled with Fauchon delights; just as much a treat for the senses as the hotel itself.
The Left Bank has its intellectualism, Montmartre its faded glory. The Place de Madeleine has pure escapism. Only now it's not just in the bite of a Fauchon macaron, but also in the joie de vivre of the delectable Fauchon L'Hôtel.