Sourcing directly from the producer and working with only the best baristas ensures that third wave coffee roasters, Single Estate, is high on the 'to go' list of coffee aficionados both local and from afar.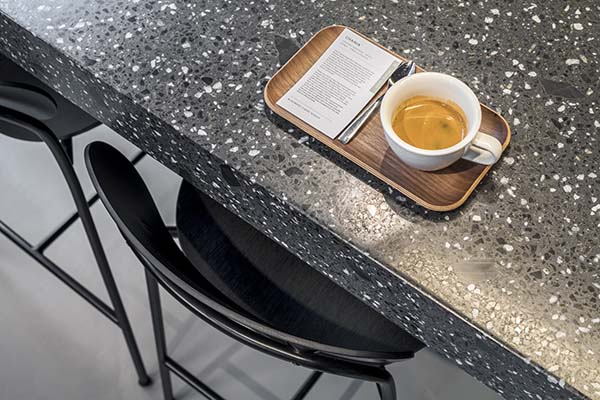 Located in an authentic corner building in The Hague, the space is as impressive as the drinks they craft, Amsterdam-based interior design studio Ninetynine having created a café divided into two sections; one boasting a high ceiling, floor-to-ceiling windows that let in natural light, and cast-iron columns that support the cozy mezzanine above.
Combined with a sophisticated palette of warm woods, reds and mossy greens, exposed original wooden beams, and varied seating options, whether customers are popping in for a quick coffee or hanging around for the afternoon—digital nomad style—everybody at Single Estate Coffee Roasters is welcome and guaranteed optimum comfort.
The focal point is without a doubt the 11-metre-long barista's table, a working counter for those in charge of delivering the perfect brew. Following the line of the façade, it creates a tapered space behind the bar enabling guests to perch and enjoy their coffee. And, at only 10-centimetres thick and resting on three black blocks, the boundary between guest and barista is seamless; meaning interaction between the two (inevitably about coffee and the craft behind it) results in a better cup for the customer, the barista able to talk about flavour and texture with ease.
A café of considerable style, Single Estate Coffee Roasters take their coffee as seriously as Ninetynine have its aesthetic. A surefire hit for The Hague; third wave coffee fanatics—those who know their high-end Baratzas from their budget burr grinders—will no doubt make this a number one priority when arriving in this characterful city on the North Sea coast.
@singleestatecoffeeroasters
@ninetynine_amsterdam