To mark the fifth edition of the annual urban and contemporary art festival, Unexpected, Camille Walala has transformed a vintage gas station in Downtown Fort Smith, Arkansas, into a joyous landmark; her new public mural, entitled Walala Pump & Go, featuring the London-based French artist's signature geometric patterns and tribal pop style.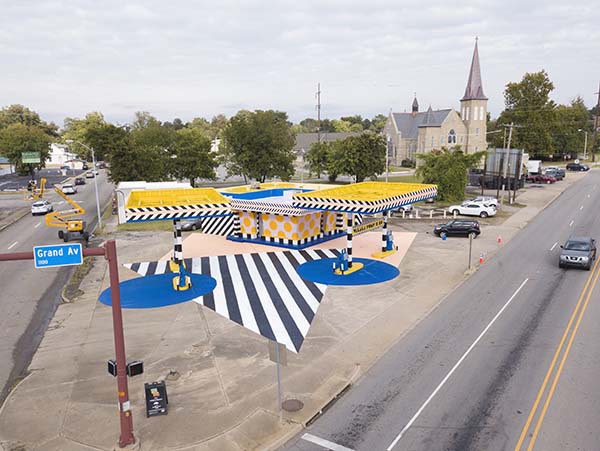 The annual street art event—curated by global creative house Justkids—has enriched the Fort Smith cityscape and community since its inauguration, and Walala's contribution, located at the main intersection of Grand Avenue and 11th street, brought together a great team of locals who made the project happen in just one week.
Influenced by her travels and the Memphis design movement, the artist set about transforming the 1950s architectonic structure into an unforgettable space; Justkids curator Charlotte Dutoit commenting, "The artist's bold and playful style incredibly enhances built space and architecture, creating welcoming social spaces. After five years of curating diverse visual projects in Fort Smith, I learned that a big part of good place-making is creating community and a sense of re-discovery of the beauty that is there, in the city, all along, and Camille's work does just that."
Combining an ideal canvas, teamwork and that famous eye for flamboyant detail, Walala Pump & Go is a much-needed jolt of colour in a world of oppressive news.
@camillewalala
@justkidsofficial
@unexpectedfs