Hong Kong designers, o&o studio, have converted an old grease factory in Shanghai's South Bund riverside complex into a craft beer and whiskey bar cum restaurant, the 130 square metre space made up of three connecting ground level units in the area's Cool Docks plaza; even boasting a robotic bartender.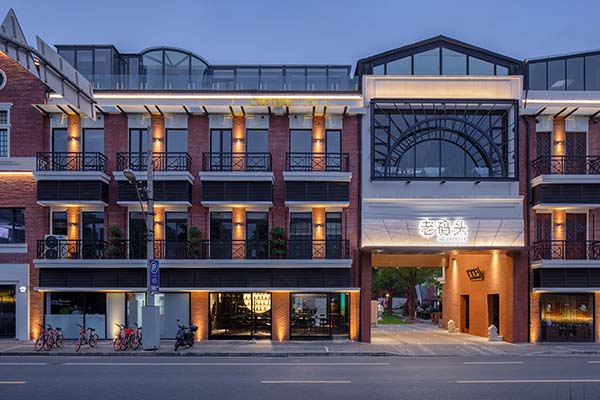 Inspired by the space, the bar's location and the history of the Bund, o&o studio set out to design a locale where patrons and diners can make their own moments in great surrounds; the bar and restaurant expected to be a leading hotspot for the area, a place that holds new moments and memories that echo through its longstanding history.
Whilst the logo takes its cue from the geometry of the Huangpu River, inside a U-shaped bar counter and back-lit spirit shelf differentiate the whiskeys from the craft beer; the latter space featuring a selection of brews on draft, the array of taps a hotpotch of size, shape and colour. Centrally placed between the two bars, the fanciful bartending robot can be found blending the two open plan spaces; enabling interaction from the two and raising an eyebrow or two at the same time.
The interiors may have a sense of the dark and moody about them, but the atmosphere at this major Shanghai restoration project are anything but.