Located in the heart of Williamsburg, Bathhouse—situated in a renovated 1930s soda factory—offers an array of treatments programmed by top industry professionals in a space that pays homage to bathhouses around the world; whilst blending the culture, diversity and cool that Brooklyn is internationally renowned for.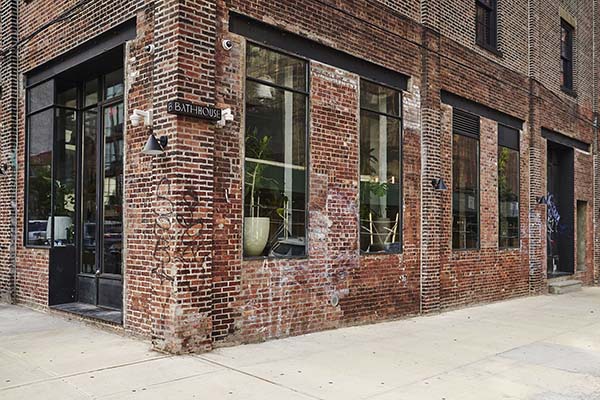 Incorporating ancient wisdom with the best of contemporary recovery practices, Bathhouse's team is made up of professionals with extensive backgrounds working in-house for the Brooklyn Nets and the New York City Football Club, and who can provide elite-level treatments for those who want to look, feel and perform at their best. From athlete-quality massages, scrubs and stretches, to dry and tropical saunas; three thermal pools; heated marble hammams; cryotherapy; and a state-of-the-art Float Lab, fitness enthusiasts and athletes can be kneaded, pulled and stretched in style here in the hipster heart of Williamsburg.
A collaboration with Jennifer Carpenter of Verona Carpenter Architects, details from the soda factory—including vaulted ceilings, original brickwork and a former 100-foot-tall smokestack, which now serves as a private ritual bath area—were preserved, whilst a a street-level, all-day restaurant and bar has been added to give the space an overall more contemporary feel.
A gathering place for the neighbourhood, the eatery, by New York restaurateur Akiva Elstein, is a plant-filled space where diners can enjoy northern and eastern European cuisine, with plates such as slow duck egg, hakurei turnip and bone broth; borscht, horseradish cream and pickled beetroot; and crispy chicken skin, farmer's cheese and salmon roe offered alongside oysters, Jonah crab and Georgia white shrimp. Wow.
From the cedar wood saunas and steam room with custom lighting, to the 10 treatment rooms featuring eclectic design touches and the communal ambience, Bathhouse is a multi-sensory delight for all from the elite to the casual fans of good-living.