With restaurants in both Boxpark Shoreditch and Boxpark Croydon, Coqfighter—the esteemed restaurant founded by Troy Sawyer, Deacon Rose and Tristan Clough; Australian friends who know a thing or two about real fried chooks—opened their third outpost and first table-service restaurant earlier this year; choosing the appropriately named Beak Street in London's Soho as home for their intimate 40-cover fried chicken eatery.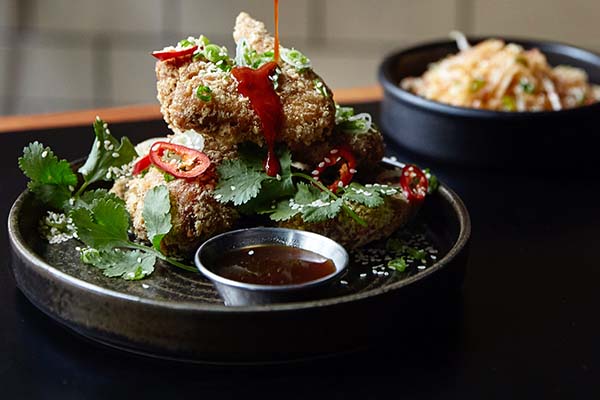 The Coqfighter boys keep many a fan-favourite at their new West End home—which means delectable delights such as the Honey Ginger Buffalo burger (a fried chicken thigh with ginger buffalo sauce, smoked garlic mayo and house pickles) and Fried Chicken Bao with Szechuan mayo, pickled daikon, coriander and Korean hot sauce.
Expect to see those crowd-pleasers feature alongside equally unctuous new accompaniments such as pickled daikon salad with beansprouts and spicy Korean dressing, and drumsticks with XO chicken gravy and Szechuan salt with cheesy corn; diners able to wash down finger-licking plates with a selection of wines, Coqfighter lager, and craft cocktails in surroundings that mix playful mid-century finishes with dark stained wood-panelling, antique mirrors, lashings of foliage and plants, and low lighting to accent it all.
Inspired by a mission to bring the beloved chicken they once devoured in Melbourne to London, the founding trio created recipes that were tested on lucky fiends before opening to the public. Three restaurants later, and a solid menu offering the very tastiest fried chicken around, coupled with a convention-defying spirit, and the Coqfighter story is one going strong.