It's always the quiet ones, they say. As far as off-the-radar goes, Northumberland is as close as it gets. In every sense. The northernmost county of England, it is tucked right up on the country's north east, bordering Scotland and the bracing countryside it is famed for. Quiet and unassuming, not arriving with the instant esteem and world-renown of Cornwall or Yorkshire, but boasting an enviable coastline and enough Hollywood-friendly historic attractions to astound any a visitor. In collaboration with Cottages in Northumberland, we have uncovered some of the lesser-known gems that give this quiet county a big character.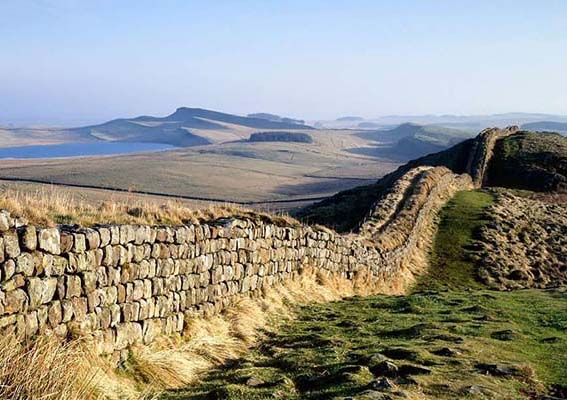 Northumberland's bountiful attractions have backdropped blockbusters such as Robin Hood: Prince of Thieves; multiple Harry Potters; Transformers: The Last Knight; and Hadrian's Wall—the final frontier of the Roman Empire for some 300 years, a structure that has stood on the border of England and Scotland since AD 122—served as inspiration for George R. R. Martin's Game of Thrones. The county itself, though, is far from showy; there is little glitz and glamour, but much heart, spirit, history and rugged landscapes. It is also, as is the case with 'the quiet ones', full of surprises. Many of which could only exist here in this rare part of the world.
There is Emperor Hadrian's iconic wall, stretching 80 Roman miles, its scale at times bewildering; there are the up-to-20 islands just off the coast that comprise the Farne Islands, a spot of rare natural beauty home to 43,000 pairs of puffins and a fascinating colony of Grey Seals; and the Holy Island, frequently disconnected from it all by way of its causeway being inaccessible twice daily, its famous Lindisfarne Castle dominating the skyline. Here is also home to Lindisfarne Priory, founded by St Aidan in AD635. The epicentre of Christianity in Anglo Saxon times, and once the home of St Oswald, the site has been through Viking raids, the Norman Conquest and The Wars of Scottish Independence. Today, much still stands, and its scars of time are as deep and fascinating as any in the country.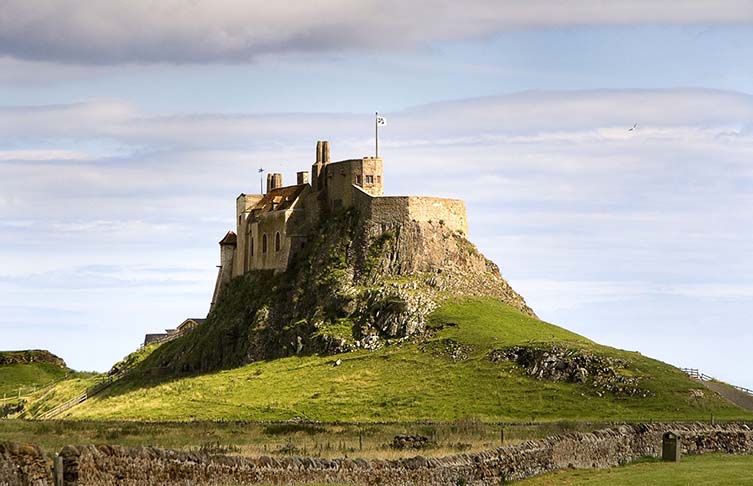 But Britain is rich in history and heritage, uncompromising landscapes too, yet unassuming Northumberland continues to reveal surprise after surprise. Look at the Kielder Water and Forest Park. At more than 250 square miles, it is England's largest working forest, its man-made lake is northern Europe's largest. It is also home to an impressive collection of visual art and architecture, with works from noted international names, like the light-obsessed American artist, James Turrell.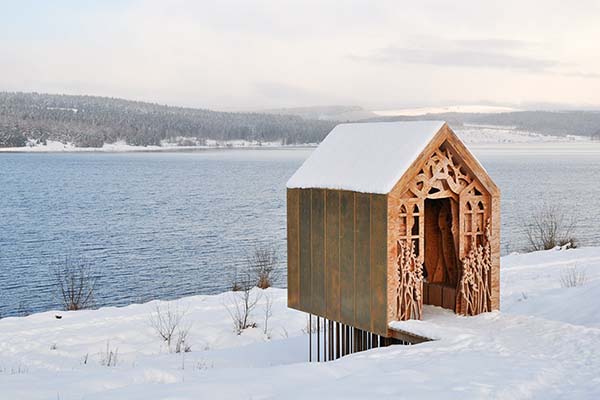 One of his brilliant 'skyspaces' can be found here amid rugged countryside, alongside inspired pavilions, interventions and sculptures from creative talents such as Charles Barclay Architects and Studio Weave, whose inspired Freya's Cabin is an elaborate timber cabin that is paired with another—more restrained—building on the opposite side of the Kielder Water. Some 50 miles across the county, Northumberlandia—designed by American landscaper and Postmodernist cultural theorist, Charles Jencks—is another piece of public art on an altogether different scale; the human landform sculpture 100 feet-high and a quarter of a mile long.
One of the world's most ambitious new gardens—redesigned in 1997 by the late Belgian landscape gardener, Jacques Wirtz, and his son Peter—Alnwick Garden is a place rich in imagination and creativity; the 'Poison Garden' home to intoxicating plants and a drug education programme, the 'Grand Cascade' a mammoth 120-water-jet installation, and the 'Treehouse' (sitting 18 metres above the ground) one of the world's largest of its kind. Housing an impressive restaurant and built from sustainably-sourced Canadian cedar, Scandinavian redwood and English and Scots pine, walkways and rope bridges surround the captivating structure that is straight of the mind of a fairytale novelist.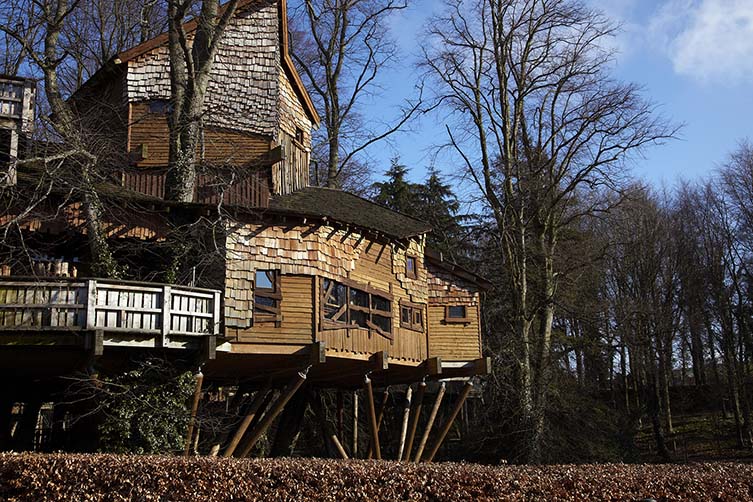 More fantasy can be found in the night sky, the Northumberland International Dark Sky Park, unveiled in December 2013, is Europe's largest area of protected night sky at 1,483 square kilometres. Officially England's best place to gaze into the galaxies far, far away, skies throughout the region mean that the Andromeda Galaxy—the furthest object visible with the naked eye, at some 2.5 million light years away—can be seen alongside shooting stars, views of the moon's craters and mountain ranges, and planets such as Jupiter, Saturn, Venus and Mars.
Northumberland, thanks to its dramatic coastline, is home to some of the country's finest beaches, and cute fishing villages with excellent seafood (Amble's rustic bistro, The Old Boat House, is one of the region's best) naturally accompany the powder sands, nature reserves and striking coastal contours. There's abundant wildlife, Areas of Outstanding Natural Beauty, UNESCO sites, rolling hills, and walks and adventure sports aplenty. Most of all, though, it's those unexpected surprises that unfold at each and every turn. A region of little-known but unforgettable experiences, rich culture and unrivalled connection to the cosmos.
At the edge of England, Northumberland can sometimes feel as though it is at the edge of the world. For those who want to uncover its many surprises, here are seven of the best holiday homes from which to explore its history, its landscape and its culture.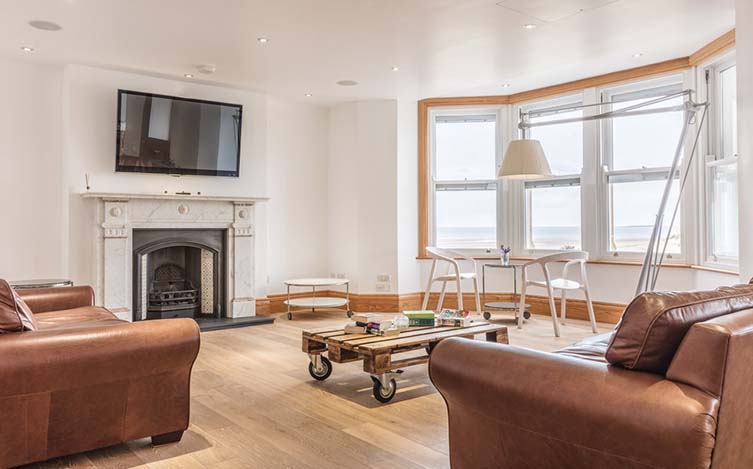 South View Apartment, Alnmouth
A high-design first floor apartment in the seaside village of Alnmouth—a sandy beach and busy marina steps away, with boat trips available across the famed Farne Islands—this three-bedroom property sleeps six in style-conscious surrounds. There are three bathrooms that look like they're straight out of a five star deluxe hotel, breathtaking views, plentiful designer touches and a beautiful fully-equipped kitchen with separate wine fridge. There's pubs and restaurants nearby, and the home will serve as the perfect base for exploring Northumberland's stirring scenery and cultural attractions.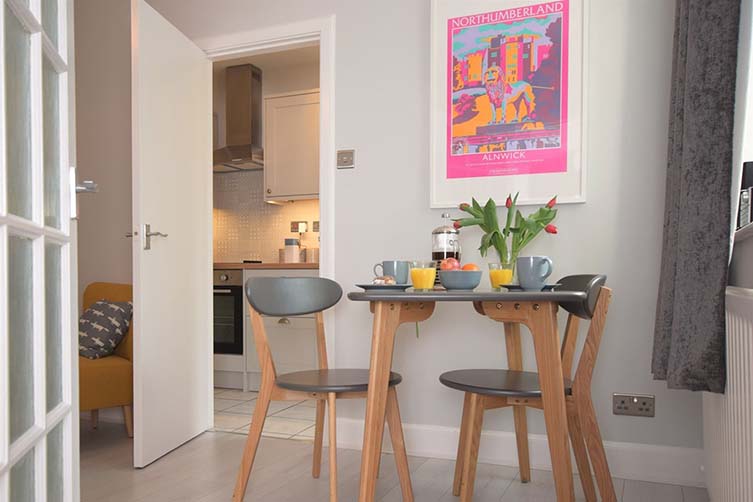 Number 9, Alnwick
In the heart of historic Alnwick, this one-bedroomed apartment in a beautiful stone cottage might be diminutive in size, but not in design details; an offbeat mid-century edge paired with classic British touches. Expect bags of modern connectivity—there's even a Bluetooth mirror to pump your favourite tunes into the bathroom—and the petite kitchen is smartly stocked with all you may need; a short walk from the centre of town, though, you'll have a host of restaurants, bars and boutiques to keep you occupied.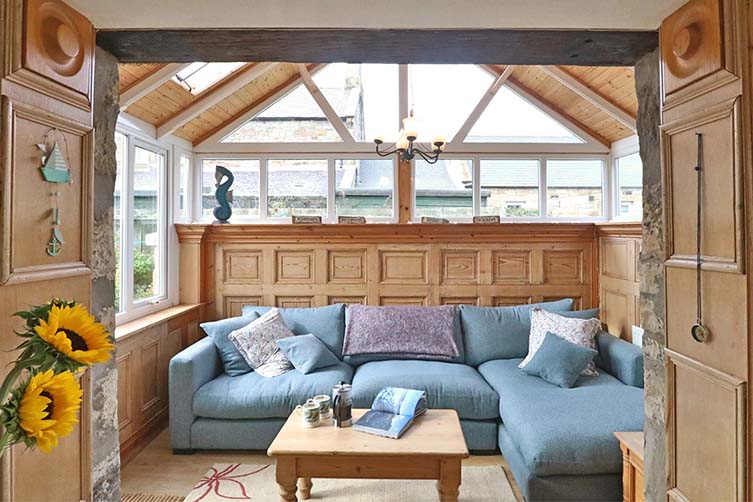 The Bothy, Longhoughton
A few minutes from the beach, The Bothy makes a comfortable home-from-home for four, with quaint countryside styling, a charming patio and chunky wooden design details; a mammoth wall map makes planning trips around the local area each morning a doddle. All that makes Northumberland such a captivating county is easily accessible from well-positioned Longhoughton, so you'll be thankful of this cottage's abundant home comforts at the end of long days exploring; although Sugar Sands, one of the region's finest beaches is just two minutes by car for those who want to spend a day duly disconnecting.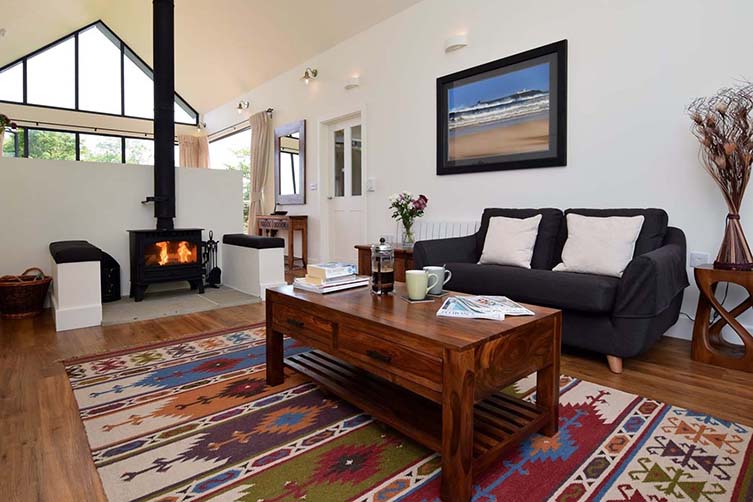 Bamburgh View, Bamburgh
With its open-plan design, staggering views over Bamburgh Castle, outdoor deck with barbecue, and impressive luxury interiors, Bamburgh View is a three-bedroom holiday home with real appeal; a spot from which to enjoy the best Northumberland has to offer, or simply switch off and enjoy a lazy day in stylish surrounds. By day, beaches and historical sites are within easy access, whilst by night one can enjoy the region's renowned dark skies from the terrace with a glass of wine or local craft beer.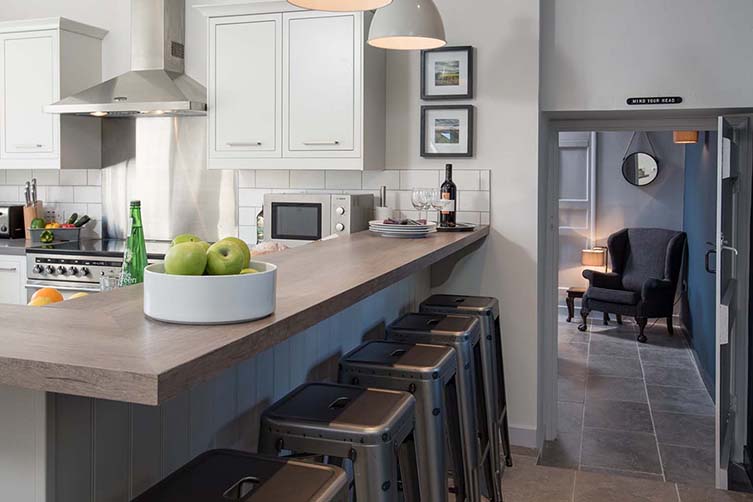 Grove House, Bamburgh
Another home with views out to the famous Bamburgh Castle, Grove House is a stunning four-bedroom 19th-century home with an impressive aesthetic straight out of the pages of an interiors magazine. Thoughtfully refurbished with a classic edge on modernity, you might struggle to tear yourself away—those who do will be rewarded with characterful pubs, a fine local beach and the region's many enviable attractions at large.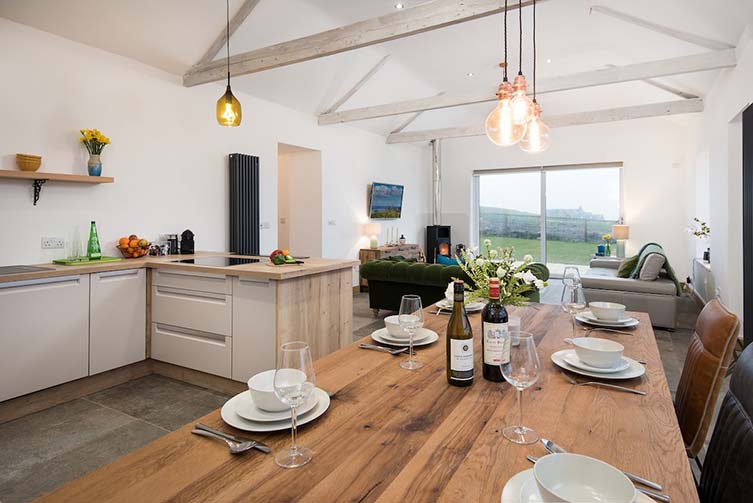 Crag View Cottage, Budle Bay
Sleeping six across three bedrooms, Crag View Cottage is a contemporary styled home with expansive countryside and sea views on its doorstep; modern and retro design touches duelling throughout a spacious property that has panoramic views of lush greenery. A Kadai cast iron fire pit means evocative barbecue nights can close up a memorable day exploring the attractions to surround a home that carefully balances away-from-it-all disconnection with an easily-accessible location.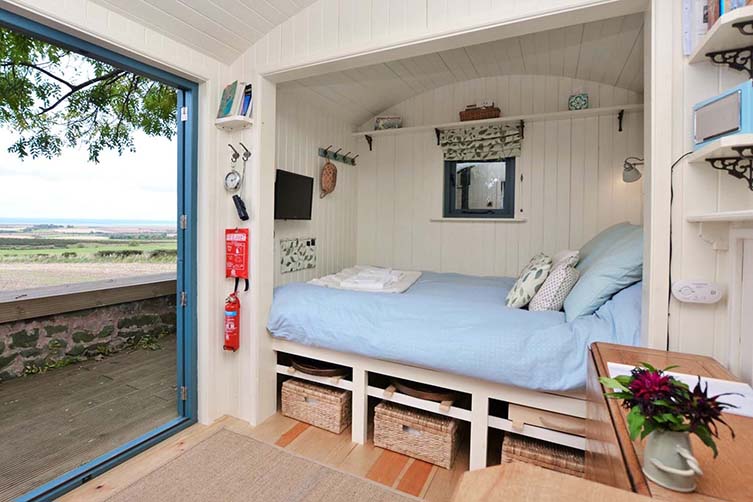 The Good Shepherds Hut, Kyloe
One for the romantics, this bespoke shepherd's hut is on the doorstep of historic attractions and vast areas of outstanding natural beauty; just enough space for two, it delivers a luxe clamping experience whilst boasting enough amenities to make this secluded hut conversion a veritable home-from-home. (Albeit one that might be a tad quirkier than your own.) A small decked area is accompanied by a charcoal barbecue, which means you can bask in some staggering views—across lush countryside and out to the sea—with a bite of smoky meat and an evening tipple.