Decked out in mid-century pastel colours that take their design inspiration from the roadside American motels of the the 1950s and '60s, new Bethnal Green bar, kitchen and co-working space, the Fugitive Motel, is a spirited spot for Londoners and visitors to take refuge from city life whilst indulging in a bite to eat, sipping on a craft beer or catching up on a spot of work.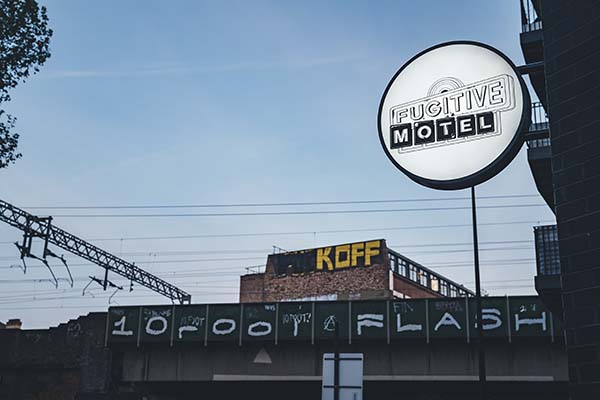 Overlooking Bethnal Green Gardens in a unit that runs alongside a row of unoccupied rail arches, the new food, drink and cultural hub created by former indie musicians David Burgess and Liam Tolan is open seven days a week serving Climpson & Sons specialty coffee and freshly baked pastries from early morning, the all-day East London venue moving up a gear come midday. Which is when Neopolitan sourdough pizza and small plates can be washed down with a selection of local and selected craft beers (including 14 on tap), a concise list of refined and natural wines, a Spritz and Kickz menu and kombucha; the fermented, slightly alcoholic, lightly effervescent and flavoured drink of choice for many a hipster of late, also being served on tap at this on-trend spot.
Design touches at the 140-cover Fugitive Motel feature a terrazzo bar counter, high industrial ceilings softened by hanging greenery, sharing booths accommodating up to six guests—and each featuring their own 'vacancy' light which can be turned on and off depending on whether you're in the mood for company—and a summer terrace running along Cambridge Heath Road large enough to seat 25, filled with lush foliage, plants and tables.
A light and playful space, guests are encouraged to play shuffleboard inside and cornhole—an outdoor game where players take turns to toss bags of plastic resin, or bean bags, at a raised platform—Bethnal Green's brilliant Fugitive Motel offers a little of something for everybody. Here, there's always a vacancy for you.