Johan Papin grew up in a small town in Nantes, France, surrounded by rivers, soft hills and vineyards. Forever the calm and patient observer he's been documenting nature and people engaging with each other since early childhood.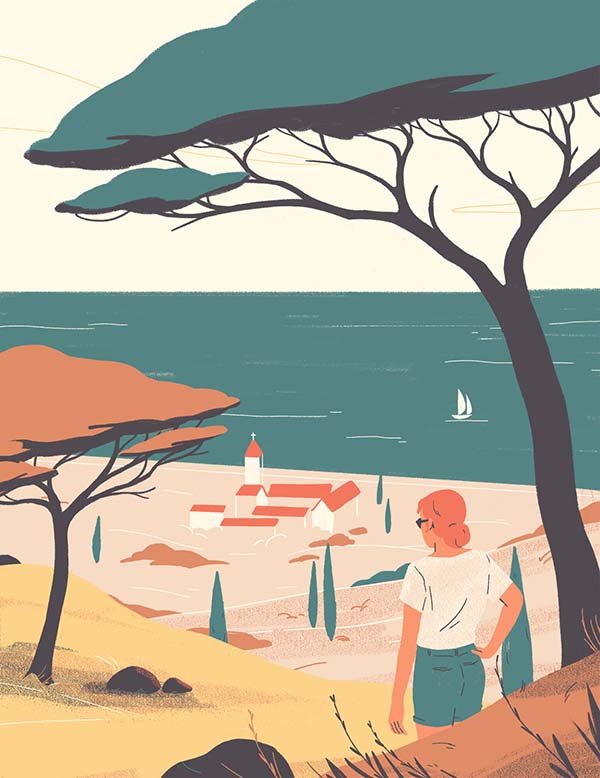 While his work reflects this intimate side of his personality, Papin is highly skilled at capturing human emotions, mannerisms and daily life using elegantly delicate yet grounded line work and tone. As an accomplished illustrator, the Frenchman explains: "I am very interested in human nature and the sensitive aspects of life. I try to share the richness and diversity of feelings using beautiful colours."
Having shared a studio in Paris with his "crazy talented friends," the illustrator says, "It was a real haven in a town that can be a bit overwhelming. There is intense energy in Paris, and it's a great place for art, and there is always something new to see and find. I was often observing the way people were in the streets, in restaurants or cinemas, but I really missed nature."
Papin pays close attention to shadow, tone and line—akin to that of classic graphic novels—telling stories through drawing what he sees or is commissioned to see. "When I'm creating an image I am always very keen to control the eye of the viewer. Sometimes I want them to wander; sometimes I want them to concentrate on a precise point. I always think in terms of contrast, clarity, and legibility and shadow, colours and lines are all at my disposal for this main purpose."
Working with numerous commercial clients, one of Johan Papin's favourite projects to date was a commission from a microbrewery in his hometown called La Conviviale. "I had a lot of fun thinking about the concept around their brand and labels, creating the illustration, logo and visual identity. It was a great challenge and the relationship with the founders was really perfect for me because it is vital to have good and constructive relationships with clients."
We urge you to watch this space, because, by the time you read this, Papin would have left Paris for a new life in Montreal; chasing nature, people and new adventures!