"It is one of the most phenomenal restaurants this country has," says Tom Kerridge of Cheltenham's Le Champignon Sauvage, "yet one of the least known." Having been run by chef David Everitt-Matthias and his wife Helen for more than 30 years, the Michelin-starred restaurant is quiet about its brilliance, its revered chef not comfortable with the limelight. "One of Britain's greatest chefs, in charge of one of Britain's greatest restaurants, just wants to be in the kitchen," applauds Jay Rayner.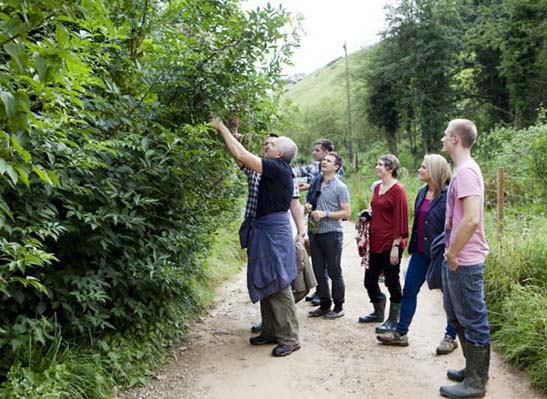 A pioneer of foraging and humble ingredients, Le Champignon Sauvage's reserved excellence is indicative of its locale; the Cotswolds a ceaselessly beautiful part of the country that doesn't feel the need to shout about its charms. More than 50 years since it was declared an Area of Outstanding Natural Beauty, its jaw-dropping countryside, its enchanting towns and villages, remain welcoming and affable. They retain the humbleness of the Everitt-Matthiases, and provide ample local produce to sate the needs of the many great restaurants that are dotted around this region.
"Cotswold restaurants worth their salt thrive on the richly varied produce of the region," says travel writer Harriet O'Brien. "Eating out in the Cotswolds has been revolutionised by the rise of the gastropub. Yet should posh pubs not appeal, a number of seriously good traditional restaurants are very much holding their own." Restaurants that don't need to look far to source their ingredients—think famous Gloucester cheese, Gloucestershire Old Spot pork, smoked local game from Upton Smokery, the peerless fish from Bibury Trout Farm and the abundant riches of the hedgerows the likes of David Everitt-Matthias plunder. "I've got a wonderful pantry in the Cotswolds," the chef states, "and a great quality of life." A quality of life that food-obsessed travellers should seek out.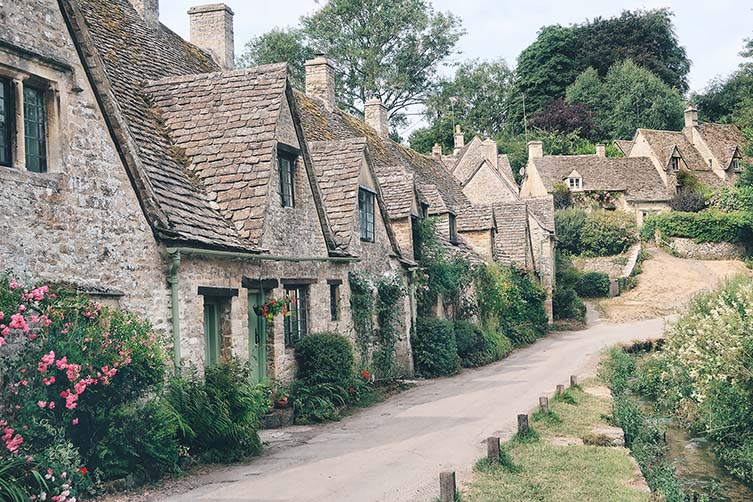 There's "confident bistro food" at The Painswick Restaurant, helmed by Jamie McCallum, who has worked under Gary Rhodes and as Anthony Demetre's head chef at London's Wild Honey, and whose cooking has been described by Jay Rayner as "really solid, extremely enjoyable stuff." Classic country boozer, Northleach's The Wheatsheaf Inn, embraces seasonality and locality, and has been widely heralded; Ox Barn, near Lechlade-on-Thames, sees chef Charlie Hibbert put his experience at London's historic Quo Vadis to good use; and you'll find British-Japanese MasterChef finalist, Andrew Kojima, combining his culinary heritages in style at Cheltenham's Koj.
Just 25 when he took over at Whatley Manor's The Dining Room, head chef Niall Keating would win a Michelin star within a year for his Asian- and French-inspired take on British produce. And, although it may have lost its Michelin star, urban country pub The Wild Rabbit, Kingham, continues to win accolades for its stylish British cuisine that revels in the Cotswolds' abundant and impeccable produce.
The Kingham Plough pub near Chipping Norton—brought back to life by Great British Menu-winner and former-Fat Duck chef, Emily Watkins—may have recently changed hands, but new owners Matt and Katie Beamish—who've previously worked with Raymond Blanc, Jamie Oliver and Fergus Henderson—have promised to change little about the format that has made it a destination spot.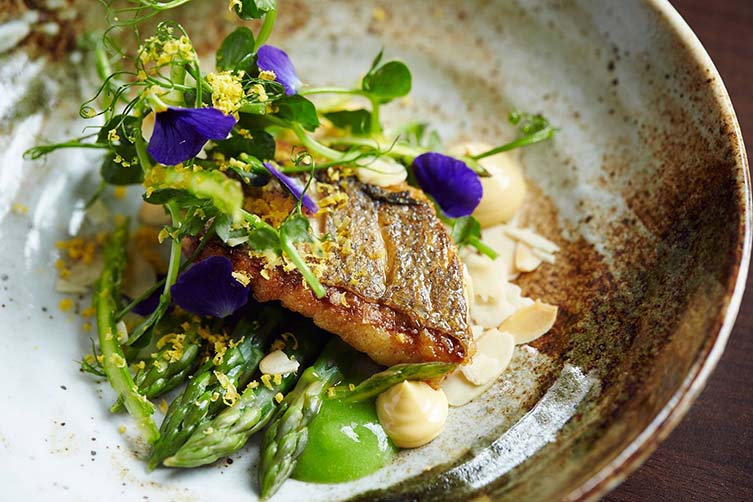 From gastropubs beyond comparison to top notch fine dining, the Cotswolds is a region rightly so on the tips of many a tongue in the foodie world; its reputation is going from strength to strength, its produce increasing in demand. And the culinary curious have plenty to plunder. Think Cheltenham's refined Purslane; the restaurants and farm shop set amid 100 acres of lush countryside at the luxurious Soho Farmhouse; The Ebrington Arms has been rated as the UK's number one village pub; and Lords of the Manor, where head chef Charles Smith calls on his experience in kitchens like Fera at Claridges, Petrus by Marcus Wareing, and Thomas Keller's iconic New York restaurant, Per Se.
Those wanting to revel in a little history should look out Stow-on-the-Wold's The Porch House, which—built in 947AD—stakes claim to being England's oldest inn; whilst Stroud Farmers' Market (which counts Damien Hirst among its regulars) is the place to sample the region's in-demand produce.
Naturally, full stomachs will need somewhere to sleep off a food coma, and so—in collaboration with holidaysinthecotswolds.co.uk—we've picked out seven beautiful rental homes that will help you explore the very best of what the culinarily consummate Cotswolds have to offer …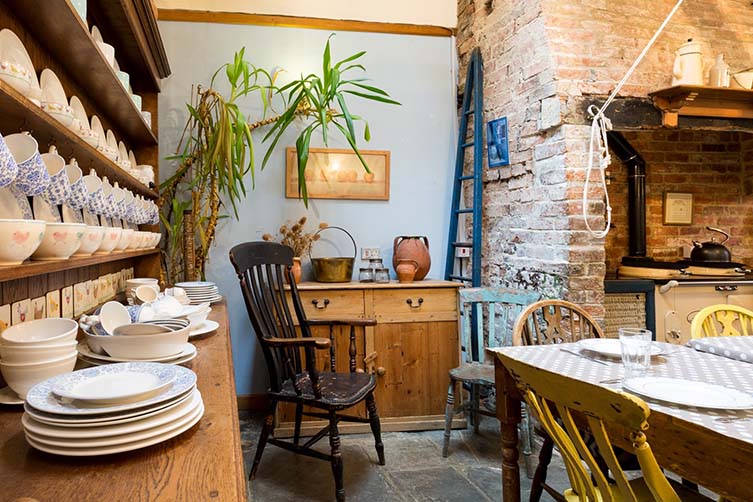 Golden Cross Farmhouse, Moreton-in-Marsh
With wood-panelled walls, decadent roll-top baths, wrought iron bed frames and a classic farmhouse kitchen with hanging pots and pans, this Georgian home between Moreton-in-Marsh and Shipston-on-Stour—just ten miles from Shakespeare's old stomping ground of Stratford-upon-Avon—hosts up to 15 guests, who may revel in its storybook character.
If you've had your fix at nearby gems like The Ebrington Arms or The Porch House, try getting to grips with a traditional Aga in that imposing kitchen, or—should the weather allow—get the barbie going and while away an afternoon in the farmhouse's enchanting courtyard and garden.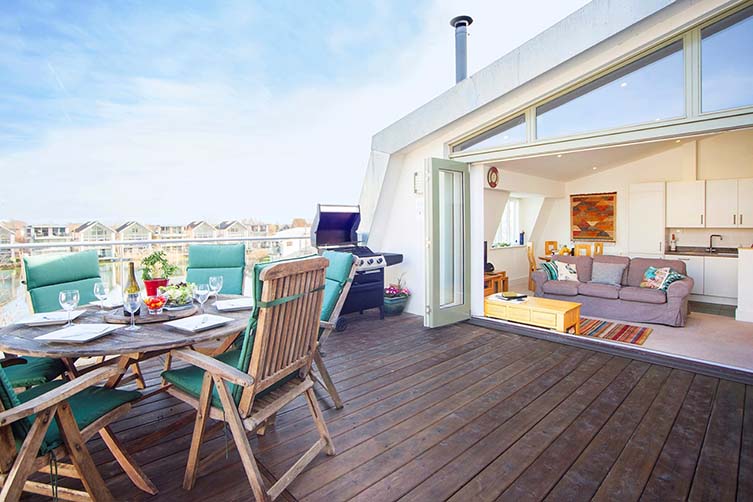 Lakeside, Cirencester
Ideally situated for discovering beautiful towns and villages such as Bibury and Burford—where you will find Bibury Trout Farm and Upton Smokery, respectively—this contemporary lakeside apartment has style in abundance; amenities too, as you'll find indoor and outdoor swimming pools, sauna and steam room, tennis courts and a water park all on hand. Most appealing, though, are those bi-folding doors that open out onto a handsome decked balcony, where the lakeside location can be soaked up over evening drinks or a late afternoon barbecue.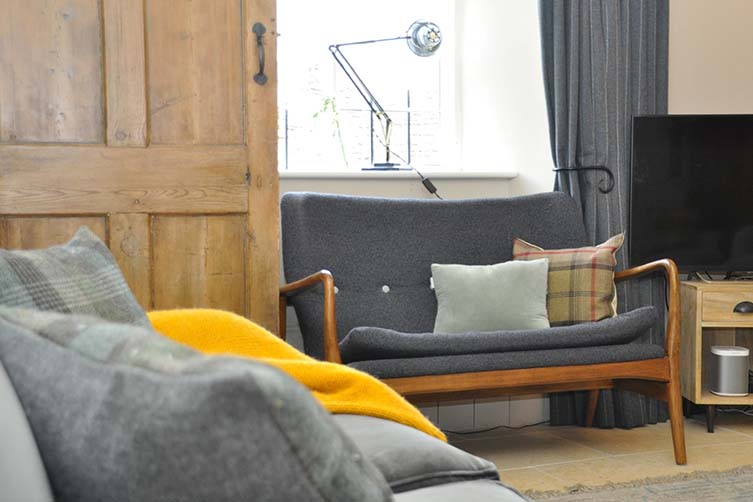 Jasmine Cottage, Upper Slaughter
You'll find the brilliant Lords of the Manor on your doorstep here in Upper Slaughter, with The Ox Barn just a short drive away; you'll find plenty of contemporary leanings at this Grade II* listed cottage, too, as it juxtaposes original 19th century features with modern design touches. In the heart of one of the Cotswolds' most evocative villages, there are postcard-perfect vistas all around—whilst the likes of Apple TV, Sonos sound system, and Nespresso machine mean urban luxuries are not as far away as you may imagine.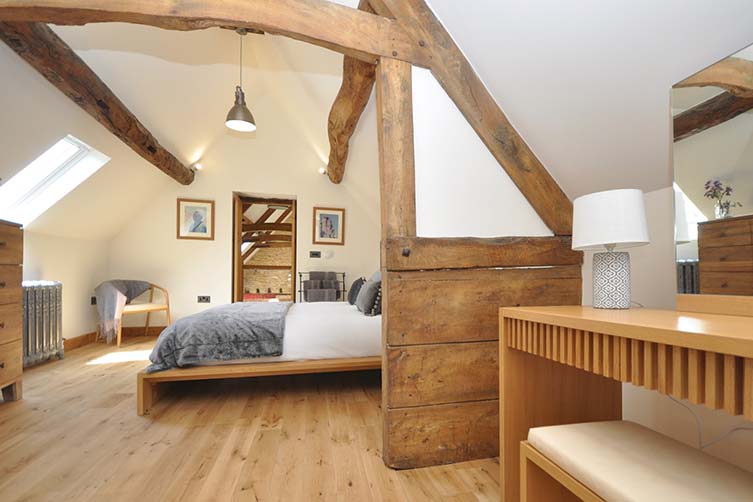 The Barn, Willersey
This good looking two-bedroom barn conversion will lend plenty of Cotswolds charm to your travels; its wooden beams and rustic stonework so typical of the villages here that often err on the side of fantasy. Cafés and village inns are within walking distance, quirky Capability Brown Folly Tower is a fascinating English Heritage attraction close by, and plenty first-rate foodie destinations can be discovered a short drive from this perfect base in the northern Cotswolds.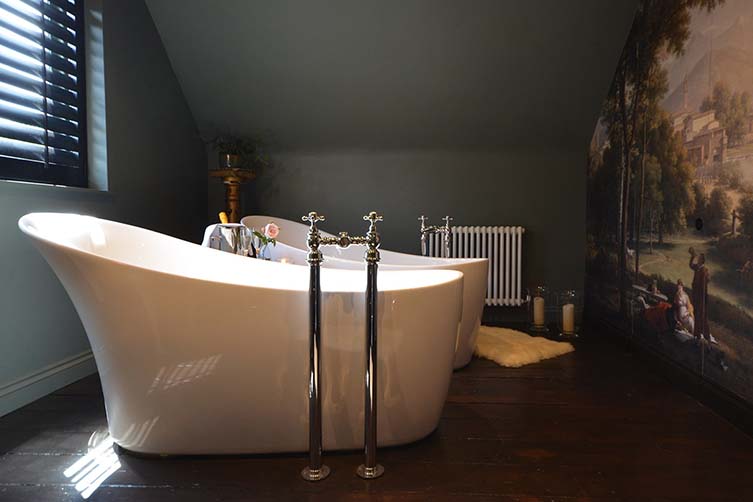 Peony Cottage, Moreton-in-Marsh
A snug stone home for two, the star of the show here at lavish Peony Cottage surely has to be those dual free-standing baths that add oodles of romance to any getaway. With an air of opulence and plentiful luxuries, this home is just the spot for sampling some of the sumptuous fine dining that this region offers, and is perfectly placed with a number of high-quality restaurants just a short drive away.
With rapid access to humbling countryside, walkers and would-be walkers will lap up ample way-marked paths that will help you walk off a rich lunch, whilst attractions such as Chastleton House and Gardens, Hidcote Manor, Daylesford Organic farm shop, and Batsford Arboretum are all on hand.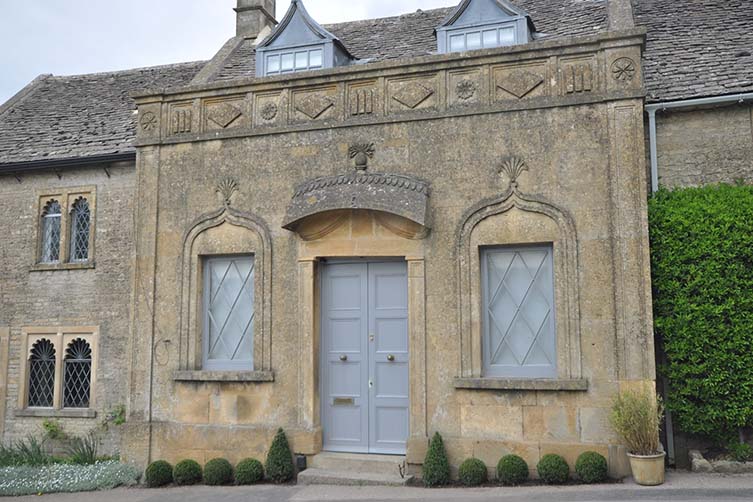 Pineapple Spa, Stow-on-the-Wold
Another idyllic spot that evokes the inimitable spirit of the Cotswolds, this Grade II* listed spa is close to 947AD-built The Porch House, and countless gastropubs and fine dining restaurants are within easy each. With an imposing exterior, luxurious bedding, and that free-standing copper bathtub, Pineapple Spa is quite the spot for special occasions; its landscape gardens give visitors an immediate connection to the countryside that surrounds.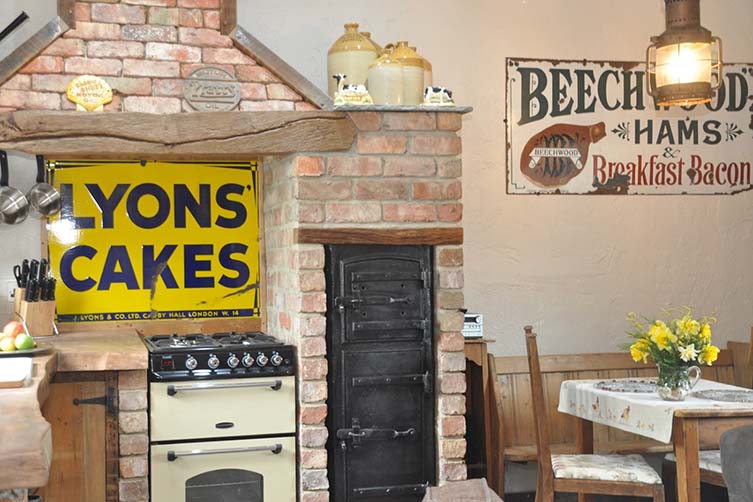 Halfpenny Retreat, Cheltenham
Just on the edge of Cheltenham, this barn conversion with private hot-tub is ideally situated for Le Champignon Sauvage, Andrew Kojima's Koj, Purslane and the many other restaurants that dominate the foodie scene of the Gloucestershire town; it is also within easy driving distance of gems like The Painswick, The Wheatsheaf Inn, and Stroud Farmers' Market. The barn itself is stocked with quirky design objects, vintage finds and handmade fittings. Situated outside the spa town, there are countryside views and walks abound on the doorstep.