Serving Indonesian cuisine with a modern French flair, neighbourhood restaurant Wayan—located in New York City's upscale Nolita—is a venture between chef Cédric Vongerichten (son of Michelin-starred Jean-Georges Vongerichten), his wife Ochi Vongerichten and socialite Ezra Williams.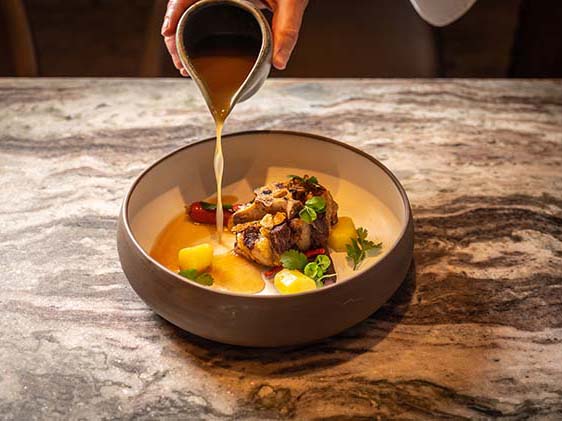 Wayan, translating to firstborn in Balinese, offers approachable dishes that highlight the vibrant flavours of Ochi's birthplace of Jakarta, using seasonal products and Southeast Asian flavours to create a unique and varied menu that includes dishes such as avocado gado gado with quail egg, cucumber and peanut relish; crispy baby squid with sambal onion chilli sauce and cilantro; and larger plates like steamed black sea bass pepes or wagyu strip loin.
Situated behind a façade that features oxidised copper glazing, laser-cut batik screen detailing, and an authentic Indonesian wood service door, the interiors of the venue are a mix of white-washed brick walls and ceiling, wooden floors, and plenty of light and space. Led by architecture and design studio Rockwell Group, the transformation lends the space an overall tropical feel whilst retaining a downtown New York aesthetic that fits the picturesque streets of surrounding Nolita.
The main room—with its mix of marble slats in multiple tones, amber glass millwork, an antique mirror and Rockwell Group custom light fixtures and banquettes—feels bright and airy, but following a transitional space filled with live-edge wood drink rails and shelves to the back dining rooms of the restaurant sees interiors turn moodier, the walls and ceiling accented with authentic carved wooden pieces from Indonesia.
An open kitchen and welcoming atmosphere combined with interiors steeped in authenticity and drama gives Wayan a casual but stirring atmosphere from which the Vongerichtens can seduce you with sumptuous Indonesian flavours.