Following on from the opening of LINE Austin last year—and the subsequent debut of its excellently-named ground floor watering hole Dean's One Trick Pony—the Sydell Group property has recently premiered its rooftop lounge which, again designed by Los Angeles-based Sean Knibb, blurs the line between the indoors and outside, reflecting the culture of al fresco living within the region.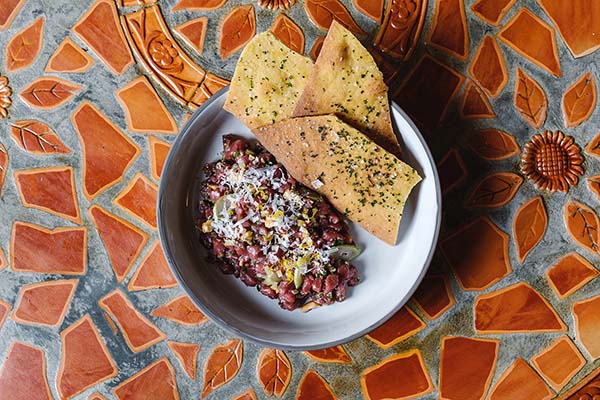 Boasting panoramic views of Town Lake and the South Austin skyline, P6—a former parking space that has been reimagined by Michael Hsu Office of Architecture (MHOA), also involved in the design of the city's South Congress Hotel—offers an intimate cocktail and dining experience amid a riotous pink, blue and green colour palette, ample foliage and a variety of seating options.
Southern hospitality and great weather make P6 an ideal spot to indulge in the Austin tradition of eating and drinking outside all day, every day, with chef Justin Ermini's small plates and antipasti best enjoyed over the course of a few hours—all washed down with a crafted cocktail such as the P6 Gin Martini with French Quinquina or Toasted Almond Mai Tai, a larger tipple designed to be shared by groups. Those dining indoors are connected to the lakeside location by geometric mirrors scattered across the ceiling; the reflection of water lilies on a pond recalled in a space with a natural, organic feel.
With a regular calendar of culture and wellness events—including sunset sessions by local talents, and events themed around the famous Austin bats—P6 is an indoor-outdoor beauty capping a monumental project for the city.