Headfoneshop Toronto sells audio equipment including—wait for it—headphones, earphones, amps and accessories. All from a tight retail space with a big architectural draw, located on the main floor of a 42-storey mixed-use tower in the city's downtown.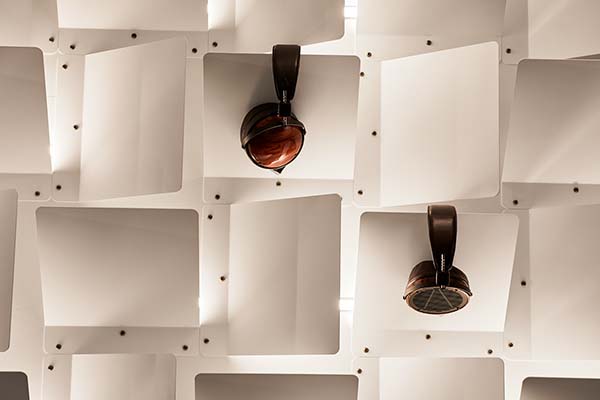 Intimate and dimly lit, the premise behind the shop's interior design was to create a place for customers to "celebrate the ritual of listening to music and the process of testing." Here individuals can spend hours pairing systems and enjoying music in a quiet, lounge-bar ambience; a rippling wave of design wonder bursting above as you marvel at the capabilities of the very latest in audio technology.
Architects Batay-Csorba Architects created a dark and subdued palette for the compact space—using a mix of dark smoked oak millwork and herringbone flooring, velvet upholstery, soft amber lighting and patinated brass fittings—whilst 255 powder-coated folded metal panels that create the architectural wave are secured with 765 patinated brass screws, producing an immersive space that intensifies the overall audio experience.
Headphones are also displayed from this design element, drawing focus to the juxtaposition between the strength of materials and softness of product. The owner—a keen audio expert no less—wanted the store to challenge the typical retail store experience. With brooding-yet-welcoming areas to pass the time discovering and road-testing the latest goods, coupled with a sleek design concept, Toronto's Headfoneshop does just that, and will have lovers of audio technology and design alike flocking to this petite audio specialist.
@headfoneshop
@batay_csorba_architects