A place for music lovers to engage and connect with sounds at a deeper level, Spiritland have opened their third location in London, the Southbank Centre's Grade I listed Royal Festival Hall now home to a 180-seat restaurant and bar, an early-morning to late-night celebration of food, drink and the broad culture of music.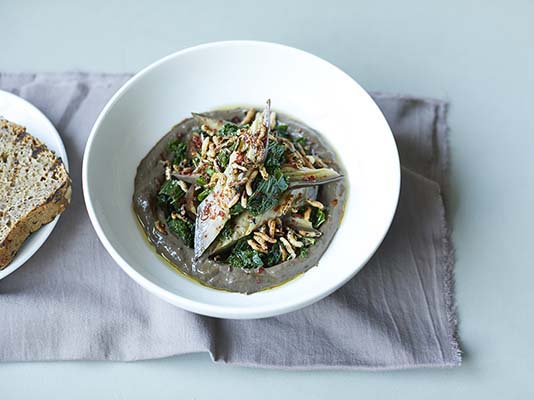 "We've endeavoured to create a space that combines a sense of intimacy with its own unique acoustic signature, a temple to music," explains Spiritland creative director, Patrick Clayton-Malone, of a unique dining room that nods to the performing arts heritage of its surrounds. "Inspired by 1970s iconic talk show sets and landmark sound studios, Spiritland Royal Festival Hall is focussed on bringing a unique experience to the Southbank's cultural landscape."
Having gained a fervent following with their acclaimed bar and radio studio in King's Cross, and studious headphone bar in Mayfair, Spiritland Royal Festival Hall is the muso group's largest venue to date—at almost three times the capacity of their King's Cross location. Group head chef Moondog heads the open kitchen, grill and oyster bar, the New Zealand native creating an Antipodean menu focussed on sharing plates with twists on classic favourites.
"We wanted to build on the existing Spiritland space in King's Cross with a bigger and deeper offering for lovers of food, drink, music and culture," adds the project's artistic director, Paul Noble. "We're incredibly excited about moving to a more central and accessible stage into the heart of the UK's largest arts centre, open from breakfast through to late-night lounging."
Longtime collaborators Living Voice ensure an unrivalled listening experience to the restaurant, anchoring the room with a pair of rare iconic speakers, perfect for the programme of talks, events and performances—guests so far have included the likes of Jarvis Cocker, Hot Chip, and Jeff Mills—that are sure to further cement Spiritland's growing cult status in the capital.