The Christmas parties are in full swing, shops are stocked with festive treats and our bellies are preparing for an onslaught of turkey, mince pies, cheese, and whatever else our long-lost relatives throw our way. Yuletide, the time of year when we can eat and drink whatever the heart (and stomach) desires, knowing that we can deal with the consequences in the New Year—'dropping a few pounds' surely topping the list of most adults list of resolutions.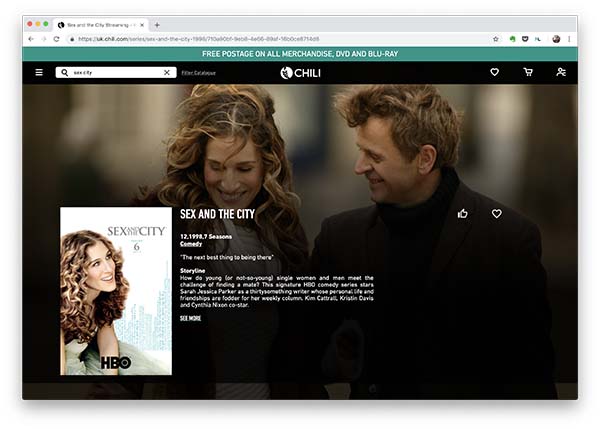 With the waistbands of our jeans still a little snug, many of us would rather be at home away from judgemental eyes, which means that the arrival of Chili.com UK—and with it an exhaustive catalogue of cinema and television titles—means that can be easily be achieved by spending hours indulging in another favourite pastime: binge-watching favourites from past, present, and future.
A video-on-demand platform with no subscription fee, CHILI Cinema—viewable via Smart TV, PC, tablet, or smartphone—is a pay-per-view service enabling viewers to dedicate as many hours to their television or smart device as funds allow, and with 94 episodes of Sex and the City to rewatch with Carrie and her crew, alongside top releases from Hollywood's most renowned studios to smaller indie labels and local distributors, there truly is something to pique the interest of every telly and movie fan.
Rentals start from £1.49 and purchases from £3.99, and users have the option to pay via credit or debit card, Paypal or CHILI Wallet (which is accessed through your profile and can be topped up in £5 or larger increments). The ability to link a profile to five devices and use them simultaneously, as well as stream and download content to be watched abroad, makes the CHILI service an ideal travel companion for when the beach bodies are back.
Pre-installed on Samsung, LG, and Panasonic Smart TVs, and available to download from Google Play and Apple's App Store, Chili.com's UK arrival is a binge-watchers delight. And remember, CHILI is for life, not just for Christmas.