Honouring the 70th anniversary of the declaration of human rights—a milestone document proclaimed by the United Nations General Assembly in Paris on 10 December, 1948, recognising the inherent dignity and of the equal and inalienable rights of all members of the human family—Riposte, in partnership with Amnesty International UK, have curated a group exhibition featuring a global collection of female artists, reflecting on issues the world over and how the fight for equality is one not yet won.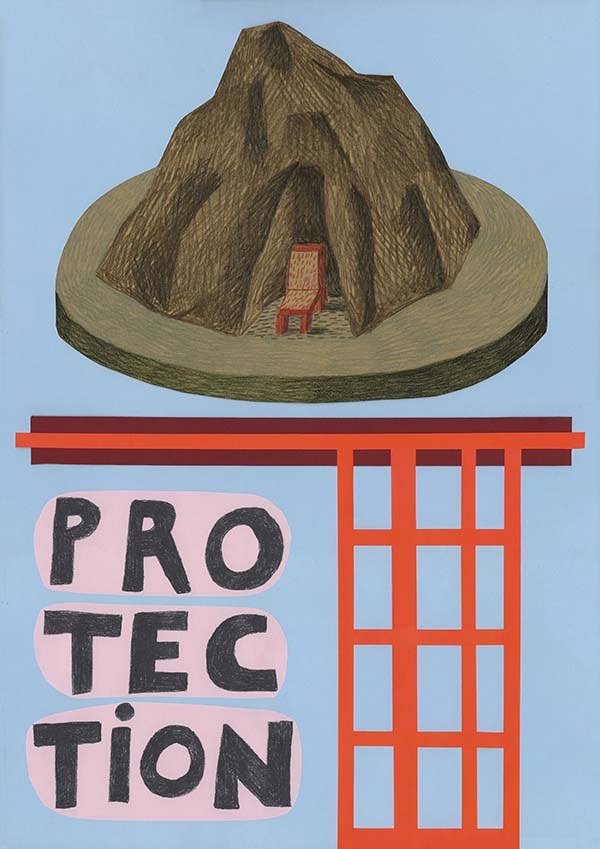 On show from 10—16 December at London's new convergence of culture and commerce, Coal Drops Yard, thirty artists and designers—including Hattie Stewart; Juno Calypso; Phoebe Collings-James; Lynnie Z; Nathalie du Pasquier; Chrissie Abbott; Nadia Hernández; and Lotte Andersen—have each created a piece of work in their signature style based around the theme of protection. From colourful illustrations to stark messages that cannot be ignored, the profits from all art sales will be donated to Amnesty International UK.
"We made sure that the artists involved were a global mix to reflect the myriad of ways that we're affected by the issues around human rights," explains curator and Riposte editor Danielle Pender explains of an exhibition that features a mix of established artists, designers, and younger creatives. "There's a real collective feel to the show and to the ideas explored in the work. A feeling that change can come when people collectively come together to protect each other and what is important."
Giving an important voice to the marginalised, in dark times when human rights are still routinely abused on a daily basis, Protection is a potent reminder to speak up and let our collective voices be heard. "Right now, people in power around the world are abusing our human rights and intimidating and silencing those who defend them," says Amnesty International UK's Chiara Capraro. "Together, we can change this—because when more people speak up our voices become louder and more powerful."
A programme of events runs alongside the exhibition, as well as a predictably fine publication designed by Riposte and printed by the Newspaper Club. From artist talks to workshops and dinners, there's plenty to sink your teeth into and show some solidarity. In addition to the London exhibition, prints can be purchased online at protectionexhibition.com.
@ripostemagazine
@newspaperclub
@amnesty