Juliet Kinsman revisits Sri Lanka in search of a fresh, more sensitive approach to hospitality, a world away from international chain hotels and traditional five-star luxury…
Sri Lanka has done a lot of growing up in the last decade. It's endured more than any island's share of challenges—a civil war and a tsunami. When it comes to design, architect and Geoffrey Bawa owns all the headlines for his 'tropical modernism' on an island where you're better off craving charm than insisting on contemporary thrills.
A drive through Kandy revealed the predictable tourist trappings—"Keep calm and curry on" T-shirts and devil masks—time in this land is more rewarding as an anthropology lesson than a retail experience. Its colonial architecture lends itself perfectly to boutique hideaways—see Fort Bazaar and Wallawwa. Forward-thinking design does exist, as Wild Coast and Tri attest. But it also feels enriching thanks to nothing to do with what's man made—it's about reconnecting with nature.
The Stylish Safari Escape: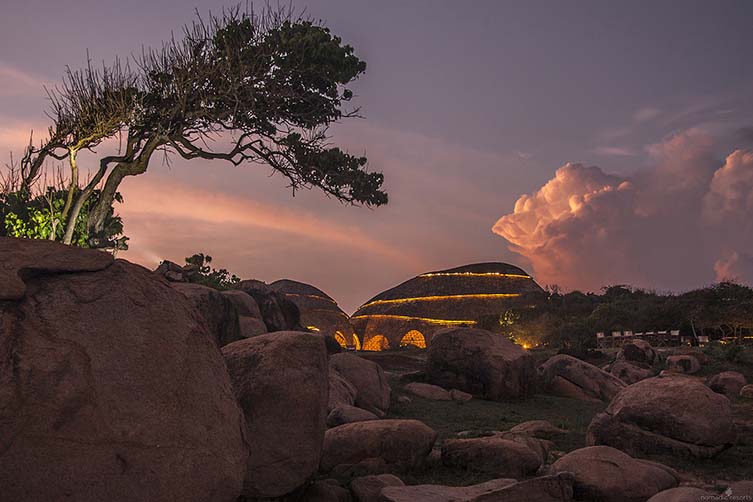 Wild Coast Tented Lodge, Yala National Park
Elephants, leopards, sloth bears and jungle cats are among the safari thrills for guests in these 28 luxury tents at the edge of Yala National Park. Outdoor bathrooms and private decks are perks of these chic vaulted 'Cocoons', while the four secluded beachfront abodes have private plunge pools in addition to a vast free-form swimming pool. The sustainability-minded hoteliers behind Cape Weligama and Tea Trails, part of the Dilmah tea empire, also have a conservation station; guests can join resident naturalists to track high-density zones of animal movement, monitoring remote cameras and observing data collected.
In partnership with the Wilderness and Wildlife Conservation Trust, they aim to improve co-existence between humans and wildlife in the Central Highlands. Chapeau to Nomadic Resorts for designing and building something so remarkably charming which sits so harmoniously here where jungle meets the sea.
resplendentceylon.com/wildcoastlodge-yala
The Boutique Cutie in a Historic Old Town: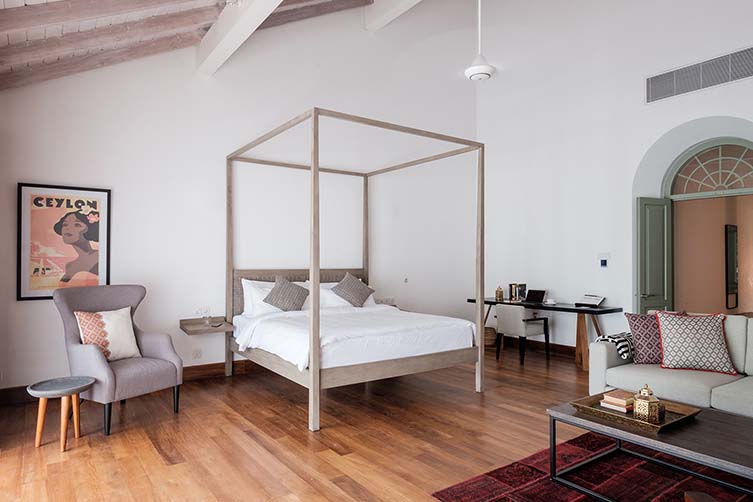 Fort Bazaar, Galle Fort
Galle Fort in the Southern Province has every ingredient for an edifying day and time spent within the ramparts of this cinnamon-scented citadel is an amble through Portuguese, Dutch, British and Sri Lankan history. The Fort Bazaar is a brand new 18-room boutique hotel on Church Street, from the same hoteliers behind the super-stylish Gold List 2015 award winner, Wallawa near Colombo. A heritage building in the heart of the Fort, the three spacious top suites with balconies are a dream if you want a view over the rooftops and out to sea. In a tiny 1588-built fortified town which retains a palpable reverence for its 400 years of history, this is a fresh breath of air.
teardrop-hotels.com/fort-bazaar
That Iconic Instagram Pool Shot: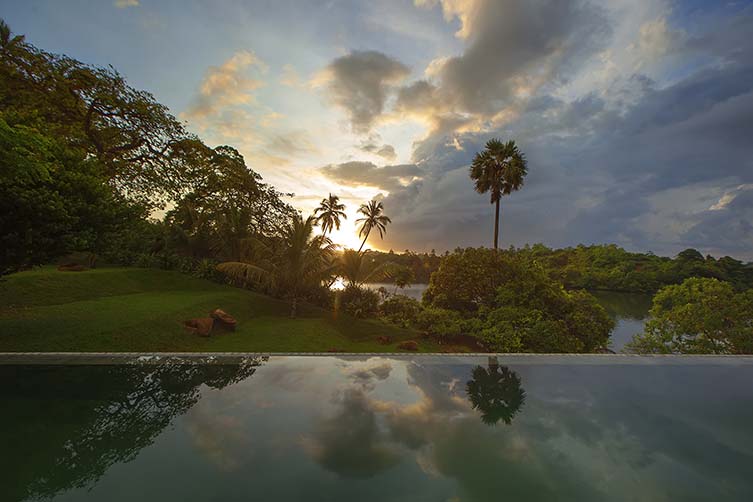 Tri Hotel, Lake Koggala
It's as though these six green, leafy acres by Lake Koggala were put here specifically for Rob Drummond's luxury eco-conscious hotel project. The plot forms a natural plateau with the sprawling branches of a centuries-old banyan tree worn as its crown, with three-quarters of the grounds surrounded by a dramatic stretch of water. Shanghai-based A00 and architect Raefer Wallis worked with the land's natural spiral shape considering the mathematical Fibonacci sequence. The owner Rob always wanted modular buildings as an homage to Frank Lloyd Wright and John Lautner's architecture.
Green roofs and solar panelling are just some of the features that betray Tri's sustainability. Contemporary glass and pale-wood constructions have characterful cinnamon bark as cladding—a byproduct of the local spice trade. All 11 bedrooms look out onto the lake where there is little trace of human life—let alone tourism—bar the occasional fisherman. Squint to the right and you'll see the Alila which is set to open soon.
The Really Wild One: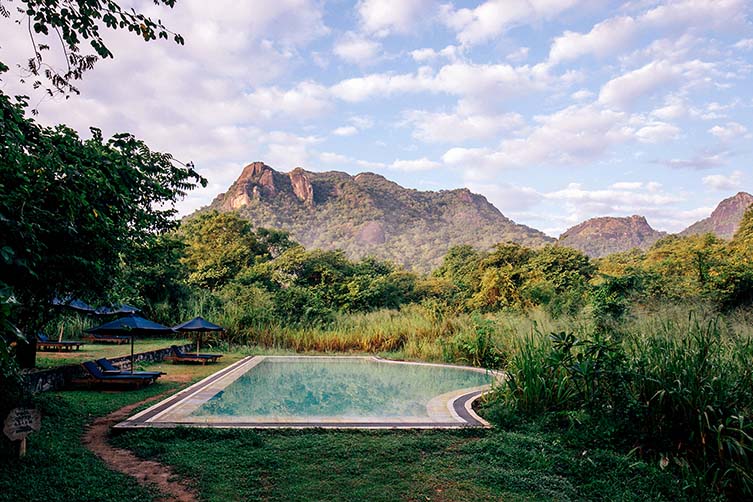 Gal Oya Lodge, Gal Oya National Park
Ten thatched cabins set in acres of jungle wilderness near the seldomly-visited Gal Oya National Park will insist on reconnecting you with nature. You're not actually off-grid, as the lodge's opening in 2014 coincided with this part of the country, two hours east of Kandy, being linked up with hydroelectricity—but it feels back to basics in a life-affirming way. In the heart of this teardrop-shaped island you forget about from the outside world (it's away from any phone or internet networks) and the rhythm of your day is simple and soothing—with hikes up Monkey Mountain and boat safaris along the Senanayake Samudra reservoir to keep you exhilarated without any use of technology.
Breakfast, lunch and supper in the open-air two-level gathering hub give you a sense of place through taste—all meals are utterly delicious and made entirely from ingredients grown within grasp. Gal Oya also hosted us on a walk with the chief of the last Vedda tribes, the indigenous people of Sri Lanka.
City Stopovers: A Contemporary Take on a Colonial Home in the Capital: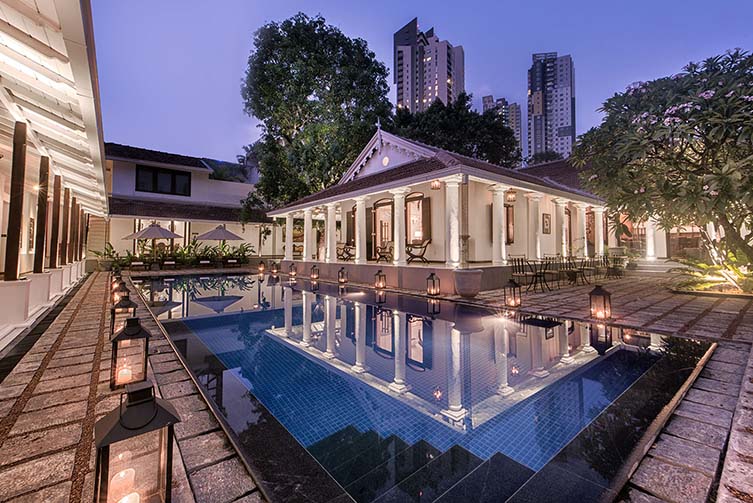 Residence by Uga Escapes, Colombo
Conveniently set on Park Street in Colombo, it's a quick walk to the much-visited Buddhist temple and some of the city's best bars and restaurants. What makes it special is the heart of the property was a 19th-century residence for a distinguished family who hosted maharajas, governors and aristocracy here. Reimagined with interiors and a bar and restaurant aimed at modern tastes.
A Bloom-Framed Boutique Bolthole Near the Airport: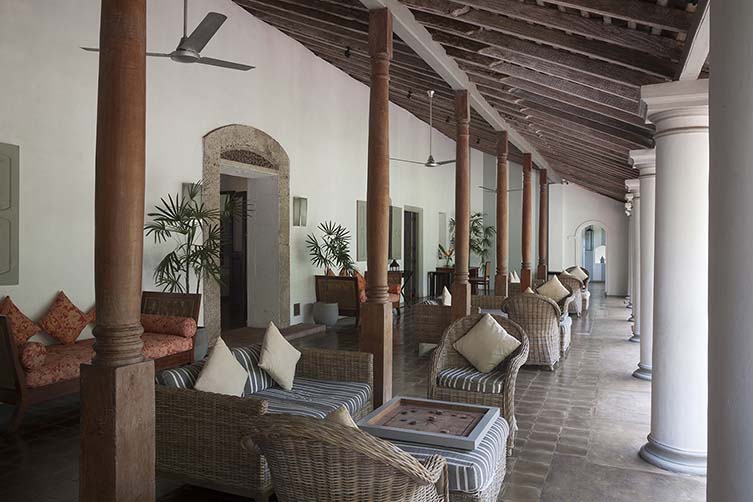 The Wallawwa, Katunayaka
A 17-room restored Dutch manor house in three acres of mature private gardens and an organic farm its Sinhalese name means 'the home of the most eminent family'. There's a spa, a yoga garden, and a beautiful pool hidden in the garden. Here in Kotugoda only 15 minutes from the airport, be sure to sneak a tour of their organic farm, too.
Meeting philanthropic hoteliers and working with award-winning luxury-travel brands all over inspired Juliet Kinsman to set up Bouteco to share the most uplifting stories of sustainability from design-led hotels. She regularly shares tips on Instagram at @boutecohotels.