"What if the Druids had been boshing mind-bending chemicals instead of practicing witchcraft and dabbling in ancient soothsaying? What if fat Elvis was doing a residency at Stonehenge—or if summer solstice came with a side order of Britney?"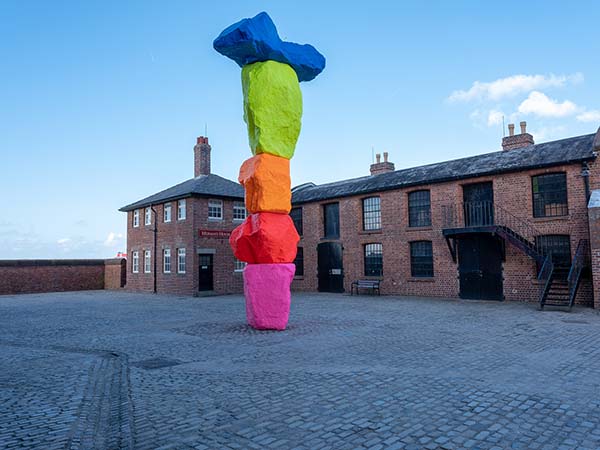 Those are the things that Swiss artist Ugo Rondinone had us pondering when he dropped his Seven Magic Mountains into the Nevada desert on the outskirts of Vegas; manifesting Sin City's awkward juxtapositions in 35-feet-high piles of locally-sourced boulders daubed in ravetastic dayglow. Since then, the work has gained a global following, as experiential and Instagrammable art has taken contemporary art once deemed high-brow or exclusive into the mainstream.
Now somewhat of a calling card for Rondinone, the artist has unveiled his debut public artwork in the UK; a ten-metre-high stack reminiscent of his Nevada desert icon, pared-back to a singular totem like that which resides outside Miami Beach's The Bass. Commissioned by Liverpool Biennial and Tate Liverpool, Liverpool Mountain is a new icon for the port city renowned for its collaborations with leading contemporary art talent.
"Following in Liverpool's great tradition of sculpture in public spaces," states Sally Tallant, director of the Liverpool Biennial, "I am delighted that Ugo Rondinone, an internationally acclaimed artist, has created this major new work. It is a sign of the confidence and creativity of Liverpool as a world city, which is of course home to Liverpool Biennial, the UK's biggest celebration of contemporary art."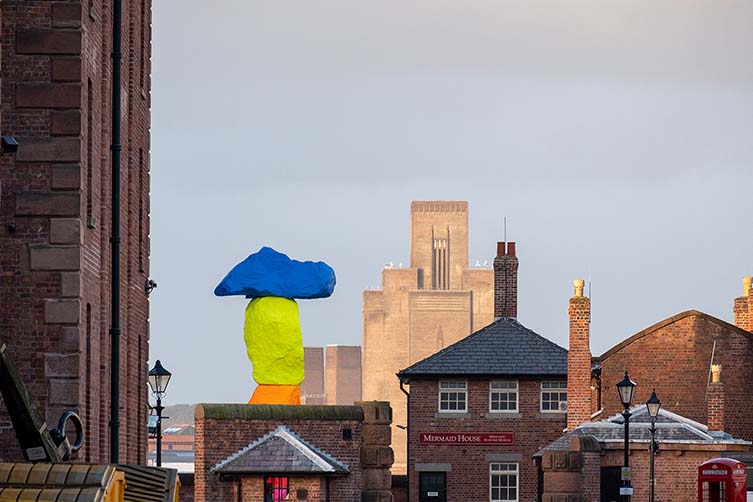 David Roscoe, chairman of Royal Albert Dock Liverpool, continues: "Ugo Rondinone's striking and inspiring work is an exciting new landmark for Royal Albert Dock Liverpool, playing a key role in our plans for the Dock's future as we build up to the 175th anniversary in 2021, and ensuring the Dock remains relevant in the ever-changing landscape of Liverpool's UNESCO World Heritage Waterfront and the wider city region. We're thrilled to partner with Liverpool Biennial and Tate Liverpool to bring this Liverpool 2018 project to the Dock, and to be its guardian long after the big reveal as its legacy lives on."
Commissioned as a key focal point of the Liverpool 2018 programme, Rondinone's bold and brilliant Liverpool Mountain honours Liverpool's long association with contemporary art, with 2018 marking an incredible series of anniversaries: ten years since Liverpool European Capital of Culture, Liverpool Biennial's 20th anniversary, and the 30th anniversary of Tate Liverpool. 
Ugo Rondinone's Liverpool Mountain is on view now in Mermaid Courtyard next to Tate Liverpool, Royal Albert Dock Liverpool.
@liverpoolbiennial
@tateliverpool
@thealbertdock