Inspired by its history as a part of the former BBC Radio 1 recording headquarters, Caravan's latest all-day offering—the Antipodean-minded chain's fifth—features a basement 'record room' for private dining and a sustainability concept that sets a fine example for other hospitality projects to follow.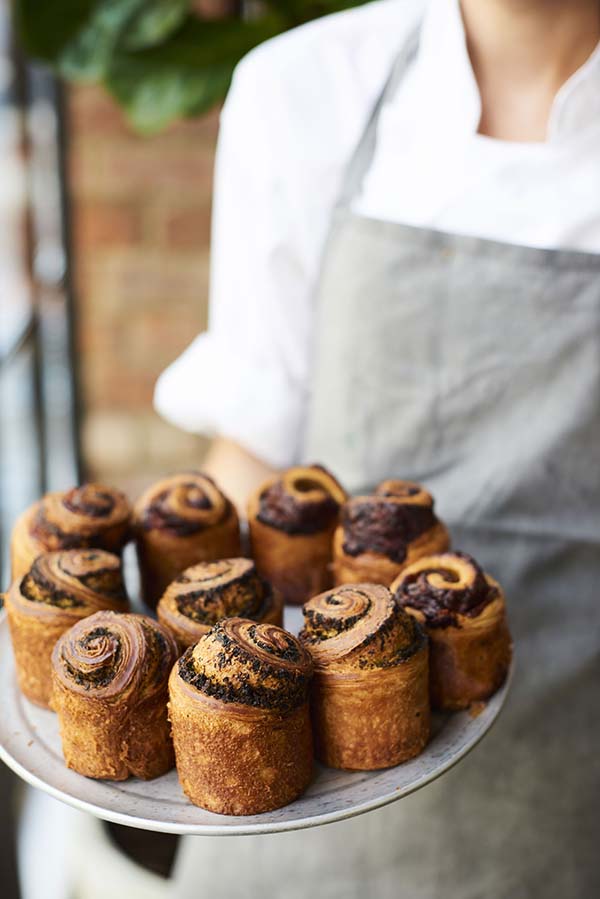 Located in London's Fitzrovia, the restaurant—founded by New Zealand trio Miles Kirby, Laura Harper-Hinton, and Chris Ammermann—is open from morning to night and kicks off daily proceedings with a breakfast menu and freshly roasted coffee that features the likes of thick cut Dingley Dell bacon or pork sausage, fried egg, cheddar, and herbed mayo brioche sandwich; Bahn mi; Rye IPA coffee cream croissants; and lighter fruits and grains. The restaurant's all-day menu is packed with local breads, cheeses, and fresh dishes inspired by the team's travels—all based on a plant-fuelled and fermented 'food well-travelled' concept—think chargrilled lamb cutlets with Kerelan green sauce; crispy duck with taramind caramel, celery, shallots, cucumber, and coriander; or green falafel with pickled and grilled cauliflower, radish, garlic sesame, and chilli.
Premiering a scaling up of their current takeout offering, 'Caravan-To-Go' will offer a newly developed selection of pâtisserie that will be rustled up in their new sourdough bakery and croissanterie (housed at their soon-to-open flagship coffee roastery) alongside freshly-made sandwiches and health-conscious salads for those who don't have time to linger in the new space; which is handsomely blessed with blush terracotta brick walls, stone surfaces, and natural light. Packaging takes the form of recycled or recyclable, and will be made from sustainable plant sources, whilst customers bringing their own reusable cups is encouraged by way of a 50p discount; a sustainability commitment that follows on from Caravan's recent announcement to ditch plastic straws across their restaurants.