From relaxed afternoons savouring single-origin coffees from Latin America, Africa and Asia, to long evenings exploring organic, biodynamic and low-intervention wines from around the world, Dalston restaurant and larder, Sapling, is an intimate and informal space; a passion project for founder Bob Ritchie, the longtime wine aficionado who craved for a place where food is paired with wine (not the other way round), and where fine wines by the glass take centre stage.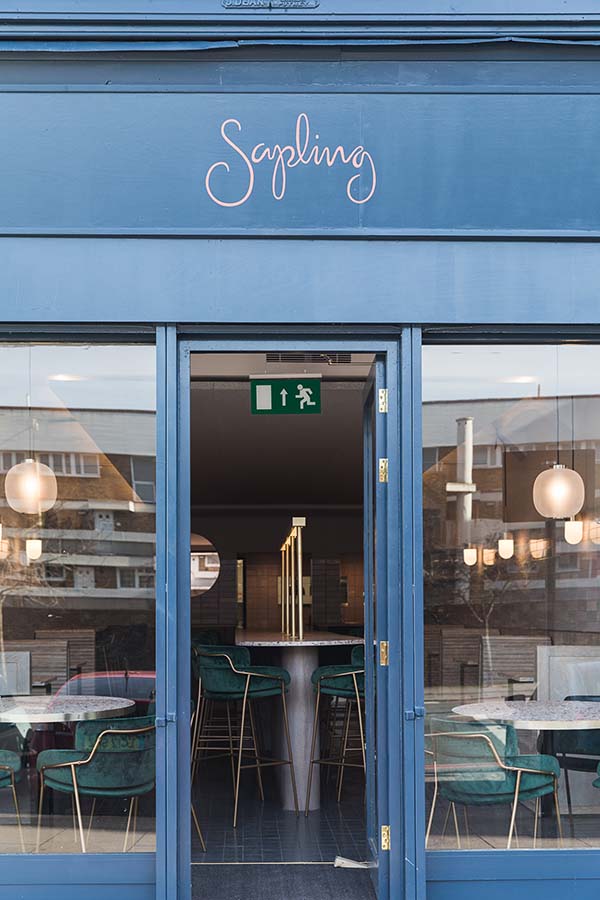 Handsomely designed by Transit Studio and The Rebel Agency, the small shop unit features a communal space with a range of seating types, a central table, and visible kitchen. "Within such a small site we wanted to create as many possible experiences of the space and the atmosphere," states Transit Studio director Ben Masterton-Smith. "An intimate and cosy booth, alongside a large flexible communal table in the centre. The palette is calm, tactile and light with timber terrazzo surfaces that bring the restaurant to life."
The surfaces throughout Sapling are formed from an impressive wooden terrazzo, with a mix of timber from London plane trees, sycamore, and walnut offcuts—a nod to the local area originally known as the Kings Lands (from which Dalston Kingsland takes its name).
With a daily focus list of up some 36 wines available by the glass—with a further 100 available by the bottle or via coravin—Ritchie ensures exciting and surprising wines that are a genuine representation of their origin. With no by-glass mark-ups, Sapling accompanies the star of the show with a daily selection of dishes focussed on seasonal British ingredients but with a European flair; whilst the larder menu offers cured meats and cheeses guaranteed to complement the owner's discerning selections.
@saplingdalston
@transitstudiouk
@therebelagency