Since its 2016 conception, the cultural hub that is Flat Iron Square has grown in size and popularity, confirming itself as one of Southwark's—if not London's—go-to places for all things street food, music, and casual vibes.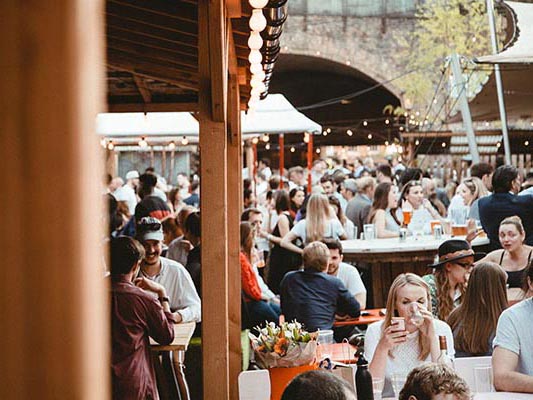 Situated beneath the low-line railway arches of Bankside, as well as Devonshire House—a rather fancy old Grade II listed building—Flat Iron Square is reinforcing the surrounding neighbourhood as a cultural destination; a curated line-up of bars, food vendors, restaurants, street food trucks, and a vintage market sitting alongside Ben Lovett's nightlife venue Omeara, complete with specialist tequila bar and terrace with sweeping views over Borough and London bridge.
With much of those interiors designed in collaboration with London-based independent studio, Studio Juice, Flat Iron Square has it all—whether that's if you're heading down to spend a balmy summer evening sipping the hard stuff, wanting to check out the weekly vintage market, peruse regular art exhibitions, or grab a bite to eat and party, the buoyant foodie and cultural venue delivers on SE1's reputation for top-class hospitality.