Four years ago, British artist James Ostrer held a solo show Wotsit All About at Gazelli Art House in London. To purge himself of a junk food addiction, he had smeared himself in brightly-coloured cream cheese frosting and £4k of sweeties.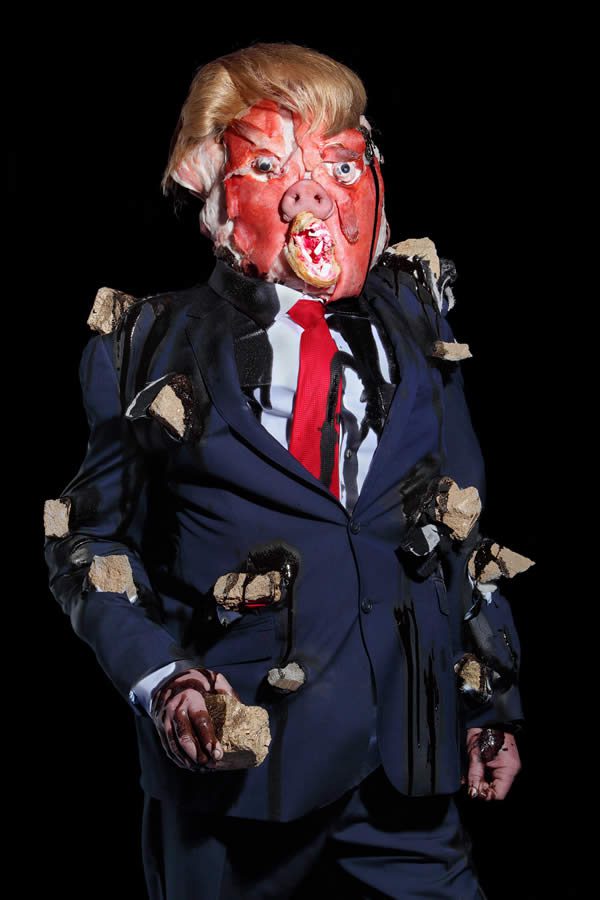 For his next trick—and way before all the other artists around the world started their riffs on the current US president ("ooh I say, is that a painting of him with his tackle out/eating a banana?)—Ostrer created a grotesque Donald Trump effigy out of fish and meat parts. Entitled Ego System, the installation was an elaborate and grotesque critique of the cultural icons of our age including Kim Kardashian, Kanye West, Miley Cyrus and others.
Ostrer then became Guru Jimmy, a cartoonish spiritual guide in vein-of Sacha Baron-Cohen. Part buffoon, part-sage, Guru Jimmy took to the road, interviewing Uber drivers in Los Angeles, making a documentary series in the run-up to the 2016 election to gauge the emotional temperature of the pre-Trump era.
Ostrer's primary research for his Uberlife project informed much of the content of current show, particularly on what he calls the global tribal elite. Johnny Just Came is his boldest show yet and sees him checking-in his pop credentials for serious fine art clout; lacing through photography, installation, film, and sculpture. Gazelli Art House is 'papered' floor-to-ceiling with the thousands of flip flops he became obsessed with collecting from a beach in Lagos, Nigeria.
In 2016 the artist was invited by the eminent curator of African art, Azu Nwagbogu to show his junk food portraits. Naturally he was expected to go too and boarded a plane to west Africa. The flight attendant had told him Lagos was danger danger, high voltage and that crew only travelled with bodyguards. When he arrived and nobody was holding a placard with his name, he had a J Lo diva moment. Returning to his senses, Ostrer jumped in a cab and found Lagos to be the friendliest place he'd ever visited.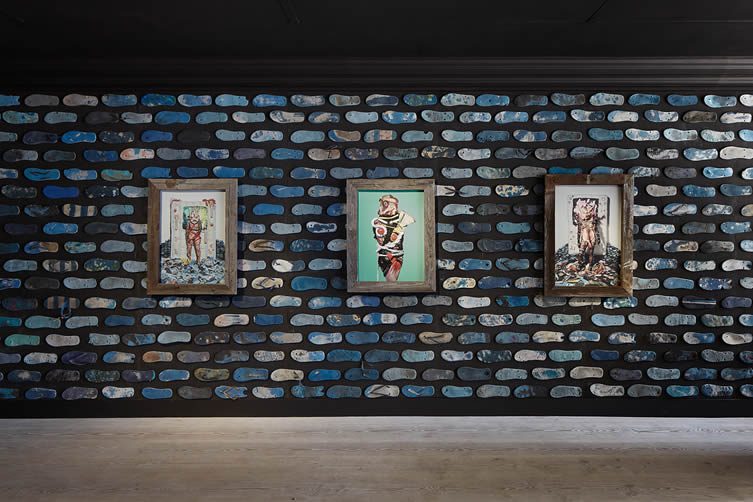 During a stroll along the beach, Ostrer found a child's Prada flip flop. Filled with a deep sense of human loss, he thought that en-masse, the discarded footwear could be a powerful visual metaphor. At the time (2016), the daily news cycle was dominated by families travelling from Africa, crammed into boats that were washed-up on beaches of the Mediterranean. He employed people to collect them, paying them $10 an hour and wanting more, he found himself emotionally detached for their working conditions.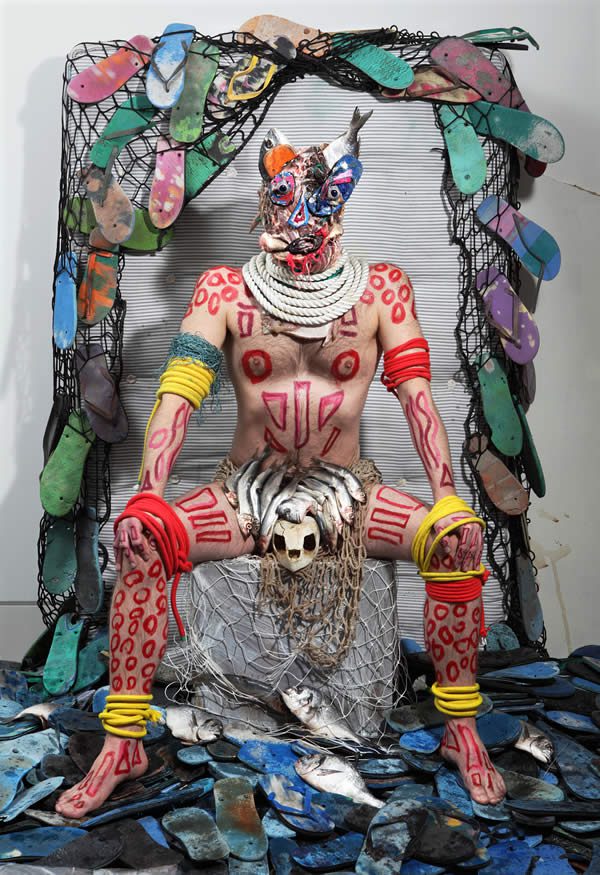 Normally a left-leaning egalitarian activist, in his quest to acquire more flip flops he says, "both emotionally and in terms of behaviour, I position myself as a left-wing artist, but within a 24-hour period I became the type of person I would be critical about in my work." An artist for whom 'concept' starts at a micro level of his own dysfunction, which he works-up to the larger context of global politics, Ostrer argues that you cannot increase your disproportionate ownership of global resources without becoming extremely emotionally detached. The show, according to Ostrer, isn't just simply a reflection of his own behaviour but ultimately about the consequence of the emotional dysfunction of the tribal elite.
The centrepiece of the exhibition is the white alpha male, the chieftain. His face is fashioned from dead fish and he sits in a dominant pose, covering his modesty with an animal skull and more sea creatures. Framed by an old mattress and more flip flops, the chief dominates the other five Currentsee portraits of women, who are trussed-up in fishnet stockings, their heads a meaty, fishy mishmash. In one portrait, a pigs head cut in half stares disconcerting at the viewer. Grossly exaggerated, the female characters are more disturbing than simple parodies.
In an undisputed age of sexual political turmoil, Ostrer is not drawing parallel with the #MeToo movement, but saying what the world needs now are the commonly feminine qualities of "community, love and sharing". We need to focus on these attributes if we are going to move forwards in terms of how we interrelate with different people around the world."
For the fist time, Ostrer's multifaceted oeuvre includes sculpture which synthesise the topics of gluttony and excess from his two previous shows—Wotsit All About and Ego System—with the current exhibition. Two enormous gold cylindrical shapes emerge from a head like giant alien antennae, in front of which sit two real pig's ears. Each sculpture riffs on a history of modern art and sits on a plinth covered in African fabric, traditionally manufactured in Holland.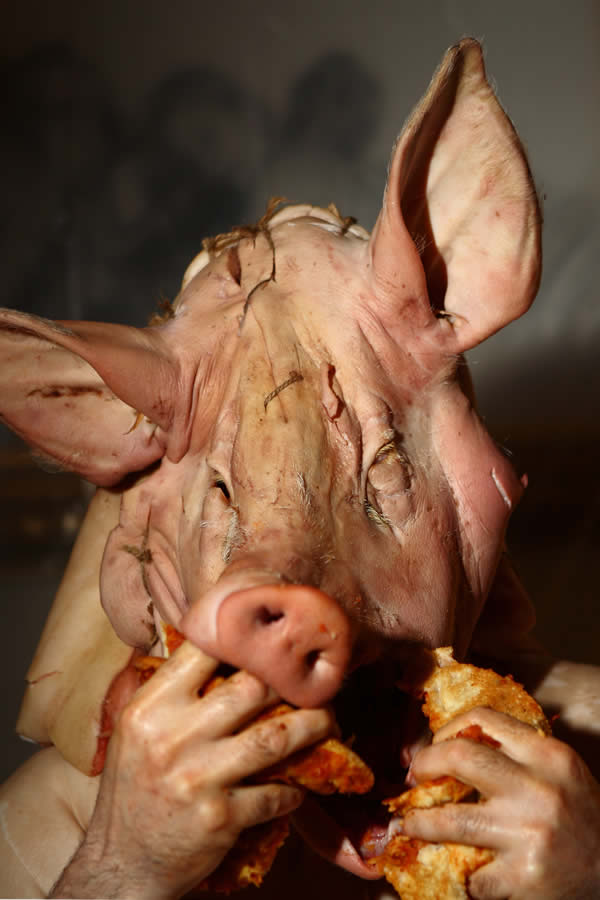 Meanwhile, the pièce de résistance of the exhibition is arguably Ostrer's short film, Snuffling for love truffles. Scarier than spending Halloween watching The Omen at home alone with the lights off, it's a film to be watched through the slats of two hands. Ostrer has literally sewn himself into a pig to act-out the extremity of his own self-loathing and over-consumption, taking in pornography via pizza-after-pizza which he then regurgitates in the bathroom loo.
Filmed as a metaphor for self-annihilation, the film shows the piggy endlessly wanting more; and whether it's about more sexual gratification, pizza, chocolate, Rolex watches, or wealth, Ostrer is certain that it leads to a cul-de-sac of emotional detachment and a lack of care for others.
Ostrer's works are often a catalogue of self-destructive behaviours, and are also managed in such a way that while transgressing themselves as odes to great works of historical art practice, they become re-packaged eye candy for uncomfortable consumption. Ostrer compares the tribal elite of previous revolutions to present day.
In the nineteenth and twentieth centuries, the masses were controlled through work, battling a grindstone so they didn't have the time or resources to question the higher powers at work. Now though, in the midst of a technological revolution, he says, "control of assets is through data and the corporations are trying to make us more like the piggy in the video. Because if we're controlled and addicted to what the elite are selling us, we won't challenge them and the pathways of their power will be greater protected." And who are in charge of all that data but the tribal elite at Silicon Valley, the new Rome. While we're swiping away like crazy on our smart phones, feeling that more is never enough, they'll be funnelling all the wealth back home.
James Ostrer's Johnny Just Came shows at Gazelli Art House in London until 22 July.