Housed within the all-round creative sanctum of Het Industriegebouw—a post-war industrial building and Rotterdam icon—Héroine Restaurant & Bar provides diners a culinary experience with a hint of secrecy; its ever-changing four, five, and seven-course menus never listed to the public, dancing through secretive epicurean delights from the world over.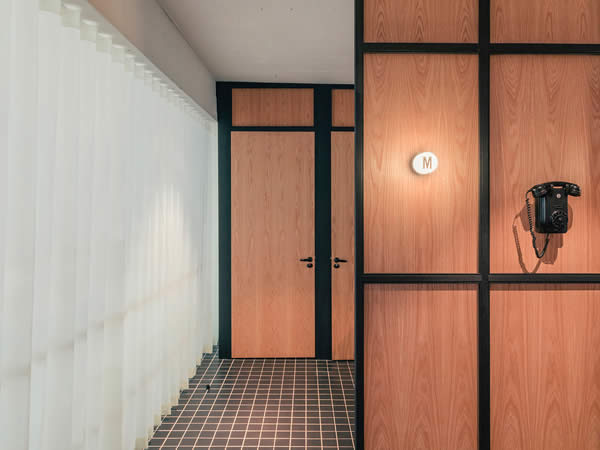 Modiste Studio retained many of the building's pleasingly retro original elements, the ample space having been subject to neglect in the decades before Héroine's founders purchased it in 2015. "We were honoured to be selected to design a restaurant and bar for a young, fearless trio of hospitality entrepreneurs," say the local studio. "The large 270sqm space in a side wing of the building had seen a fair amount of late '70s and '80s decay."
"We were left with a big open space with many scars of the past which we decided to keep," continue the design team, made up of Marick Baars, Joeri Horstink, Jelle Baars, and Annemieke Rensen. "From here we set out to create an opulent seventies atmosphere while firmly staying within the Modernist design tradition of the building. In the first place, this was inspired by the vibrant and stylistic cuisine of the executive chef at Héroine, Mr Michael Schook, however, we also wanted to prove a point about the Modernist design idiom itself."
"Where most people think of the classical white cubic exploits of Le Corbusier and our Dutch hero Gerrit Rietveld, we couldn't help conjure up the wood paneling, huge planters and decadent chrome of 1970s Warren Platner. The result is a balanced mix of simplicity and drama, a juxtaposition of essential and opulent in both design, materials and finish to show that Modernism had another ace up its sleeve."
That result gives Héroine an opulent '70s atmosphere Wes Andersonesque in its resolute aesthetic; high-ceilings and touches of concrete and metal combined with a balance of Modernist simplicity, wood-panelling and banquet seating imbibing the space with warmth and just the right amount of glamour. Backdropping Schook's clandestine cuisine with the drama it deserves, Rotterdam's Héroine is a worthy protagonist for the city's unfolding gastronomic tale.
@heroine_restaurantandbar
@het_industriegebouw
@modistefurniture