With no eggs and no baking soda, the dough at Spooning Cookie Dough is to be enjoyed by all. In fact, founder Diana Hildenbrand conceived the idea behind her venture whilst pregnant with her twins; unable to tuck into cookie dough whilst baking for friends due to the presence of raw eggs.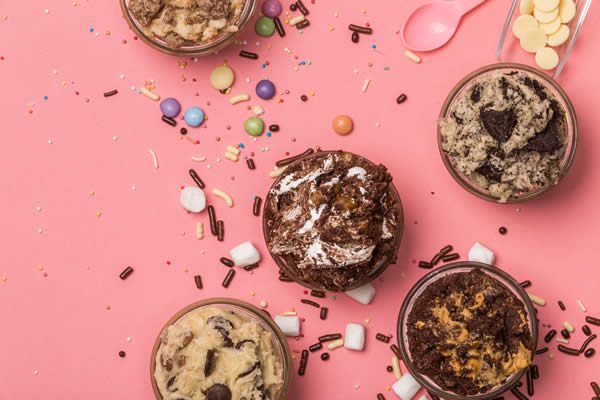 Hormones raging, Hildenbrand set about creating an edible cookie dough that can be eaten raw by all. Fast forward a year and half, through plenty of ups and downs and all-important tweaks, and Spooning Cookie Dough was ready to be introduced to the world via a tiny stand at Berlin street food market, Street Food auf Achse.
Today—with curious foodies having become fanatical followers—Diana sells her dough out of her very own café cum bar in the city's Prenzlauer Berg neighbourhood, where cookie dough devotees can choose from ten flavours of dough and a variety of mouthwatering toppings. In keeping with the childlike glee that tucking in to cookie dough undoubtedly evokes, Hildenbrand's bar is a smile-inducing space packed with pinks, whites, blues, and yellows serving to accentuate the doughy goodness on offer.
With plans to start an online shop and expansion into other cities, Diana Hildenbrand is answering the call for all, like us, who are craving to smother ourselves in decadent cookie dough. 😋