The Olympic Winter Games might have wrapped for another four years, but there's little time for the snow to settle, as the PyeongChang 2018 Paralympic Winter Games are set to crown new winter heroes. Unless you've made the trip to South Korea yourself, though, there is one gold-medal-worthy show of talent that you might've missed: Brit architect Asif Khan's victorious feat of design darkness.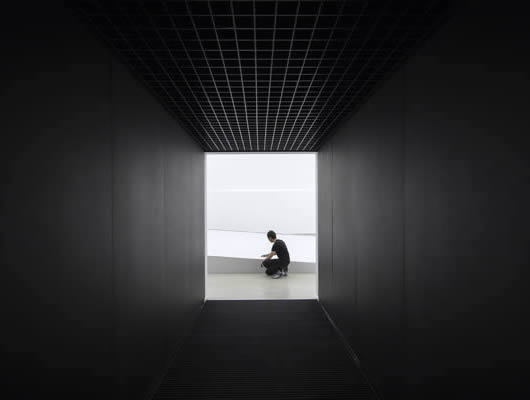 Coated entirely in Vantablack VBx2—the material that ignited indignation among the art world when Anish Kapoor exclusively licensed a sprayable paint version—Khan's Hyundai Pavilion is the world's first super-black building; Vantablack capable of absorbing 99% of the light that hits its surface. "From a distance the structure has the appearance of a window looking into the depths of outer space," the designer explains, the pavilion's exterior pierced by a field of illuminated stars.
Commissioned by Hyundai as part of a global mobility initiative, the pavilion's ten metre high parabolic façades give way to a starkly contrasting interior—a multi-sensory hydrophobic water installation occupying the inside of the 35m x 35m structure; emitting a staggering 25,000 singular water droplets every minute. Brightly lit and immersed in complete white—taking the eyes a few minutes to adjust—the overwhelming juxtaposition gives visitors the sensation of walking through an all-enveloping cloud of darkness and into the light; Khan capturing the essence of the South Korean car manufacturer's vision of a clean, sustainable future.
"As your eyes adjust," Khan continues, "you feel for a moment that the tiny water drops are at the scale of the stars. A water droplet is a size every visitor is familiar with. In the project I wanted to move from the scale of the cosmos to the scale of water droplets in a few steps. The droplets contain the same hydrogen from the beginning of the universe as the stars."
Asif Khan's super-black pavilion remains on location accessible to the public until 18 March at the Olympic Plaza, Pyeongchang-gun.