The draconian rules being enforced by London 2012's big-name sponsors has certainly left a bitter taste in the mouths of many over the last few weeks, so, when invited over to the Olympic Park last Thursday by Coca-Cola, the looming spectre of big business certainly caused a moment of hesitance. But a sneak preview of the world's biggest stage, just over a week before the opening ceremony? There was little time for moral high-grounds.
From Westfield Stratford City, the Olympic 'compound' has more than a hint of military base to it, the dozens of desert camouflaged soldiers that usher us through airport-level security only adding to it. There's much work still to do, Anish Kapoor's threatening Orbit tower still looks very peculiar, turf laid out on polythene sheets line the walk ways – there's definitely a feeling of "is this it?"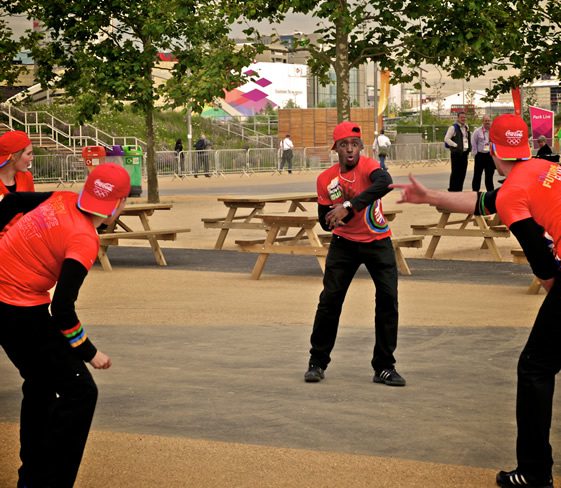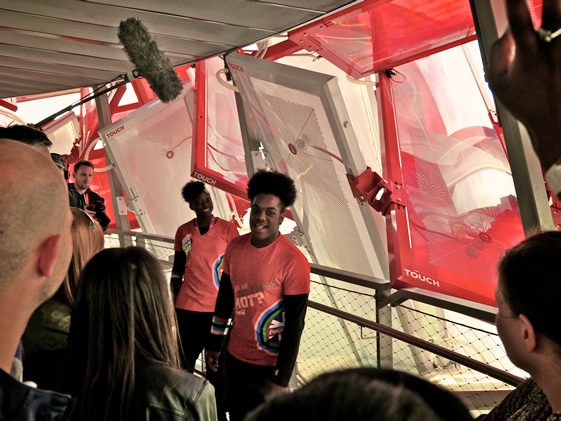 We finally make it to the pavilion, or the Beatbox as the American soft drink giant calls it, which visually is rather impressive. Young architects Asif Khan and Pernilla Ohrstedt have given the temporary structure an imposing aesthetic, there's no screaming logos either; but of course you can tell it's Coke, their iconic colour-scheme is unmistakable. Then, as we step up to claim our hard-earned glass of champagne, a pack of performing youths accost us – it's mildly uncomfortable, we're left presuming the pavilion's 'interactive experience' is going to be a little – how shall we say? Cheesy.
Before we get to experience said interactivity, there's the predictable talks from assembled Coke-execs, but it's when Pernilla and Asif begin to describe their involvement that you start to realise there's more to this whole shebang than meets the eye. The façade comprises of more than 200 interlocking, translucent air cushions – many of which are touch-sensitive "instruments", that can be played as you scale the spiralling structure.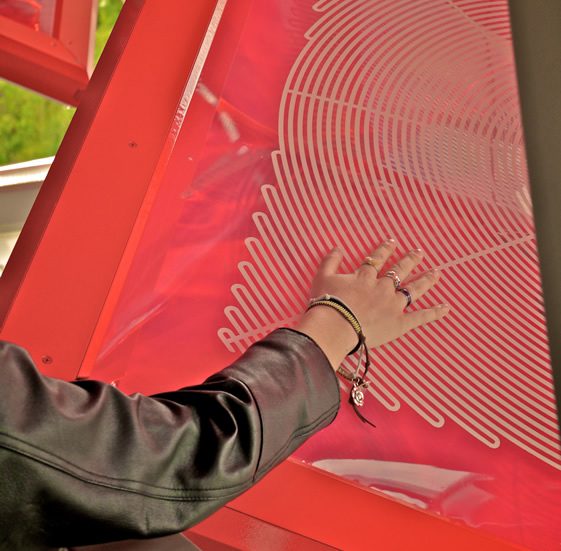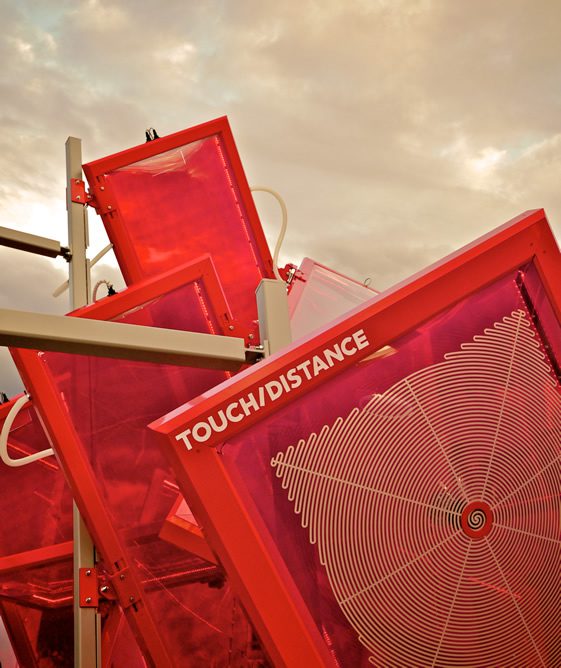 The fact that you play the official Coca-Cola London 2012 song (Mark Ronson's Anywhere in the World) may be more cause for 'cheesy' concern, but our ears prick up when the young designers talk of the process which installed them as the project's architects. The Architecture Foundation were consulted, with the brief of appointing emerging British talent. The Royal College of Art have been involved in the creative process too, as have interactive theatre company London Quest – and the youths? 300 young local performers will bring the pavilion to life during the games. This no longer feels like an empty corporate offering, there's a lot of thought and passion gone into this, and it shows.
So, talks over, we're split into small groups to ascend the Beatbox… waiting for the other groups before us, you start to realise the importance of the 'cheesy' performers. They make hanging around light work, and they're actually pretty good too, a cynical frown is soon replaced by a mild smirk. And, when it's our group's turn to ascend, the "multi-sensory experience" really starts to make sense. We're introduced to pads that play heartbeats, squeaking trainers and archers' arrows hitting their targets (all sampled by Ronson, and forming the rhythmic elements of his track). The energy of the performers that take us through each step is infectious, the smirk may have even begun to take the shape of a smile.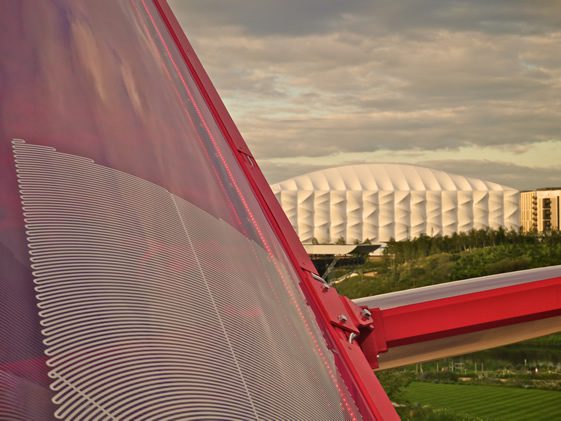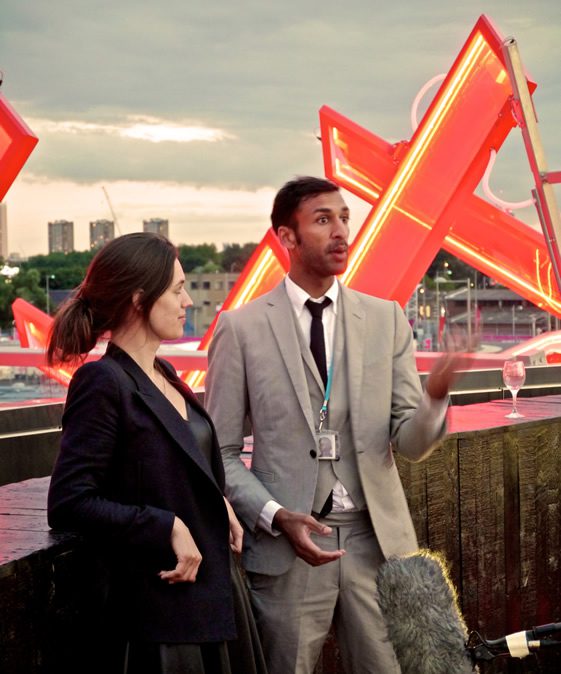 As we reach the rooftop, our pictures are each taken with a real-life Olympic torch (albeit that we have to adorn Michael Jackson-esque white gloves to touch it); but it's on the route back down that the magic (as they say) really happens. As we spiral back down – this time in darkness – you begin to feel a celebratory atmosphere… and we discover Jason Bruges Studio's Aerial Dynamics lighting installation, a stupendous array of 180 bespoke mechatronic 'bubbles' that throb and glow in time with Ronson's track (which somehow even sounds OK by now). We're handed a Coke (I don't even like Coke, but even this tastes alright), and are introduced to the installation's interactivity.
Three platforms act as triggers for the 'bubbles' to change colour, and at this stage, I don't even find the act of 'cheers-ing' our Coke bottles over the triggers in the slightest cheesy. The Beatbox has well and truly seduced me. Jason Bruges talks a little about the technical gubbins behind his installation, and of his collaborations with RCA students, but I'm mesmerised by the beauty of it – and the boundless energy of the assembled dancers. When we're done, it's dusk outside, and we ascend once more for canapés and champagne (it's a hard life), and to chat more with the designers. The seductive glow of the pavilion is in full force now, and the views from the top are impressive – initial hesitancy and cynicism a distant memory, even the park looks more complete from up here.
I meet a good friend for drinks in Hackney later, and when I tell him where I've just been, I'm met with the predictable skepticism that multinational brands provoke. I just tell him it has to be seen to be believed. Maybe I'm brainwashed by the beauty of its design, seduced by the infectious energy of its young performers, or maybe… maybe it's just a very special piece of work.