Referencing 'the watering hole' from both the perspective of the natural landscape and the colloquial term for a public bar, Melbourne venue Hightail is a destination in the city's Docklands area that fuses tongue-in-cheek and refined approaches.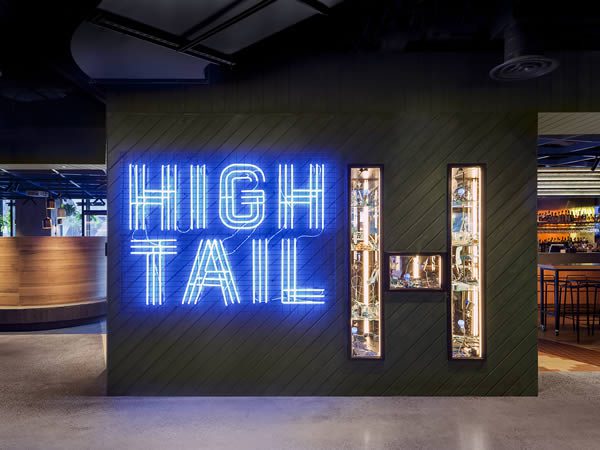 At 1,052 square meters, the slick Docklands hotspot put together by Techne Architecture + Interior Design, features a beer bar made from concrete, cork, and copper, and an intimate wine bar adorned with brass, terracotta tiling, deep blue carpet, and natural timber. Numerous zones decorated with the colours of the rainbow — inspired by Graeme Base's illustrations for his children's book The Waterhole — add a sense of texture, dimension and joviality.
As with the natural waterhole, the floor ripples out from the main bars in patterned waves, whilst above a gently undulating ceiling mimics the shapes created by said floor. With the corporate location in mind, Hightail appeals to the contemporary city-dwelling crowd who are looking to explore and unwind in a design-minded venue big enough and aesthetically-appealing enough to lose yourself in.
@technearchitects
@hightail.bar